Trump Campaign Barrages Facebook With Ads After Debate, Calling Joe Biden 'Corrupt'
President Donald Trump's re-election campaign has barraged Facebook with advertising in the wake of a heated debate with rival Joe Biden.
An surge of new paid political ads attacking the Democratic candidate sparked to life on Wednesday after Trump clashed with the Democratic candidate in Ohio.
During the event on Tuesday, hosted by Chris Wallace of Fox News, Trump had failed to denounce a white supremacy group and was branded a "racist" by Biden, who fueled a new internet meme after snapping at the president: "Will you shut up, man."
According to the Facebook Ad Library—which tracks the spend and reach of political ads purchased by both presidential campaigns—Trump's team launched dozens of new promotional blasts today, some accusing Biden of being "corrupt" and "slow."
Filtering both pages by the word "debate," results show Trump's campaign pushed out a variety of anti-Biden advertisements to regions across the U.S.—many using cherry-picked footage from the televised debate with a series of blunt slogans.
"You don't want to miss this," one banner on a handful of the ads read. The clips largely echoed talking points from the debate, including Trump asserting without evidence that "millions of people" would have died from COVID-19 if Biden was in charge.
Another Trump video was titled, "Biden is going to eliminate Trump's tax cuts." A third was being spread alongside the claim: "Biden's radical energy policies will kill jobs."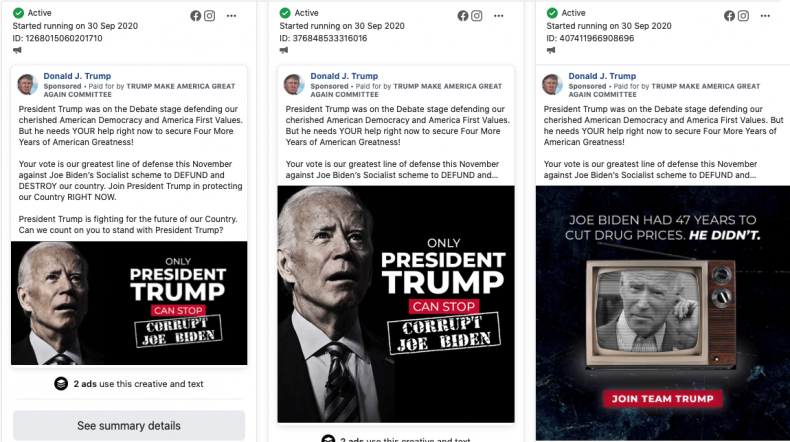 For comparison, the Biden election campaign does not appear to have launched a new series of ad campaigns in the wake of the debate, at least at time of writing. Its latest ad asserts: "It's official! Joe WON his first debate against Donald Trump."
Facebook data shows Trump's page has spent roughly $48.8 million on Facebook ads in the past 90 days. Biden's page has spent $42.4 million over the same period.
Aside from advertising, both Trump and Biden referenced the debate on their personal social media accounts following their chaotic encounter. While Trump went on a major re-tweeting spree, Biden described him as the "worst president we've ever had."
In a Facebook post shared at least 13,000 times since yesterday, Biden wrote: "What happened tonight? Donald Trump refused to condemn white supremacy.
"He lied about letting hundreds of thousands of people die from COVID-19. He denied the impact of climate change. He divided the country even further than it was before... We need a president who will bring us together—not tear us further apart."
The president posted an image suggesting Wallace had sided with Biden in the debate, a claim that attracted over 100,000 comments on Facebook alone. Trump tweeted: "The American people want LAW & ORDER—Joe Biden won't even say those words!"