Trump Campaign HQ Adorned With Fake Newspaper Declaring 'President Gore' in 2000
President Donald Trump's re-election campaign headquarters was reportedly plastered with newspapers carrying a non-existent front page from the year 2000 on Sunday.
The campaign's communications director, Tim Murtaugh, tweeted images of the front page under the banner of The Washington Times, a conservative publication founded in 1982.
"Greeting staff at Team Trump HQ this morning, a reminder that the media doesn't select the president," wrote Murtaugh in his tweet.
A headline from that page read "President Gore," a reference to Al Gore's presidential race against George W. Bush in 2000. However, Gore lost to Bush in the election that year. The fake headline was printed as if it was an actual article from The Washington Times.
A closer look at the paper shows that the body of the text said that Bush won the presidency, indicating that the issue was possibly altered.
Murtaugh's tweet has since been deleted, but it was recorded as a screenshot by CNN reporter Daniel Dale, who also tweeted: "Uhh, the Trump campaign plastered its headquarters with a fake newspaper front page that never existed, then its communications director tweeted out the image."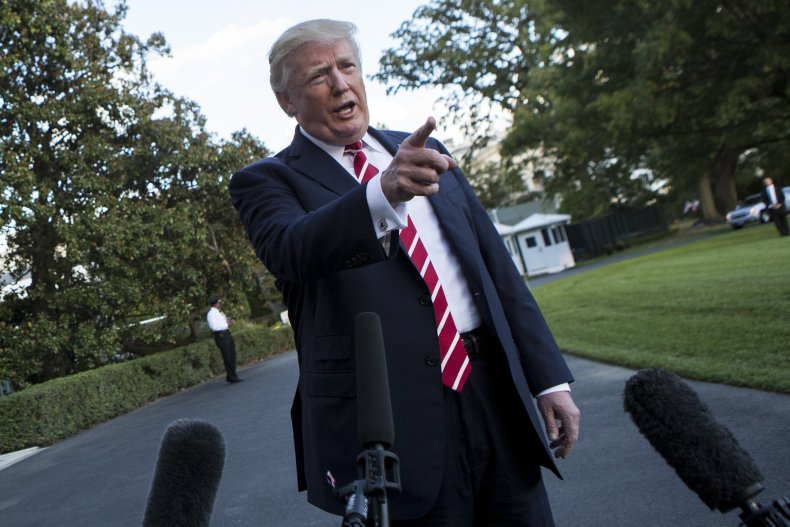 The Washington Times has since stated on Twitter that "those photos have been doctored" and that it "never ran a 'President Gore' headline." The paper continued to note that it officially notified Murtaugh via email about his error.
The images of the fake front page later made the rounds on social media Sunday.
The Trump campaign didn't respond to Newsweek's request for comment in time for publication. Murtagh told Axios Sunday that he didn't know the newspaper front page was a fabrication, and that he immediately deleted his tweet upon discovery.
Murtaugh's tweet was in line with a criticism made by the president Sunday towards the media of prematurely announcing the election outcome.
Trump tweeted: "Since when does the Lamestream Media call who our next president will be? We have all learned a lot in the last two weeks!"
The president's tweet also echoed comments from Republican Texas Senator Ted Cruz.
"The media is desperately trying to get everyone to coronate Joe Biden as the next president," Cruz said during a Fox News appearance on Sunday. "But that's not how it works, the media does not get to select our president the American people get to elect our president."