Trump Campaign Releases Edited Video of Biden Calling Coronavirus a Hoax After Dem Ads With Trump Making Similar Claim
On Thursday, the Trump campaign released a four-second video of manipulated sound clips reconstructed to make it sound as if Democratic presidential candidate Joe Biden said, "The coronavirus is a hoax."
While Biden has never made such a statement, the Trump campaign released the clip to protest Twitter's handling of a 30-second political ad released on March 23, 2020 by the political action committee Priorities USA.
The Priorities USA ad features audio of Trump saying, "The coronavirus, this is their new hoax," along with other statements of him doubting the virus' severity early into the U.S. epidemic. In the background, a chart shows the rising number of confirmed coronavirus cases in the United States.
Fact-checkers at FactCheck.org, PolitiFact and Snopes say that Trump didn't call the coronavirus itself a hoax. His quote—taken from a February 28 campaign rally in South Carolina—calls Democratic criticism of his administration's coronavirus response a "hoax."
Trump's full quote from the rally was, "Coronavirus. They're politicizing it. We did one of the great jobs.... One of my people came up to me and said, 'Mr. President, they tried to beat you on Russia, Russia, Russia.' That didn't work out too well. They couldn't do it. They tried the impeachment hoax.... And this is their new hoax."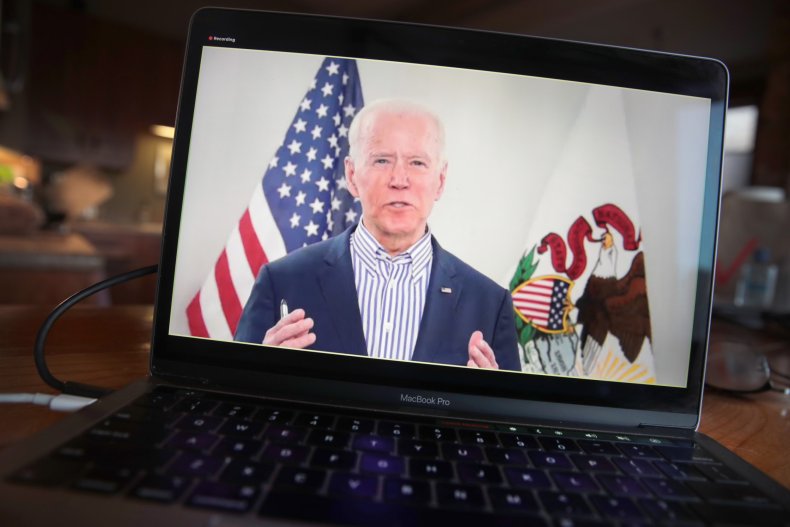 The Trump campaign asked Twitter to review the Priorities USA ad as a possible violation of the site's manipulated media policy. The policy forbids videos, audio, and images that have been "deceptively altered or fabricated." However, Twitter said the ad didn't violate their policy. It has since been viewed millions of times.
In response, the Trump campaign released its video with manipulated audio of Biden on Twitter.
The accompanying tweet read, "The media is giving a pass to a pro-Biden TV ad that doctors and deceptively edits audio of President Trump, even though every independent fact checker said President Trump DID NOT call the coronavirus a hoax."
The tweet continued, "Joe Biden, on the other hand? This sounds authentic..."
Biden campaign spokesman Bill Russo told The Hill, "Twitter was dared to act on a piece of disinformation that clearly violates their rules, and they blinked... The Trump campaign is proudly boasting that their video is deceptive and fraudulent, which is shameful. But the real damage here will come from their supporters, who will no doubt share the media as if it was true."
Russo continued, "Twitter has a responsibility to explain they will prevent the spread of this intentionally seeded disinformation on their platform."
A Trump campaign official responded, "Twitter has so far effectively instituted a 'Biden protection rule,' refusing to apply their manipulated media label to video and audio of President Trump that every independent fact checker says is false. This tweet forces the issue and makes Twitter decide. It can enforce its arbitrary rules fairly and equally, or it can have its policy exposed as totally ineffective or a partisan sham. It's their move."
The Trump campaign has pledged to remove its video if Biden gets Priorities USA to remove its first. Additionally, Trump's campaign sent a cease-and-desist letter to TV stations who have broadcasted the Priorities USA ad, threatening to sue them for defamation and urging the Federal Communications Commission to revoke their licenses otherwise.
Newsweek reached out to the Biden campaign and the Trump campaign for comment.