Trump Campaign Suggests Negative Ads Will Continue After Biden Campaign Pulls Theirs
After Friday reports that Democratic Presidential candidate Joe Biden's campaign would pull all negative ads about President Donald Trump, Trump's campaign implied it would not return the favor.
With the presidential election a little over one month away, the campaigns of both candidates were thrown a curve on Friday as Trump went to Walter Reed National Military Medical Center following a positive test for coronavirus. In a video posted to Trump's Twitter feed, Trump said he thought he was "doing very well."
According to a statement from the White House, Trump is expected to remain at Walter Reed for a "few days." Biden began a speech at a campaign event in Michigan on Friday by saying that he was praying for Trump's "health and safety."
According to the Associated Press, a member of Biden's campaign said that negative ads about the president would be removed in light of Trump's diagnosis. In a Friday tweet, Trump re-election communications director Tim Murtaugh indicated that Biden's actions were disingenuous.
"Joe Biden used his speech in Michigan today to attack the President repeatedly on Social Security, the economy, and job creation," Murtaugh tweeted. "Now Biden wants credit for being magnanimous?"
Earlier today, the Trump campaign sent out a fundraising email referring to Democratic former President Barack Obama as "Lyin' Obama" and Democratic vice presidential nominee Kamala Harris as "Phony Kamala Harris." The email also called Biden "Sleepy Joe."
Newsweek reached out to the Biden campaign for comment.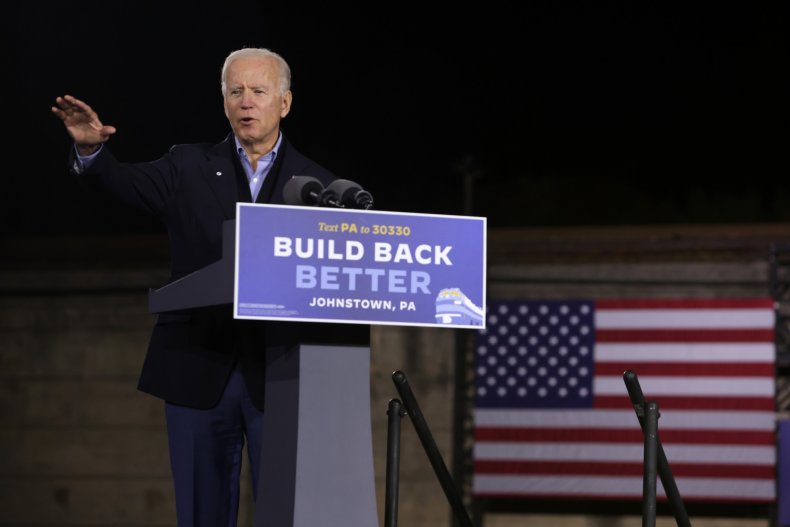 Biden's campaign has criticized Trump's coronavirus response as being insufficient. In an advertisement released in April, Biden said that Trump's initial response to the pandemic "left America exposed and vulnerable to this pandemic."
During his nomination acceptance speech at the Republican National Convention, Trump said that Biden's coronavirus response plan was "not a solution to the virus but rather a surrender to the virus."
Trump's in-person appearances have put on hold for the time being as he undergoes treatment for coronavirus. In a statement issued Friday, Trump re-election campaign manager Bill Stepien said events Trump had previously been scheduled to attend were "in the process of being moved to virtual events or are being temporarily postponed."
Moderator of the first 2020 presidential debate Chris Wallace said during a Friday interview with Fox News that Trump and his family may have broken coronavirus mitigation protocols while attending the debate Tuesday in Cleveland, Ohio.
"The Trump family came in, I'm told, wearing masks but then took them off once they sat down in their seats," Wallace said. "That actually violated the rules of the Cleveland Clinic, which was in charge of all the safety issues inside the hall."
Wallace said he would be tested for COVID-19, but not until after a virus incubation period suggested by his doctor. "It wouldn't load up enough to have a definite positive test for about four or five days," Wallace said, "which is why I'm not getting tested until next Monday."