Trump Campaign's Mercedes Schlapp Says Trump is 'Not a Racist' As Trump Tweets New Attacks on Congresswomen
An aide for President Donald Trump's re-election campaign appeared on ABC News Sunday and attempted to defend her boss from accusations that he discriminates toward people of color—a charge leveled by increasingly prominent voices following the president's string of racist tweets and a North Carolina campaign rally on Wednesday that erupted in racist chants.
In a tense conversation with This Week host George Stephanopoulos, campaign aide Mercedes Schlapp attempted to downplay Trump's role in the "send her back" chants from last week's rally, which were directed at Somali-born Congresswoman Ilhan Omar and carried on unabated for 13 seconds as the president looked on.
Schlapp, who previously served as the White House director of strategic communications, suggested that Trump still condemned the cries from his supporters, despite the president seemingly waffling over an initial disavowal he issued Thursday morning. As Schlapp was offering this defense, Trump continued tweeting attacks Sunday morning against Omar and U.S. representatives Ayanna Pressley, Alexandria Ocasio-Cortez and Rashida Tlaib, all of whom are women of color.
Despite the president's tweets—or perhaps unaware of them—Schlapp continued to assert that the president was not enthused or supportive of the crowd's cries.
"The president disavowed the chant; the president made it clear that he wasn't happy with the chant, and he disagreed with it," Schlapp said. When confronted with video footage that shows Trump stand silently as the chant grew louder and more thunderous, Schlapp blamed the president's inaction on the atmosphere of his campaign rallies.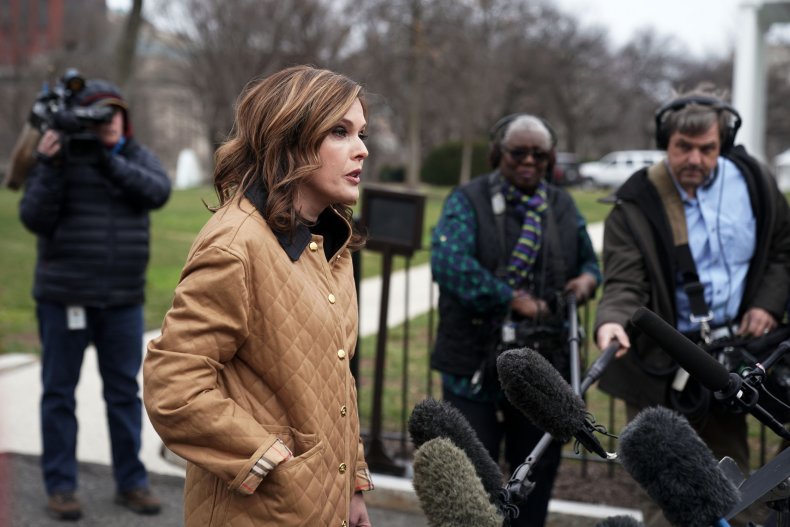 "I'm sure you've been to a trump rally," she told the host. "There's a lot of emotion. There's a lot going on. He made it very clear the next day he was not happy with the chant."
She also pointed to the low unemployment rate among black Americans as proof that Trump doesn't harbor racist views.
"I have worked with President Trump for two years and he is not a racist," she claimed. "He is a compassionate man whose policies have focused on the minority community."
In other Sunday news appearances, prominent electeds expressed no doubt that Trump inflames and harbors racist sentiments, pointing to tweets issued July 14 against the same four congresswomen, the inaction at Wednesday's rally and myriad other controversies that have dogged his presidency.
Democratic Rep. Elijah Cummings, of Maryland, told Stephanopoulos in an earlier interview that the chants reminded him of calls he heard while fighting for voting rights in the south.
"Yes, no doubt about it. I tried to give him the benefit of the doubt," Cummings replied, when asked if he believed Trump to be racist.
In an appearance on CNN's State of the Union, Democratic presidential hopeful Cory Booker compared Trump to former Alabama Gov. George Wallace, an avowed segregationist who served the state from the 1960s to the 1980s.
"The reality is, [Trump] is a guy who is worse than a racist," Booker said. "He's using racist tropes and racial language for political gain. He's trying to use this as a weapon to divide our nation against itself."
Trump has been accused of racism and inciting racism long before he kicked off his 2016 presidential campaign by stating that Mexico was sending its "rapists" to the U.S. While working as a real-estate developer in New York in the 1970s, Trump's management company faced a lawsuit for taking considerable efforts to avoid leasing apartments to black renters. In 1989, Trump mounted a public campaign calling for the execution of black and Latino teens who were later found to be wrongly convicted of raping a jogger in Central Park. During his reality show, The Apprentice, which aired in the early 2000s, Trump faced withering accusations that he treated black contestants unfairly.
The incidences have grown dramatically in number since he entered the political arena.