President Donald Trump's warnings against a planned pipeline to bring oil from Russia to Germany will not disrupt the venture, German Chancellor Angela Merkel and Russian President Vladimir Putin confirmed in a joint press conference over the weekend.
Speaking in Berlin on Saturday, the two leaders discussed the ongoing conflicts in Ukraine and Syria, as well as the Nord Stream 2 gas pipeline, according to The Independent. In July, Trump criticized Germany's plans to go ahead with the pipeline, saying it made the European nation "a captive of the Russians."
Despite ongoing tensions with Ukraine, Putin suggested that the neighboring nation could also benefit economically from the pipeline. Kiev had raised concerns about the project, fearing it would miss out on transit revenue.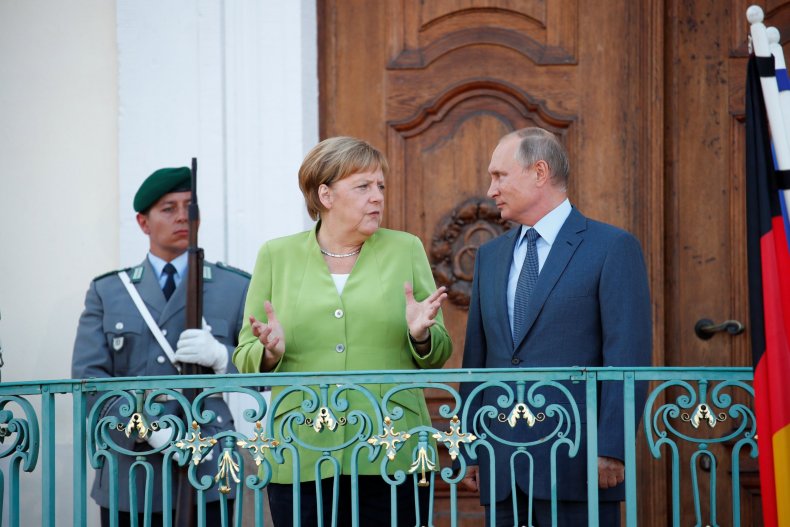 "The main thing is that this transit through Ukraine, which has tradition, meets economic requirements," the Russian leader said, according to German broadcaster Deutsche Welle (DW).
Merkel said that Ukraine must continue to play a role in the transit of gas to Europe, "even when Nordstream 2 exists."
However, beyond their continued agreement on the pipeline, both leaders said there were no major breakthroughs on other issues discussed.
Saying there were "no special" outcomes, Merkel said her main goal was to maintain "permanent dialogue" with Russia, regardless of "very serious conflicts worldwide," according to DW. For his part, Putin said "absolutely no progress" had made on the issue of the ongoing conflict in Ukraine.
Russia has backed separatist rebels in Ukraine since 2014, also moving to annex the Crimean Peninsula. The decision was strongly opposed by Europe and North American leaders, and the Trump administration has sent mixed signals regarding the issue. While Washington has maintained its opposition to Moscow and support for Kiev, Trump has repeatedly spoken favorably of Putin and even suggested that allies in Europe were greater adversaries to the United States.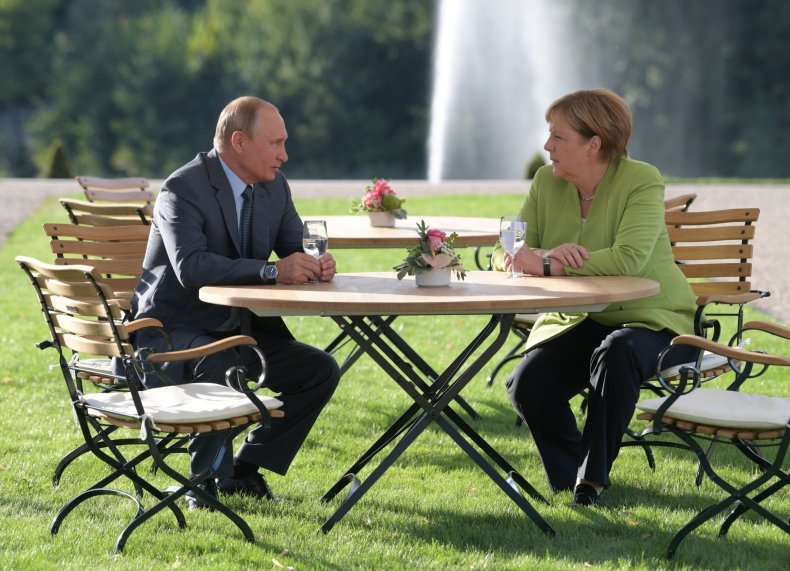 Putin and Merkel previously met in Sochi, Russia, in May, and their respective foreign ministers, Heiko Maas and Sergei Lavrov, met in Berlin last month. Ongoing talks have focused on Syria as well as Ukraine.
"We need to strengthen the humanitarian effort [in Syria]," Putin said on Saturday. "By that, I mean above all, humanitarian aid to the Syrian people, and help the regions where refugees living abroad can return to."
Merkel said both nations should work toward solutions to the conflict, but suggested Russia had a greater responsibility.
"Germany, but especially Russia, as a member of the UN Security Council, has a responsibility to find solutions," she said.