Trump CDC's 'Horrific' Inaction on Coronavirus Could Cost Lives, Congressman in Infected District Says
A congressman in a California district affected by coronavirus has attacked President Donald Trump's handling of the brewing crisis, arguing he has overseen Centers for Disease Control and Prevention inaction and contributed to the spread of the virus.
Rep. John Garamendi, who represents the state's 3rd congressional district, spoke to MSNBC Thursday and shared his frustration on Twitter at what he said are serious failings of the CDC.
It was revealed Thursday that a Department of Health and Human Services whistleblower had complained that staff who received evacuees from Wuhan, China—where the outbreak began—did not have proper training or protective equipment.
The evacuees were flown into the March and Travis Air Force bases in California. The latter is located in Solano County, where officials have now confirmed the first "community infection"—i.e. in someone who had not traveled to an affected area.
Garamendi said the community infection represents "a very serious problem" and said that CDC testing protocols are too confined and may allow the sickness to spread further. "The problem we are facing is that we don't know who is ill," he explained.
"The testing protocols are so restrictive that this woman fell into the void, and her sickness was allowed to be forward unnoticed for several days," Garamendi added.
"The CDC has made a terrible mistake in not allowing early testing and not preparing with test kits. Therefore all of the effort to try to contain this may go to naught."
The congressman added that the CDC will not allow testing to take place at advanced scientific labs in Berkeley and Richmond, describing the restrictions as "reprehensible" and "dangerous." He added, "God help us, it could be deadly."
There are now 60 confirmed coronavirus cases in the U.S., though no one has yet died from the outbreak. Worldwide, there have been more than 83,000 infections and more than 2,800 deaths, the vast majority in mainland China.
As the Statista infographic below shows, California is so far the worst affected state. Cases have been confirmed in six other states.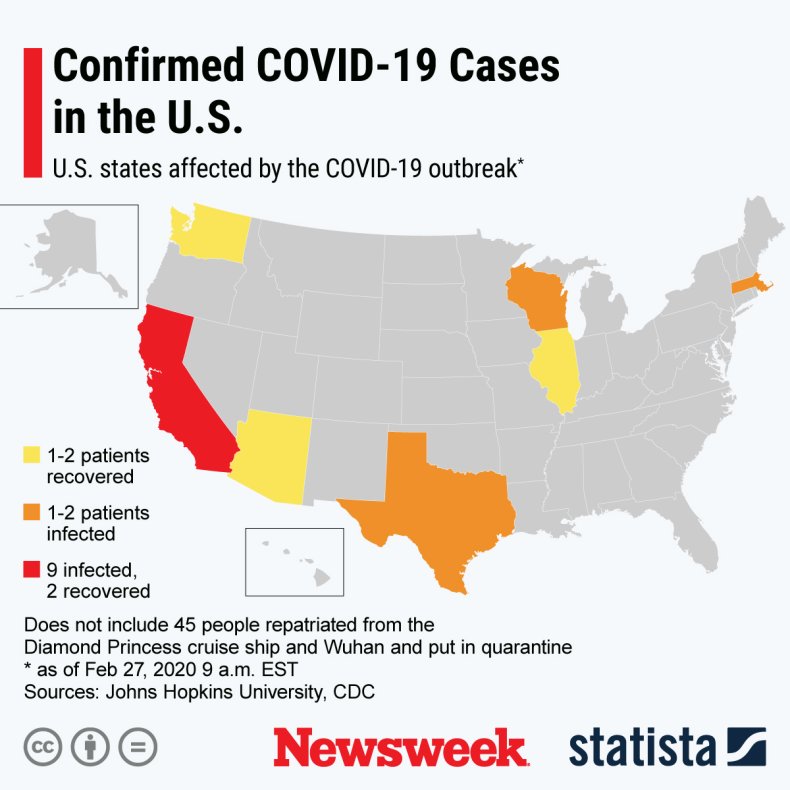 Trump has been criticized for underplaying the danger and appointing Vice President Mike Pence—who has been accused of bungling the response to a 2015 HIV outbreak in Indiana—to lead the effort to contain the virus.
On Thursday, Trump tweeted that the virus was spreading "very slowly in the U.S. because President Trump closed our border, and ended flights, VERY EARLY." He complained that Democrats were blaming him for the spread of the sickness.
Garamendi replied to the tweet, arguing, "Your CDC won't allow CA to use its own capable labs to test for Coronavirus and has provided just 200 test kits for a state of 40 million people. That inaction is a horrific disservice to public health and safety and we will not stand for it."