Shortly after being mocked as "jealous of COVID's media coverage" by former Democratic President Barack Obama, Republican President Donald Trump chanted the word "COVID" 10 times in a row at his rally on Tuesday in Lansing, Michigan.
Earlier on Tuesday in a campaign event for Democratic presidential nominee Joe Biden in Orlando, Florida, Obama suggested that Trump was more concerned with TV ratings and media coverage than he was combatting the ongoing COVID-19 pandemic.
"More than 225,000 people in this country are dead," Obama said. "More than 100,000 small businesses have closed. Half a million jobs are gone in Florida alone, think about that. And what's his closing argument? That people are too focused on COVID... He's jealous of COVID's media coverage."
While Trump didn't reference Obama's comment during his rally in Lansing, he did criticize the media's repeated focus on COVID-19.
"Now with them, you can't watch anything else. You turn it on, 'COVID, COVID, COVID, COVID, COVID, COVID, COVID, COVID, COVID, COVID. We have a spike in cases,'" Trump said, imitating news coverage of the pandemic.
"You ever notice they don't use the word 'death', they use the word 'cases?'" Trump continued. "And you know why we have so many cases? Because we test more.... We're testing everybody; in many ways I hate it."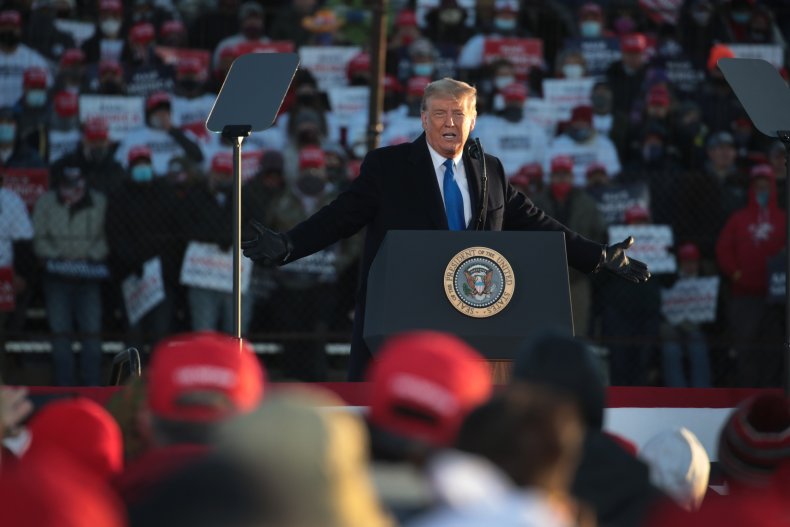 Tom Frieden, the doctor who served as director of the Centers for Disease Control and Prevention (CDC) under Obama, told CNN that COVID-19 case numbers aren't increasing just because of increased testing.
"Hospitalizations—which follow case increases by several weeks—and deaths—which follow hospitalization increases by a week or two—are also increasing," Frieden told CNN. "What's more, the proportion of tests that are positive has increased, and this correlates with increased actual spread of infection. The most reliable information is positivity, and this increased in all regions of the country."
Nevertheless, Trump has made this same claim about rising case numbers and testing since the start of the epidemic.
"They use it to make us look bad," Trump said at the Lansing rally, continuing to criticize media coverage of the epidemic. "But here's the story... On November 4 you won't be hearing so much about it. On November 4, you'll hear, 'It's getting better, it's getting better.' You watch. They're doing heavy COVID because they want to scare people."
Last Friday, the U.S. had its highest ever daily toll of new COVID-19 cases with 83,948 new cases being reported just 11 days before the presidential election.
Newsweek contacted the Trump campaign for comment.