U.S. Sets New Daily Coronavirus Record With Nearly 84,000 Cases 11 Days Before Election
On Friday, with just 11 days to the national election, the U.S. reported its highest ever daily toll of new COVID-19 cases.
There were 83,948 new cases were reported on Friday, according to Reuters. The previous highest-ever daily toll for new cases in the U.S. was around 77,299 on July 16. As of October 23, hospitalizations nationwide were over 41,000, and an average of nearly 800 people have died from coronavirus each day, according to The Guardian.
The Washington Post reported that COVID-19 hospitalizations have increased in 38 states over the past week. The publication also reported that 24 states over the past two weeks have broken their records for the most newly confirmed cases reported in a single day.
An internal federal report from the Department of Health and Human Services produced on Thursday designated over 170 counties across 36 states as rapidly rising hotspots, the publication reported.
As of October 23, the U.S. has had over 8,535,200 confirmed COVID-19 cases and over 223,900 related deaths.
In descending order, the states with the highest overall totals of cases are California with over 898,000 cases, Texas with over 893,000 cases, Florida with over 772,000 cases, New York with over 495,000 cases and Illinois with over 370,000 cases.
Newsweek contacted the Department of Health and Human Services for comment.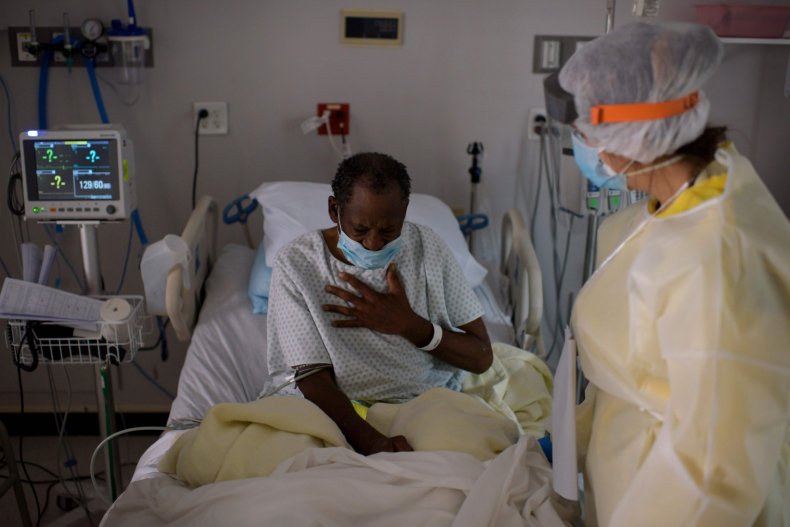 Earlier this month, Dr. Tom Frieden, former director of the U.S. Centers for Disease Control and Prevention (CDC), told CNN that the U.S. should expect 20,000 more coronavirus deaths by the end of the month, especially as colder temperatures drive more people into close, confined spaces indoors and people gather for holidays like Halloween, Thanksgiving, Christmas and New Year's.
The coronavirus has killed more people in America than the military conflicts in Vietnam, Korea, Iraq, Afghanistan and World War I combined. However, President Donald Trump has claimed that COVID-19 is less deadly than the flu, something which the CDC's statistics demonstrate as untrue.
Trump, who downplayed the pandemic in its early stages, has publicly advocated for herd immunity, an approach the World Health Organization has called "very dangerous."
On October 7, The New England Journal of Medicine issued an editorial, the first in its 208-year history, calling the Trump Administration "dangerously incompetent", accusing it of undermining governors, politicizing both face masks and the vaccine and urging readers to vote the administration's leaders out of office during the next election.
While the Trump administration has invested millions into the quick development of a COVID-19 vaccine, it's not expected to be widely available until 2021, according to national infectious diseases expert Dr. Anthony Fauci.