Donald Trump Offers Family as Character Witness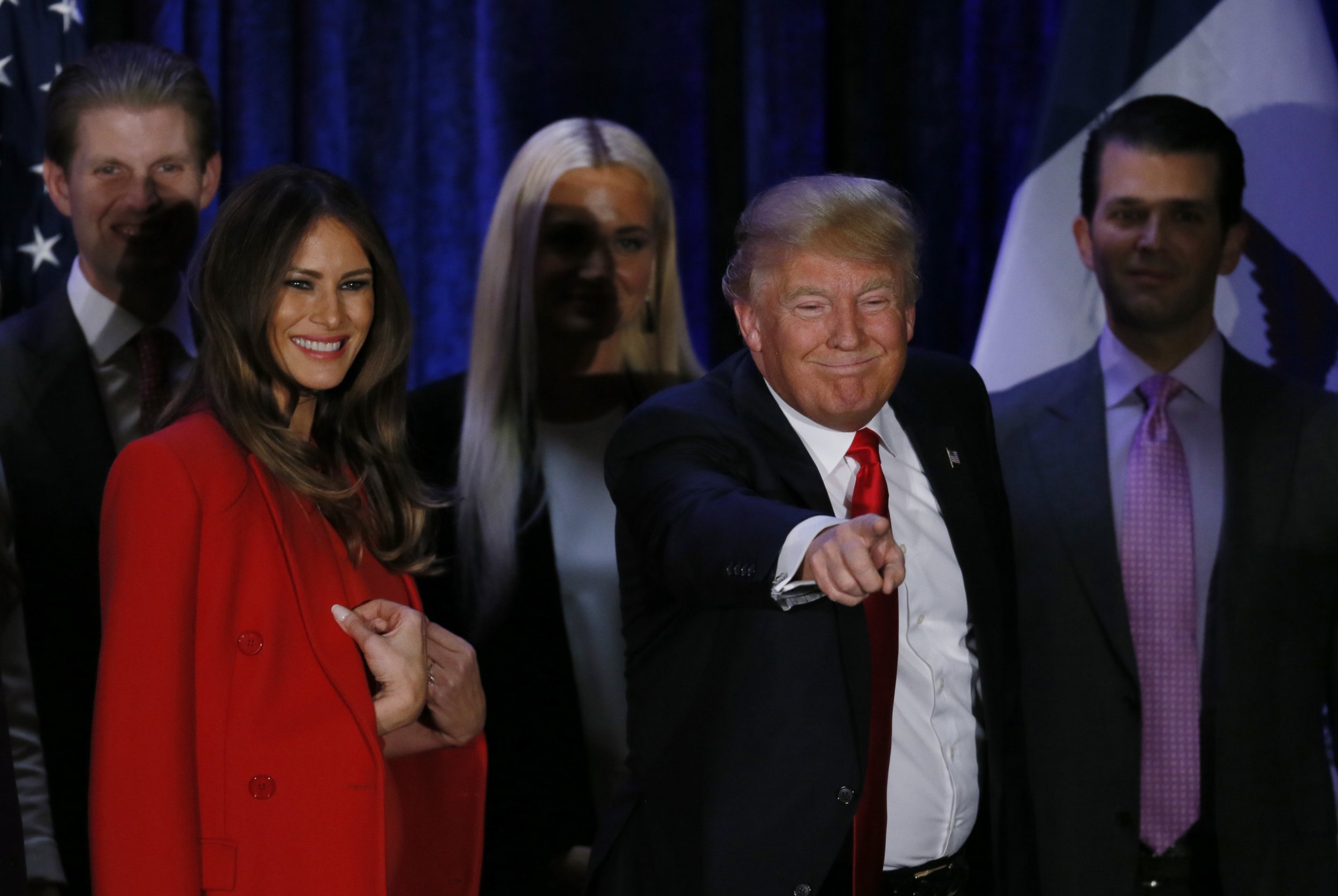 "Throughout our lives, he's always been there," said Donald Trump Jr. about his candidate father.
The scene was the CNN Town Hall and it was a remarkable line given the way that parents splitting can be such a disruptive moment in the lives of their kids. But here was a son offering a wonderful testament to his father, the front runner for the Republican nomination. "It wasn't a typical 'let's go play catch in the backyard' sort of father-son relationship. But we always went to job sites with him. We'd be in his office playing with trucks as a 6-year-old while he's negotiating deals with presidents of major companies. And so he always made himself available. I remember calling from school, and from boarding school, and from getting home from school when we were younger, and he'd pick up the phone and say, hey, [General Electric CEO] Jack Welch is in the office."
After a campaign that's been as much about his character and temperament as his provocative positions, Donald Trump has found his character witnesses.
In a campaign where the real estate mogul has upended the Republican Party, he's still seen as an unknown, often menacing quantity—a potential fascist, an authoritarian, a sexist. But the CNN Town Hall showed a way forward for Trump going into the final primaries and what looks like a bitter hand-to-hand struggle with Ted Cruz going into the Republican convention in Cleveland. That way runs right through his family
Trump's five children—attractive, successful and without the disastrous personal lives that have been the hallmark of so many celebrity families—offered a way for Trump to address his character problems without saying "I'm the best." Four of them appeared on stage: Donald Jr, Eric, Ivanka and Tiffany. His youngest son, Barron, 10, wasn't in front of the camera. The kids are the products of his three marriages: Donald Jr, Eric and Ivanka count Trump's first wife, Ivana, as their mom. Tiffany is the daughter from his marriage with Marla Maples, an actress. And Barron is his son with his wife Melania, a Slovenian immigrant and former model.
For instance, when his eldest daughter Ivanka said that her father had been encouraging of her business career and had always employed female executives who were "incredible role models" it was powerful testimony—an antidote to the stories of calling women bimbos or making allusions to Megyn Kelly's menstruation. When she talks about how motherhood has made her more empathetic, it reflects well on dad. When she talks about being sleepless, it's very relatable—and good for her father, too.
Ivanka's' flat out endorsement helped: "I mean, we know what he's capable of. We've stood by his side for the last decade, in my case, a little bit longer in Don's case, and watched him do these deals at The Trump Organization. And we know what he could bring to the country, so we're just happy to support him."
"He has buildings all over the world. This is his greatest imprimatur," said Kellyanne Conway, a Republican political consultant, on CNN shortly after the event, referring to Trump's family. Conway, who backs Ted Cruz, went on to say that they were great surrogates for him. With some 70 percent of women saying they have a negative impression of Trump, according to public opinion polls, having daughters who are composed, poised (even days after childbirth) vouching for his character and kindness that helps much more than, say, Sarah Palin spouting off about his bona fides.
They also told a lesson of tolerance. Having an immigrant wife, Melania, touting his tolerance and kindness may not win over Mexican voters but it can't hurt. "I've seen him work with people of different backgrounds, people of different of ethnicities," said his son Donald Trump, Jr. That's not going to be enough to overcome positions that are outlandish like denying Muslims entry to the U.S. But it's a start.