'Trump Chicken' Dressed As Prisoner To Set Sail Off San Francisco Coast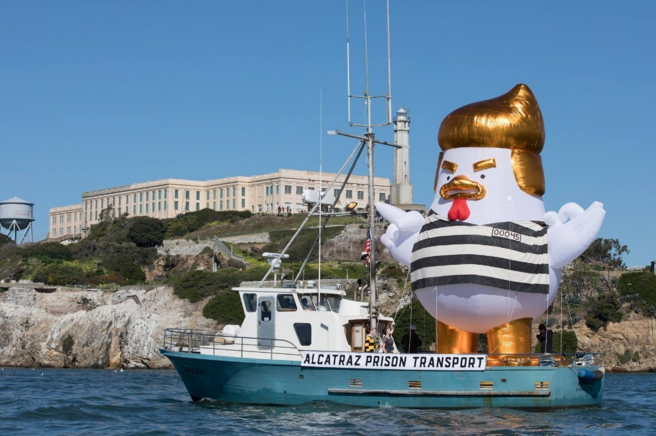 A giant inflatable "Trump chicken" clad in a prison uniform is due to set sail from San Francisco Bay on a boat labeled "Alcatraz Prison Transport" on Sunday.
The boat is expected to make its way along San Francisco's coast, not far from Alcatraz Island, home of the infamous prison, which protesters have jokingly branded the "Big Coop," according to Bay Area KRON 4 News.
Labeled "Prisoner 45" the 33-foot inflatable first took to the waters during the San Francisco Tax March on April 15 of last year. It also reportedly made an appearance at the White House in February.
It also reportedly made a visit to the White House in February.
The Trump Chicken is set to launch into the seas at 11:30 a.m. and sail along the coast until 3 p.m., according to a GoFundMe page titled "Send President Chicken Off To Jail."
"After the week the world has had, we all want to see Trump in jail," organizer Anne Pruett wrote on the fundraising page, which has reached more than $700 in donations to fund Trump Chicken's journey.
President Donald Trump has faced protests and major backlash from across the country after his Helsinki summit with Russian President Vladimir Putin on Monday, during which he appeared to reject findings of Russian meddling in the 2016 presidential election.
Trump Chicken organizers said they were aiming to raise $4,000 to rent two boats "and for other chicken business expenses."
Inviting members of the public to come rally around the inflatable's launch on Sunday, organizers wrote: "If you can't contribute money, we need your voice at the water's edge."
Read more: 'Trump Baby': Meet The Mind Behind The Inflatable Infant Set To Greet Trump
"We want to give you a chance to speak your piece to the Chicken President when we sail our 33-foot bird...slowly down the Embarcadero and further south," they added, calling it an opportunity to "speak truth to poultry."
The protest comes after activists in Britain launched a 20-foot "Trump Baby" blimp into the skies in London earlier this month just a day after the U.S. leader landed in the country for a scheduled visit.
The Trump Baby balloon is expected to make its way to New Jersey next month as part of a "world tour," with people from cities around the globe calling for their city to be next.