Trump Chief of Staff Expects More Positive COVID Tests in the White House
White House chief of staff Mark Meadows told reporters Friday morning that he expects more people in the White House will test positive for the coronavirus following President Donald Trump's diagnosis.
Meadows was discussing the president's symptoms, which he described as "mild," and responding to a question about whether officials who were traveling with Trump on Thursday—including Dan Scavino, the deputy chief of staff for communications, and Jared Kushner, Trump's adviser and son-in-law—plan to quarantine.
"We've tested all of our core staff, and I can tell you that Mr. Kushner, Mr. Scavino, myself, a number of us have been tested and come back with negative results," Meadows said. "And yet, at the same time, I fully expect that as this virus continues to go on, other people in the White House will certainly have a positive test result."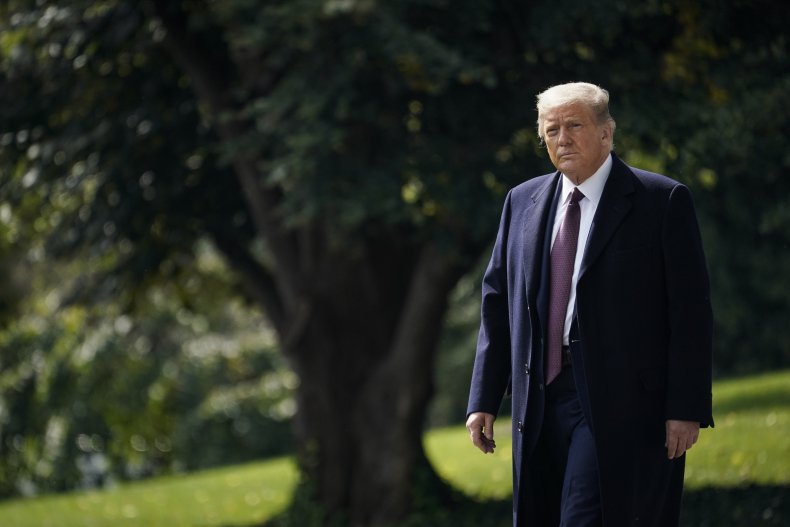 Trump announced his positive diagnosis in a tweet early Friday morning. He said that first lady Melania Trump was also infected and that they both plan to quarantine at the White House as they recover.
Meadows said doctors will continue to monitor Trump's symptoms but would not confirm whether the president was taking hydroxychloroquine. Trump has promoted the anti-malaria drug in the past, despite warnings from the Food and Drug Administration about its potential side effects. In May, he told reporters he was taking it every day.
Meadows added that Trump was engaged with the work of the day and "staying committed to working very hard on behalf of the American people."
"The American people can rest assured that we have a president that is not only on the job but will remain on the job, and I'm optimistic that he will have a very quick and speedy recovery," Meadows said.
News of Trump's diagnosis came after Hope Hicks, one of Trump's aides, tested positive for the virus earlier this week. Hicks traveled with Trump to attend the first presidential debate in Cleveland on Tuesday. The president said on Twitter that he and the first lady were tested for the virus after learning of Hicks' diagnosis. He confirmed on Twitter a couple of hours later that his virus test came back positive.
Following the announcement, the White House's physician, Dr. Sean Conley, issued a statement that said he would continue to monitor Trump throughout his recovery process.
"The president and first lady are both well at this time, and they plan to remain at home within the White House during their convalescence," Conley said.
"Rest assured I expect the president to continue carrying out his duties without disruption while recovering, and I will keep you updated on any future developments," he added.
Vice President Mike Pence's press secretary said on Twitter that Pence and his wife tested negative for the virus on Friday morning.
Newsweek reached out to the White House for additional comment but did not receive a response in time for publication.
This story has been updated with additional information and background.