Trump Once Called Chinese 'Motherf***ers' in a Speech, but His Supporters Won't Forgive Tlaib for Using the Term
Donald Trump and his supporters have blasted Democratic Congresswoman Rashida Tlaib for calling the president a "motherf***er" last week, but back in 2011, Trump himself used the term to describe the Chinese.
During a campaign event in Las Vegas, prior to bowing out of the 2012 presidential race, Trump took aim at China, Huff Post reported on Saturday, linking to a resurfaced YouTube clip of the speech.
"So easy. I'd drop a 25 percent tax on China," Trump told the audience at a rally in the video. "And I could say: 'Listen, you motherf***ers, we're gonna tax you 25 percent,'" he added. The crowd then applauded and cheered loudly.
But the reaction from Trump's supporters has been resoundingly different in the wake of a similar comment made by Tlaib, who was just sworn in last week to represent Michigan. The progressive politician told her supporters it was time to "impeach the motherf***er" on last week, referring to the president.
Trump later responded, describing the comments as "highly disrespectful." Saying he did not know Tlaib, he said he thought she had "dishonored herself and dishonored her family using language like that in front of her son and whoever else was there."
Conservative Fox News program Fox & Friends slammed Tlaib's comments, saying they showed a "complete lack of civility." White House Press Secretary Sarah Huckabee Sanders, who was being interviewed on the program, also said that she hoped new representatives, such as Tlaib, would "actually come here to work with the president, work for solutions ... not to help their own political careers."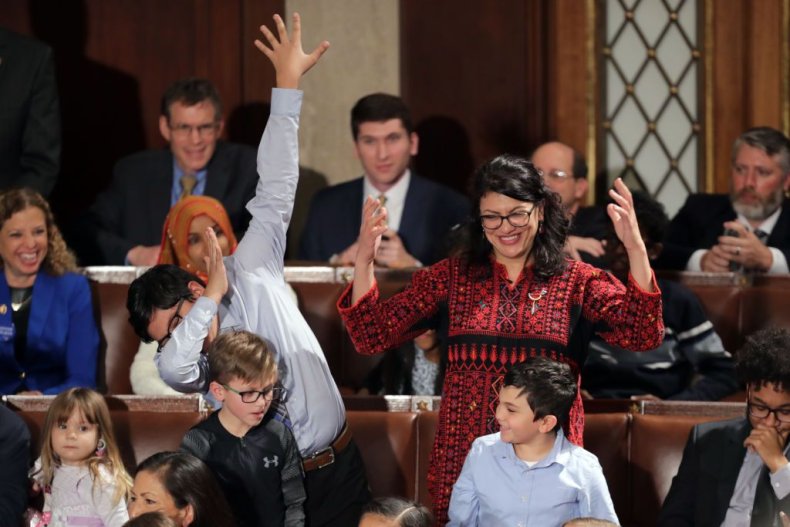 House of Representatives Speaker Nancy Pelosi, a Democrat who represents Maryland, defended he colleague's remark, pointing out that they weren't worse than many remarks Trump has made and continues to make.
"I don't like that language, I wouldn't use that language, but I wouldn't establish any language standards for my colleagues," Pelosi told MSNBC. "But I don't think it's anything worse than what the president has said," she added.
Others also pointed to the controversial leaked Access Hollywood recording, in which Trump, a former reality television star, discussed a woman he tried to "fuck" off camera. "I moved on her like a bitch … You can do anything. Grab 'em by the pussy," he infamously said.
Tlaib, for her part, has doubled down on her remark and refused to apologize.
"I think President Trump has met his match," the politician was quoted as saying by Detroit NBC-affiliate Local 4. "It's probably exactly how my grandmother, if she was alive, would say it."
On Twitter, she also wrote: "I will always speak truth to power" and included the hashtag #unapologeticallyMe.