Trump Claims 'Boring' Twitter Is Losing Users as the Platform Gains Millions of Them
Former President Donald Trump criticized Twitter for reporting a dip in its stock prices and alleged that people are flocking to leave the site, despite the company gaining 7 million new users in the first fiscal quarter.
In a statement issued Friday, Trump called the social media platform "totally boring" and accused the company of suffering a blow after going against "freedom of speech."
He was permanently banned from using Twitter in January, after a violent mob of his supporters stormed the U.S. Capitol on January 6. The riot left five people dead.
"Twitter stock 'plunged' as results are no longer cutting it for investors. Shares are off 15% today," the former president said in a statement, according to Mediaite.
"Bad forecasts are hurting the outlook but more importantly, in my opinion, it has become totally BORING as people flock to leave the site. Michael Nathanson stated, 'the math doesn't make sense' as he lowered his price target. I guess that's what happens when you go against FREEDOM OF SPEECH! It will happen to others also," he added.
While Trump's statement that Twitter's stock prices have fallen is true, the company still recorded a healthy increase in new followers in its first-quarter earnings reported. More than 7 million new daily users joined the platform – up by 20 percent from a year ago – while ad revenue increased by 32 percent, according to CNBC.
In total, Twitter reported $1.04 billion in revenue for the quarter, which was up 28 percent from $808 million a year ago, the news outlet reported. The company also profited by $68 million, contrasting with a loss of $8.4 million a year ago.
Trump's criticism of Twitter is not new. Since the former president was permanently suspended from the platform on January 8, he's frequently slammed the company for being "no good," and "very boring," and claimed to prefer communicating outside of Twitter.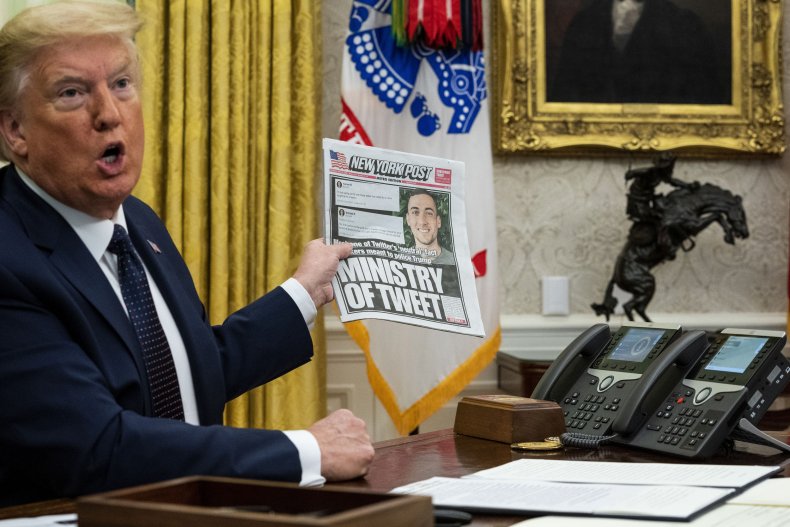 In an interview with Fox News last week, Trump touted his own press releases as being more "elegant" than Twitter, and reiterated the false claim that "a lot of people are leaving" the social media platform.
"I'm really getting a big word out because we're doing releases," Trump said. "And every time I do a release it's all over the place. It's better than Twitter, much more elegant than Twitter. And Twitter now is very boring, a lot of people are leaving Twitter. Twitter's become very, very boring."
"When I started with Twitter years ago it was like a failed thing, concept, media platform," he added. "And it became exciting. And I think I had a lot to do with it, to be honest with you. It became very exciting. And now it's boring and it's no good anymore. People are telling me."
The company moved to permanently ban Trump over concerns that his posts could incite further violence, while he continued to falsely claim that the 2020 presidential election was "stolen" due to voter fraud.
Several other social media platforms, including Facebook, YouTube, and Snapchat also suspended the former president following the Capitol attack. In the absence of his previous social media channels, Trump has issued several press releases independently, including statements repeating claims of voter fraud and offering praise for North Korean dictator Kim Jong-un.
Newsweek contacted Trump's office for additional comment, but did not hear back in time for publication.