Trump Claims He Has 'Legal Right' To Meddle With DOJ But Former Officials Say It Would Be A 'Grossly Improper' Abuse of Power
After Attorney General William Barr criticized the president for making his job "impossible," Donald Trump asserted Friday that he has the "legal right" to interfere with criminal cases handled by the Department of Justice.
But former DOJ officials warn that any interference by the president in criminal prosecutions, while not illegal, is a highly unusual move that would undermine the country's justice system.
"The president arguably, as head of the executive branch, has the constitutional authority and discretion to give direction to the Department of Justice or any other executive branch. But it is grossly improper and an abuse of that discretion for the president to seek to influence a criminal investigation," David Laufman, the DOJ's former counterintelligence chief, told Newsweek.
He added that throughout the history of the Justice Department there have been "explicit understandings" in how the White House can communicate with the law enforcement agency—until now.
"I can't think of any president in recent modern history that has repeatedly made public statements about pending criminal investigations, prosecutions or trials with the intent to influence them," Laufman said.
Former Watergate prosecutor Nick Akerman agreed, noting that there's nothing in the Constitution preventing Trump from telling the attorney general how to handle a certain case but that it's "just never done."
"It's never done because it looks like the president is interfering in the system of justice, that he is putting his own personal beliefs on top of what we want as even-handed enforcement of our criminal law," Akerman told Newsweek. "This is something unique to Donald Trump."
Trump's assertion that he has the right to interfere with the DOJ was in response to Barr's criticism that his constant commentary on ongoing matters makes it "impossible" for him to do his job as attorney general.
"I'm not going to be bullied or influenced by anybody," Barr told ABC in a televised interview on Thursday. He added that it's "time to stop the tweeting about Department of Justice criminal cases."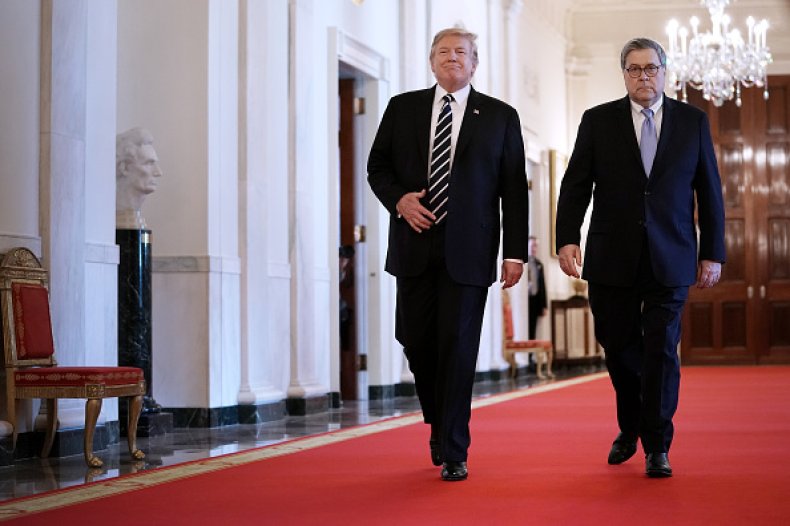 Barr has been under fire this week for reversing course on a sentencing recommendation for Roger Stone. Stone, a longtime Trump associate, was convicted last year of obstructing Congress and witness tampering. His indictment came from former special counsel Robert Mueller's investigation into Russian election interference.
Federal prosecutors in Washington asked a judge on Monday to sentence Stone to seven to nine years in prison for his crimes. But hours after President Donald Trump complained about the sentence, the Justice Department decided to backpedal on its own recommendation.
The move prompted the four prosecutors involved in the Stone matter to drop the case and has raised questions about the Justice Department's independence and integrity.
But Trump applauded the move and congratulated Barr via Twitter for "taking charge of a case that was totally out of control." He also slammed the career prosecutors who had worked on the case for making such a "horrible and very unfair" recommendation.
Laufman said in these instances where Trump is specifically denigrating prosecutors or questioning the integrity of a case, it's "essential" for the attorney general to repudiate those attacks.
"The consequence of not doing so is the plummeting of morale within the Department of Justice and the hollowing out of public confidence in the department as an institution," he said.
The White House has not yet responded to Newsweek's request for comment.