As Trump Claims Innocence, Cohen Says Indictment 'Imminent'
An indictment of former President Donald Trump for allegedly violating New York State election law is imminent and could come as soon as Friday, according to sources familiar with the matter, in a dramatic development that would add to Trump's legal problems as he mounts another run for the White House.
The Manhattan district attorney's office is expected to issue criminal charges against Trump in a case centering on a payment that Michael Cohen, Trump's attorney and fixer at the time, made to the adult film star Stormy Daniels in the final weeks of the 2016 presidential election.
Cohen told CNN Thursday that he believed an indictment of Trump was "imminent."
Trump has maintained his innocence in the case and claims he did not have an affair with Daniels. His attorneys have also argued the investigation is politically motivated. Trump attacked Daniels Wednesday on his social media platform Truth Social.
"I did NOTHING wrong," Trump wrote.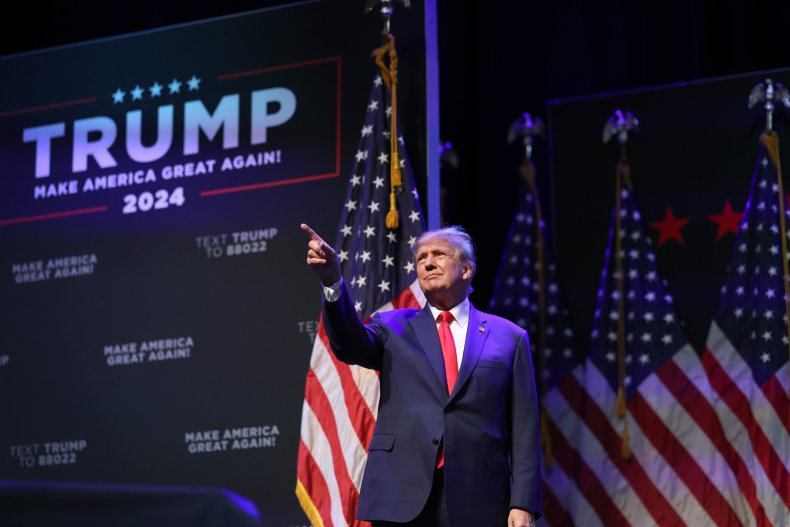 Cohen paid Daniels $130,000 so that she would not go public with claims that she had an affair with Trump in 2006. Trump and his wife, former first lady Melania Trump, were married the year before.
Prosecutors have argued in court filings that Cohen's hush money payment represented an in-kind campaign contribution, because it helped Trump avoid a potentially damaging story in the stretch-run before Election Day. They have focused on whether Trump violated election law in New York by reimbursing Cohen without reporting the payment as a campaign contribution.
Cohen was convicted in 2018 of lying to Congress and campaign finance charges, and received a three-year prison sentence. Daniels and Cohen—who was released from home confinement in 2021 after serving more than one year in prison— testified earlier this week before a grand jury in the Manhattan district attorney's investigation into Trump.
An indictment would cap a years-long inquiry into the matter, and represents a significant turn of events that would increase Trump's criminal exposure.
Trump would enter unchartered territory if he faces criminal charges. No modern sitting or former U.S. president has been indicted.
But prosecutors will face challenges in making their case. Legal experts say it's unclear what the odds are that Trump would be convicted or actually serve any prison time, in part because of the difficulties of securing a conviction against a former president, but also because the prosecution's legal theory in the case is untested in court.
To secure a conviction, prosecutors would have to prove Trump knowingly broke state law by reimbursing Cohen for his payment to Daniels and then falsifying his business records to cover it up.
There is also no guarantee the case will go to trial.
"The former president's attorneys might very well make a motion to dismiss the indictment" if charges are brought against Trump, said Jerry H. Goldfeder, a veteran elections lawyer based in New York.
An appeal would slow the process down, and "assuming the case survives, it could take months before they start picking the jury," Goldfeder said.
The maximum prison sentence in the case would likely be four years, according to a New York Times report.
The timing of the likely indictment complicates Trump's 2024 presidential campaign.
Trump announced his candidacy last November, shortly after the midterm elections. He has led early polls of the potential 2024 Republican primary field, and remains extremely popular with the party's conservative base.
But Trump's path to the nomination won't be easy. Several major GOP donors have signaled they plan to back other Republicans such as Florida Gov. Ron DeSantis—who has not declared his candidacy but is widely expected to run—instead of Trump.
Some leading Republican figures have also expressed concern about a Trump nomination, arguing he would have trouble winning a general election after losing to President Joe Biden in 2020 by 7 million votes.
It remains to be seen how the indictment will impact Trump's political future.
The former president's campaign has been clouded by a host of legal issues beyond the Manhattan district attorney's inquiry in New York.
Trump is also under investigation by prosecutors in Georgia for interfering with the state's election in 2020. Trump called Georgia's secretary of state after Election Day and famously asked him to "find" enough votes for him to beat Biden, who carried the state by 11,779 votes.
The Justice Department has also launched investigations into Trump's role in the Jan. 6 insurrection, as well as his handling of classified information after leaving office.
Correction, 3/17/23, 5:30 a.m. ET: This article was updated with the correct spelling of Melania Trump's first name.