Trump Claims Obama/Biden Years Marked by 'Chaos, Hatred & Discord'
With November's election just weeks away, and most national polls placing Joe Biden ahead of his incumbent competitor by sizable margins, President Donald Trump has ramped up criticism of the Democratic nominee in interview comments and social media posts. Amid a series of tweets questioning poll results and suggesting Biden will add seats to the U.S. Supreme Court if elected, which Biden himself has not confirmed, Trump claimed Barack Obama's presidency—when Biden served as vice president—were marked by "chaos, hatred & discord."
"People don't remember the chaos, hatred & discord that we all went through during the 8 years of Obama/Biden," Trump wrote on Twitter Sunday. "St. Louis, Oakland, Baltimore, and so many other places, were a complete & total disaster. I wouldn't be in the beautiful White House if it weren't for Sleepy Joe, etc."
His tweet seemed to reference protests that took place in each city mentioned during Obama's presidency after widely publicized police shootings that killed Michael Brown and Freddie Gray, two Black men, in Missouri and Maryland. Some protests that followed their deaths, and eventual decisions that failed to hold any police officers involved criminally accountable, became violent. Obama publicly denounced violence that occurred during the protests.
Trump faces ongoing criticism for his response to nationwide protests against police brutality and racism over the past four months, which has given rise to his re-election campaign advocating for "law and order." His failure to explicitly condemn white supremacists during the first presidential debate incited backlash and concern, among both Democrats and Republicans, about the ways in which Trump's rhetoric fuels white nationalism and violence by right-wing extremist groups. Members of such groups, like the Proud Boys organization Trump referenced during the debate, celebrated and pledged allegiance to the president in response to his comments.
Miles Taylor, the Department of Homeland Security's former chief of staff under Trump's administration, later said the president's comments about far-right violence throughout his term in office were "a loaded gun for these groups, who have since taken his words as a sort of permission to do what they're doing."
Critiques of Trump's militance toward anti-racism protesters, and comparatively passive response to right-wing extremism, are compounded by others related to his administration's handling of the coronavirus pandemic. As Trump continues to voice false statements about the disease, confirmed cases and deaths from the virus remain higher in the U.S. than anywhere else in the world. In April, Bill Gates described the state of coronavirus testing in the U.S. as "chaotic."
Biden highlighted the president's approach to COVID-19 in his own message Sunday afternoon, shared to Twitter two hours after Trump posted his tweet about "chaos" under Obama.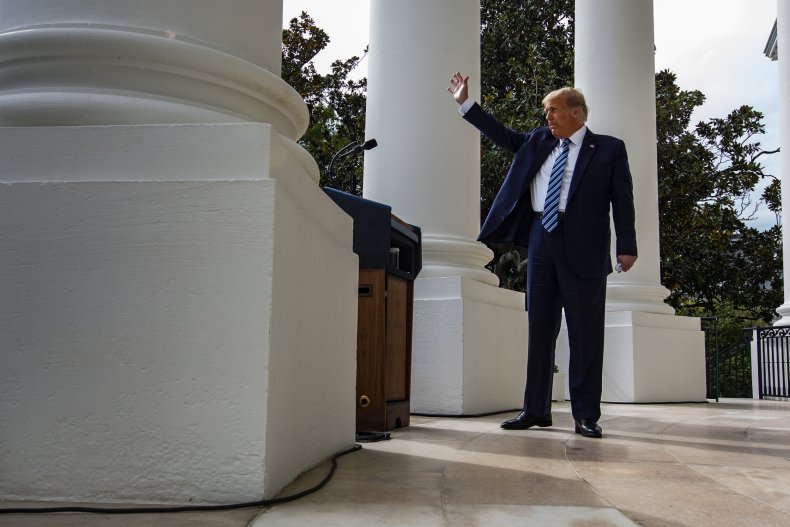 "When President Trump was told one thousand Americans were dying every day from COVID-19, he shrugged it off and said, 'it is what it is.' It is what it is? This president doesn't even pretend to care about the Americans he swore to serve. It's disgraceful," Biden wrote. His tweet cited the president's comments from an August interview with Axios, wherein Trump discussed the soaring U.S. death toll as a result of COVID-19. At the time, roughly 1,000 fatalities were reported daily, on average, in connection to the disease.
"They are dying, that's true. And you have...it is what it is. But that doesn't mean we aren't doing everything we can," Trump told Axios reporter Jonathan Swan, as the national death toll surpassed 150,000 people. "It's under control as much as you can control it. This is a horrible plague," he finished.
Newsweek reached out to Biden and Trump's campaigns for additional comments but did not receive replies in time for publication.
More than 7.5 million people have tested positive for COVID-19 in the U.S. as of Sunday afternoon, and close to 215,000 have subsequently died, according to Johns Hopkins University's data.