Trump Says He's Never Had An Empty Seat at a Rally, Despite Pictures Showing Empty Seats at Rallies
President Donald Trump claimed on Monday that he's never had an empty seat at any of his rallies — but photographs from some of his recent 2020 campaign stops prove otherwise.
"I'm doing this for the country. I'm doing it for the people that show up. I haven't had an empty seat at a rally" Trump said during a cabinet meeting. He added that whenever they hold an event he tells his staff to "just get the biggest arena.'"
"I go into these massive basketball arenas, like in Dallas where the Mavericks play, and fill it up and set a record," Trump said. "I've set a record almost every place I've been because we just need a little, small stage. We don't need basketball courts or ice hockey courts."
The president continued further, claiming that he "takes less than musicians" because he doesn't have a band accompany him onstage.
"I've set the world record for somebody without a guitar," Trump said, prompting some laughter from officials and reporters in the room.
But photographs shared online tell a different story. Images from Trump's rally in Dallas, Texas, last week showed large empty spaces in the arena just as he was about to start. One reporter posted a screenshot of a Fox News live stream showing open standing room near the stage. The image was time-stamped two minutes after the rally was scheduled to begin.
Plus, there is no evidence that Trump broke any records with his rally at the American Airlines Center in Texas. The arena announced that 18,500 were at Trump's event and Dallas police estimated that there were about 5,000 people gathered outside.
In August, empty seating areas at Trump's rally in New Hampshire were so widely circulated that it prompted the hashtag #EmptySeatMAGATour to trend on Twitter. According to The Hill, more than 70,000 tweets had been posted using the hashtag. In one photograph posted online by WRKO, a local radio station in Boston, Trump can be seen on stage with a large section of seating behind him completely empty.
Although it was later confirmed by Southern New Hampshire University, where the rally was held, that Trump had set the all-time attendance record for their arena, topping an Elton John concert hosted in 2001. Roughly 11,500 people showed up to hear Trump speak.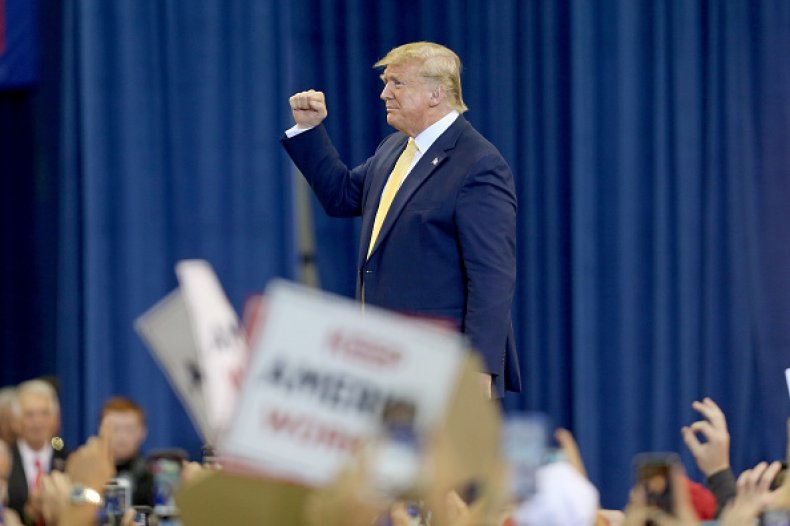 It's not the first time that Trump has exaggerated or made false statements when it comes to his rallies. During an Ohio rally in August, Trump was met with applause when he assured the crowd that he likes to make his ticket prices for campaign events inexpensive when they're actually free.
"We've sold tens of thousands of tickets and, you know what, at the sales prices, we keep it nice and low. We keep it nice and low," Trump said.
But tickets to that Ohio rally, like nearly all of the president's events, were free. In order to get into the stadium where the event was being held, supporters just had to register online and the tickets were sent directly to their phone or email address. Tickets were given out at a first come first serve basis.