Trump Claims White People 'at the Back of the Line' for COVID Vaccines, Treatments
Former President Donald Trump on Saturday claimed that white people are being discriminated against and sent to the "back of the line" when it comes to receiving COVID-19 vaccines and treatment.
Speaking during a rally in Florence, Arizona, Trump alleged that coronavirus vaccines and treatments are being unfairly "rationed" and withheld from white Americans in some states.
"The left is now rationing life-saving therapeutics based on race, discriminating against and denigrating, just denigrating white people to determine who lives and who dies," Trump said during his speech. "You get it based on race. In fact, in New York state, if you're white, you have to go to the back of the line to get medical help. If you're white, you go right to the back of the line."
The former president's comments came in reference to a recent New York state policy that allows health-care providers to consider race as a risk factor when administering limited supplies of antiviral treatments to those most in need.
That policy states that "non-white race or Hispanic/Latino ethnicity should be considered a risk" due to "longstanding systemic health and social inequities" that increase the risk of severe illness and death from COVID-19. The guidelines come after the U.S. Centers for Disease Control and Prevention (CDC) found that Hispanic or Latino people are 2.1 time more likely to die from COVID-19 than white people, while Black people are 1.9 times more likely to succumb to the virus.
The CDC has also found that certain ethnic and racial minority groups are less likely to receive outpatient antiviral treatment than white people. Furthermore, in nearly half of U.S. states, Black and Hispanic vaccination rates are lagging behind white ones by at least 10 percentage points or more, according to Bloomberg.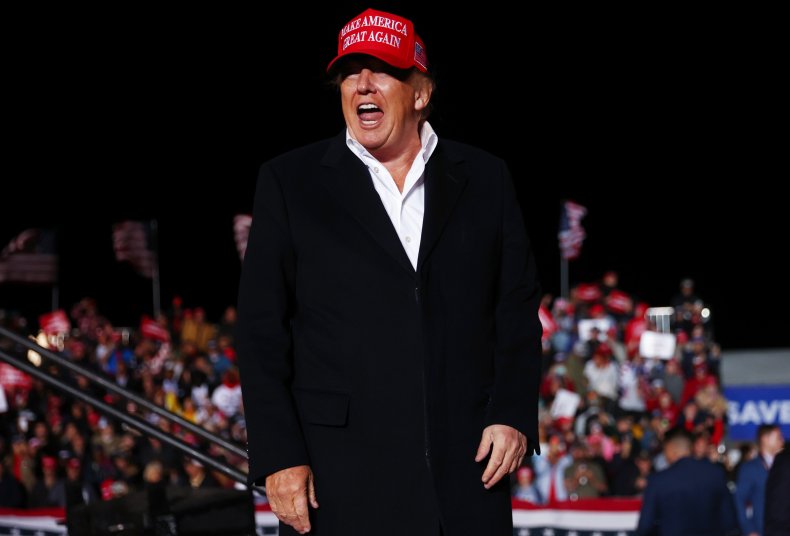 Trump, however, exaggerated New York's guidelines on Saturday by incorrectly claiming that white people are not given proper treatment in comparison to people of color.
"If you're white, you don't get the vaccine, or if you're white, you don't get therapeutics. It's unbelievable to think this. And nobody wants this, Black people don't want it, white people don't want it, nobody wants it," Trump added during his speech, prompting some of his supporters to cheer.
The Arizona rally marked Trump's first big public event of 2022. During other parts of his speech, the former president continued to push unfounded claims that the 2020 presidential election was stolen due to voter fraud, while also slamming President Joe Biden and railing against COVID-19 mandates.