Donald Trump Calls Hillary Clinton a 'Nasty Woman' at Third Debate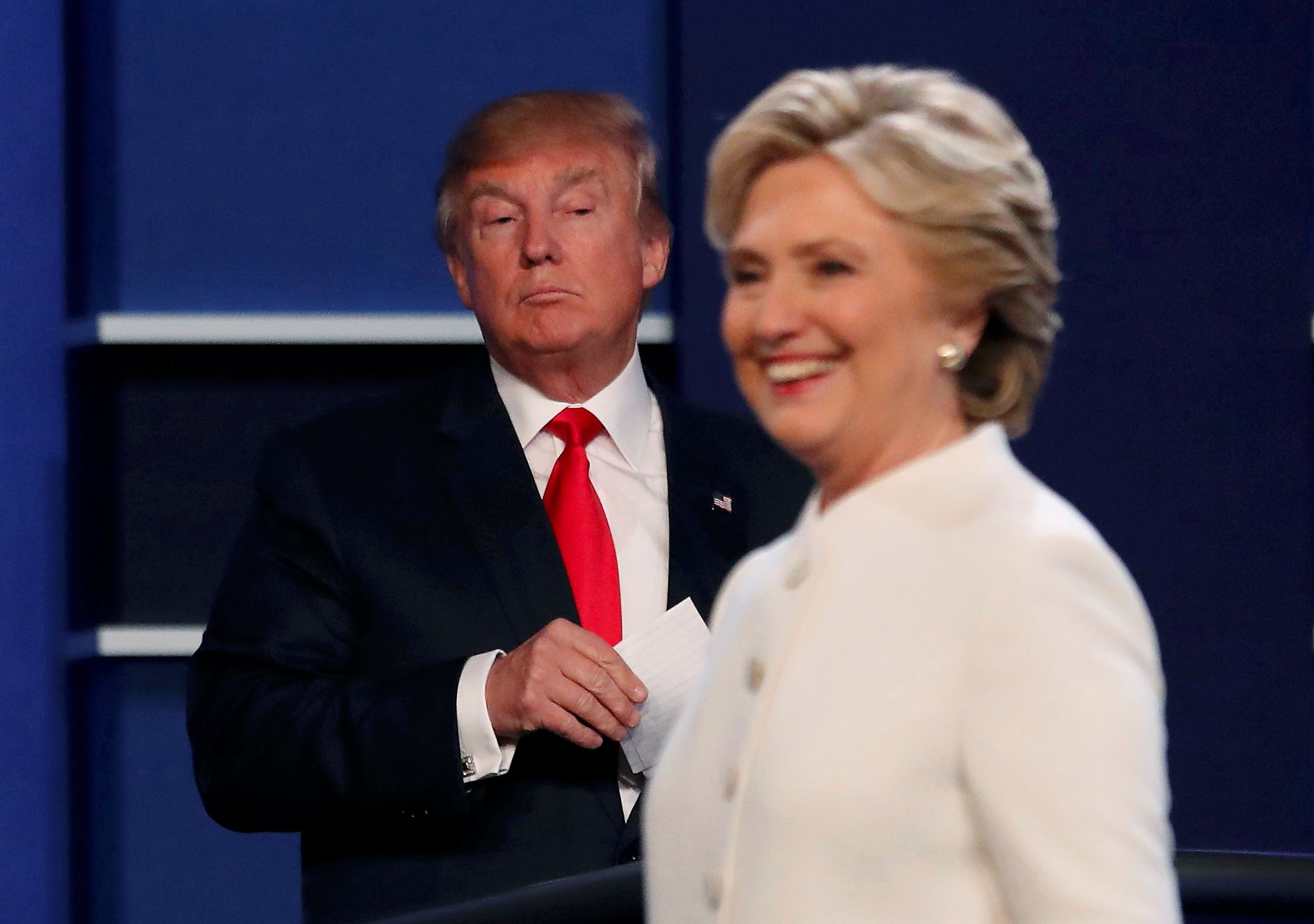 "Nobody respects women more than me," Donald Trump insisted at Wednesday night's debate in Las Vegas, repeating a line that's become his reflexive response to a growing list of alleged sexual and gender-related misdeeds. The audience burst into audible laughter.
If viewers were skeptical of Trump's regard for women going into the debate, he only reinforced that impression on Wednesday. Sniffing and smirking, he interrupted Democrat Hillary Clinton repeatedly as she spoke over the course of the 90-minute exchange. "Wrong!" he interjected when Clinton challenged his claim that he opposed the Iraq War before it started. Later, as Clinton explained her position on Social Security, Trump interjected again, with a personal attack. "Such a nasty woman," he said, shaking his head dismissively in Clinton's direction. The comment was so abrupt and unrelated to the discussion, that online commentators at first questioned whether he had actually said it. It quickly inspired a Twitter meme spun off of Janet Jackson's 1986 hit song "Nasty."
The Republican presidential nominee has struggled with female voters throughout the general election campaign, but his nadir came earlier in October when a leaked 2005 video of him bragging about assaulting women went public. Trump has insisted that his remarks were just "locker room talk" and that he's never actually engaged in that kind of behavior. But a stream of women who've gone public in the past week say otherwise.
At Wednesday's debate, the final one of the presidential election, Trump said he didn't know any of the women who've accused him of assault, suggesting they were part of a Clinton conspiracy. "I didn't even apologize to my wife!" Trump declared, as evidence the claims were false. Polls, however, show a majority of voters believe the Republican has made unwanted advances on women. And when given the opportunity to display his respect for women on Wednesday, he instead let loose a contemptuous zinger.
Clinton continued her remarks on Social Security, ignoring Trump's "nasty" insult. But she did launch a broadside against Trump's record on women earlier in the debate, when moderator Chris Wallace raised the assault accusations. "Donald thinks belittling women makes him bigger," Clinton said. "He goes after their dignity, their self-worth, and I don't think there is a woman anywhere who doesn't know what that feels like."
The problem for Trump is she's probably right.