Trump Allies Are Already Trying to Discredit James Comey
In the prepared statement he will deliver on Capitol Hill Thursday, former FBI Director James Comey undercuts a key line of attack from the White House and its allies: that Comey never raised concerns about President Donald Trump before he was fired. In Comey's telling at least, he did repeatedly tell the bureau's senior leadership that he feared the president was trying to influence the investigation into the Trump campaign's ties to Russia. Republicans, however, are already floating several talking points to defend the president and poke holes in Comey's credibility. And there's some evidence it could work—a majority of Americans expressed little or no trust in Comey in a Washington Post/ABC News poll released Wednesday, skepticism that holds across party lines.
Related: "Normal New York City conversation," Chris Christie says of Trump's alleged interference with James Comey in Russia investigation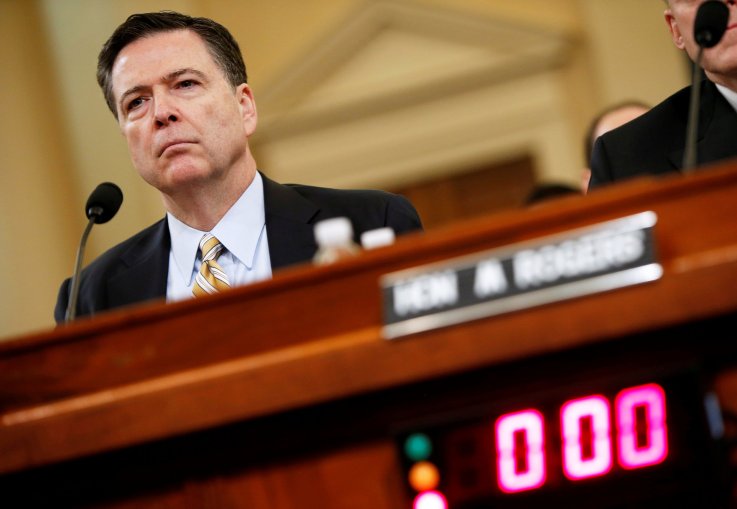 The Republican National Committee and other Trump boosters have been hammering Comey ever since the Senate Intelligence Committee confirmed his upcoming testimony late last week. Since the president fired Comey in May, news outlets have reported a series of anecdotes about the two men's conversations and Comey's concerns Trump was trying to quash parts of the Trump-Russia investigation. In a memo sent to reporters on Monday, an RNC spokesman wrote that the erstwhile FBI director "needs to answer a simple question about his conversations with President Trump: If you were so concerned, why didn't you act on it or notify Congress?"
In his testimony, Comey offers an explanation. He recounts how, after a "very concerning" February 14 conversation with the president in the Oval Office, he raised the issue with other FBI leaders. But they decided that "it was important not to infect the investigative team with the President's request" to drop the probe as it pertained to former national security adviser Michael Flynn. So they "decided to keep it very closely held, resolving to figure out what to do with it down the road as our investigation progressed."
Comey did eventually take his concerns to the acting deputy attorney general at the Department of Justice and, indirectly, to Attorney General Jeff Sessions. Comey's testimony confirms a report by The New York Times that he demanded Sessions not leave him alone with the president in the future.
The ex-director's testimony may neutralize one potentially damaging GOP critique, but Trump defenders have several others at the ready, which Senate Republicans will undoubtedly highlight at the hearing:
The Investigation Continues
Trump allies are trying to play down suggestions that the president's one-on-one pleas to Comey amount to a genuine obstruction of justice. And one of their best pieces of evidence is that the investigation is ongoing and unobstructed. Comey himself underscores in his opening statement that "the investigation moved ahead at full speed, with none of the investigative team members—or the Department of Justice lawyers supporting them—aware of the President's request" to scuttle their work.
Other senior intelligence officials, Republicans note, have also testified publicly that the probe into Russian meddling in last year's election has continued at full speed, as acting FBI Director Andrew McCabe did in May. And the RNC quickly highlighted statements from Director of National Intelligence Dan Coats and National Security Agency Director Mike Rogers on Wednesday denying they've felt pressure to intervene in an ongoing investigation. Of course, Democrats pointed out that neither Coats nor Rogers denied that Trump had asked them to intervene, either.
Comey's Records Exonerate Trump
Instead of focusing on the parts of Comey's statement that seem to suggest Trump pressured his FBI director to drop the investigation into Flynn's contacts with Russian officials, the RNC is playing up his corroboration of a key White House talking point: The president himself is not under investigation. "Director Comey's statement reconfirmed what the president has been saying all along—he was never under investigation," party Chairwoman Ronna McDaniel said in a statement.
It's not entirely accurate, however, to suggest Trump is in the clear vis-à-vis Russia. While Comey does say in his written testimony that he assured Trump in January that the FBI "did not have an open counter-intelligence case on him," he explicitly didn't preclude opening one in the future. In his testimony, Comey says that the FBI and the Department of Justice didn't want to make a public statement affirming they were not investigating Trump because "it would create a duty to correct, should that change."
Comey Has an Agenda
Trump allies keep raising the fact that Comey kept detailed notes of all his conversations with the sitting president, but point to his admission that he did not do the same for Trump's predecessor, Democrat Barack Obama. "Mr. Comey didn't memorialize any conversations with other folks, just the conversations with President Trump. Who knows what that means," Ohio Representative Jim Jordan noted in an interview on Fox News Wednesday afternoon, without elaborating further.
The president has tried to paint Comey as a partisan in the past, highlighting the FBI's decision not to charge Democratic presidential nominee Hillary Clinton for mishandling classified information through her private email channels when she was secretary of state. In one tweet in May, Trump declared, "FBI Director Comey was the best thing that ever happened to Hillary Clinton in that he gave her a free pass for many bad deeds!" That's news to Clinton and fellow Democrats, who maintain that Comey's October 28 letter to Congress reopening her email investigation tilted the November election to Trump.
Comey Is Incompetent
A pro-Trump nonprofit group, Great America Alliance, released an ad Wednesday that goes after Comey for, among other things, being "consumed with election meddling" instead of fighting terrorism and giving inaccurate testimony to Congress in early May. The FBI ultimately had to correct Comey's testimony, about how many Clinton emails aide Huma Abedin forwarded to her husband. "James Comey, just another D.C. insider, only in it for himself," the ad concludes. According to the Associated Press, the group plans to run the ad on cable news during Comey's testimony Thursday.
Trump Allies Are Already Trying to Discredit James Comey | Analysis