Trump Under Investigation for Obstruction of Justice, James Comey Says in Testimony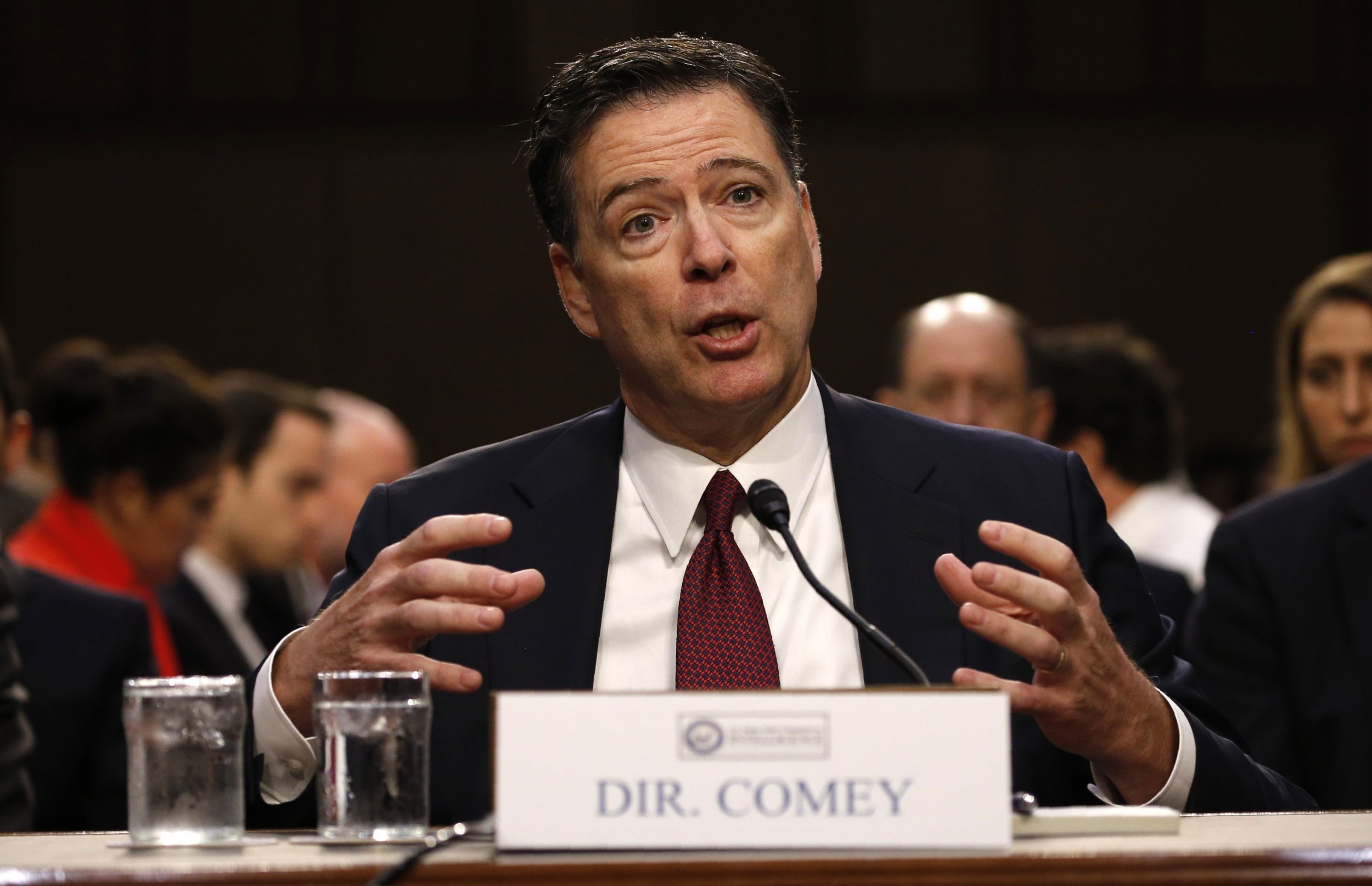 Former FBI Director James Comey said he is "sure" President Donald Trump is being investigated for obstruction of justice by special counsel Robert Mueller.
Related: What is obstruction of justice? How Comey testimony could land Trump in impeachment trouble
Asked during his testimony Thursday before the Senate Intelligence Committee whether Trump's request for him to drop the FBI investigation into former National Security Adviser Michael Flynn constituted obstruction of justice, Comey said it wasn't for him to make that determination. However, he did say the matter was being investigated by Mueller, who was appointed as special counsel last month to oversee the FBI's probe into possible collusion between the Trump campaign and Russia.
"I don't think it's for me to say whether the conversation I had with the president was an effort to obstruct," he said in response to a question from Republican Senator Richard Burr, chairman of the Senate Intelligence Committee. "I took it as a very disturbing thing, very concerning. But that's a conclusion I'm sure the special counsel will work toward, to try and understand what the intention was there and whether that's an offense."
Comey later added that he no longer has his memos documenting the conversations, saying he had already given them to the special counsel.
In Comey's prepared remarks released Wednesday ahead of his testimony, Comey described an Oval Office conversation with Trump on February 14.
"I hope you can see your way clear to letting this go, to letting Flynn go," Comey recalled Trump saying. "He is a good guy. I hope you can let this go."
Comey also confirmed that Flynn, who had resigned a day earlier after it emerged that he had failed to document contacts with Russian officials during the Trump team's transition, was under criminal investigation at the time.
"General Flynn at that point in time was in legal jeopardy," Comey said. "There was an open FBI criminal investigation of his statements in connection with the Russian contacts and the contacts themselves."
Key to proving obstruction of justice will be establishing that Trump acted "corruptly" in asking Comey to drop the investigation. Legal experts have said that Trump's asking Vice President Mike Pence and Attorney General Jeff Sessions to leave the room before making the request could be critical in determining that.
Obstruction of justice is a federal crime. However, the Justice Department decided in 1973 and 2000 that it was not prudent to criminally prosecute a sitting president. Even so, Presidents Richard Nixon and Bill Clinton faced impeachment proceedings for obstruction of justice. Some Democrats have already begun calling for Trump's impeachment.
This story has been updated to include further details from James Comey's testimony.