President Trump Stays Silent on Jim Comey's Russia Testimony in Remarks to Conservatives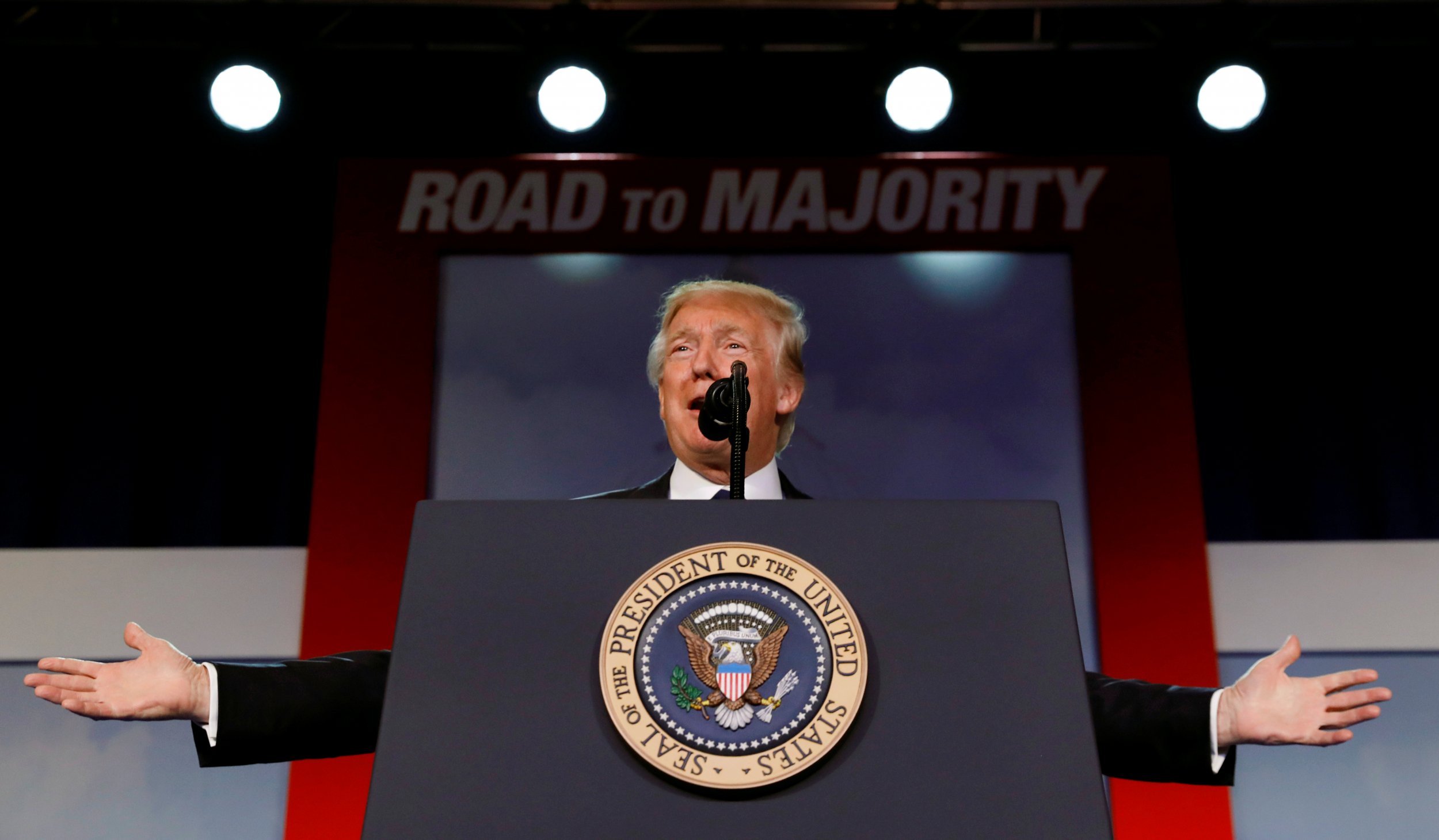 A disciplined President Donald Trump on Thursday did not offer direct response to his former FBI director, James Comey, whose high-profile testimony on Capitol Hill was captivating the country. However, while speaking just up the road at a conference of Christian conservative political activists, the president did promise to fight back against unnamed attackers.
Related: Will Trump tweet during the Comey testimony? Aides reportedly plan to try to keep him busy
"As you know, we're under siege, you understand that," he told the audience at the Faith and Freedom Coalition's annual Road to Majority Conference, held at D.C.'s Omni Shoreham Hotel. "But we will come out bigger, better and stronger than ever."
"We know how to fight better than anybody," the president continued. "We know that the truth will prevail...and that the good and decent people of this country will get the change they voted for and that they so richly deserved."
On a day when his integrity and his political future were under direct fire, Trump sought out the friendly embrace of one of his most ardent and loyal groups of supporters—evangelical Christians. As Faith and Freedom Coalition Chairman Ralph Reed pointed out, roughly 80 percent of evangelicals voted for Trump last fall, and most of them continue to stand with the president even as his national popularity sinks. The audience greeted the president with a standing ovation, and gave him several more over the course of his lengthy remarks. One of the longest ovations came in response to Trump's comments about pulling out of the global Paris climate agreement.
Trump supporters had been nervous that the president would lash out at Comey Thursday, as he has done so often in the past when confronting criticism. But White House aides appear to have succeeded in keeping Trump away from Twitter Thursday, even though he must have been itching to counter Comey's accusations that he publicly lied about their interactions.
Like the president, the conservatives who gathered for the Faith and Freedom conference's opening luncheon seemed to be content to ignore the Comey media storm. Aside from a few allusions to a busy day in Washington, none of the initial speakers mentioned the blockbuster hearing transpiring on Capitol Hill. Republican Senator Ted Cruz warmed up the enthusiastic audience before the president remarks, saying, "Ignore the political circus and let's focus on delivering results." Trump was the luncheon's keynote speaker, kicking off a three-day conference that will also feature appearances by Vice President Mike Pence and a who's who of conservative state and congressional leaders.
Trump, for his part, thanked the crowd for its continued loyalty and promised, "I will never let you down." As he closed his remarks, the president acknowledged that "we face many challenges," before adding, "as long as our country remains true to its values...then our best days are yet to come."