Trump Could Pardon 'Good Person' Roger Stone, Calls FBI Investigators 'Evil People'
President Donald Trump on Tuesday left the door open about whether he may pardon Roger Stone, the GOP operative and longtime associate of the president who was convicted last month on seven counts related to the Russia probe.
"Well, I hadn't thought of it," Trump told reporters at Mar-a-Lago, his south Florida resort where he's spending the holidays. "I think it's very tough what they did to Roger Stone...he's a good person."
The president also railed against the American agencies that investigated Russian election interference in the 2016 election, labeling FBI investigators as "evil people."
"These were dirty people, these were bad people, these were evil people," Trump said. "And I hope that someday I'm going to consider it my greatest, or one of my greatest, achievements getting rid of them. We have no place in our country for people like that."
Stone, 68, could be handed down what is essentially a life sentence of up to 50 years over his convictions for false statements, witness tampering and obstruction of justice, among other things. Far-right conspiracy theorist and InfoWars host Alex Jones claimed last month that Stone begged for a pardon from Trump by reaching out to him as an intermediary just prior to his conviction.
"I think it's a very tough situation that they did something like that," Trump said of Stone's conviction.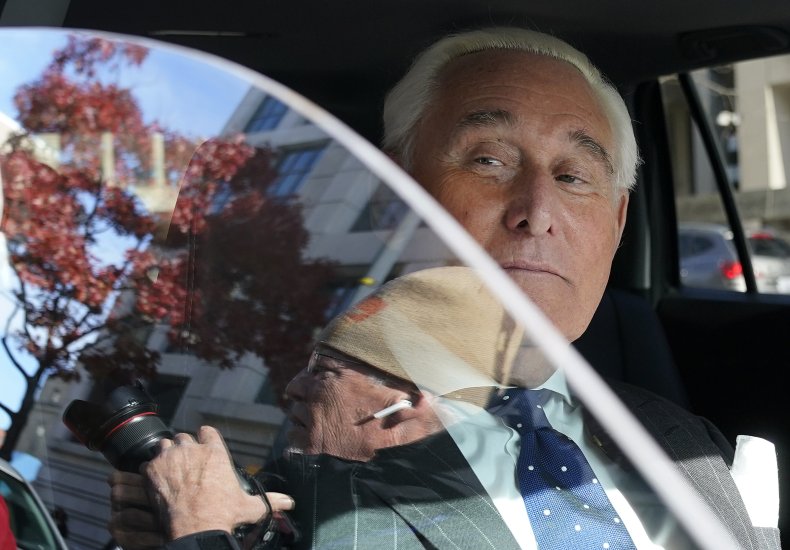 Former campaign aides testified during the trial that Stone acted as a go-between for the Trump campaign and WikiLeaks, which eventually published troves of hacked emails from the Democratic National Committee and Hillary Clinton's campaign.
The president tried to distance his 2016 campaign from Stone, who served a short stint as an adviser for about two months, by making false claims about the timeline regarding Stone's involvement. Trump announced his 2016 bid for president on June 16, 2015, and news of Stone's departure came August 8. Trump said he fired Stone while the adviser claimed otherwise, saying he quit.
"Roger Stone was not a part of it, the campaign," Trump said. "He was somebody I've known over the years but not a part of the campaign. Very, very, very early on—long before, I think—long before I even announced, he was involved in a minor way."
The president continued, slamming former special counsel Robert Mueller's Russia investigation that led to Stone's conviction. He claimed it was a "big hoax" and expressed sympathy for Michael Flynn, his former national security adviser who pleaded guilty in December 2017 to lying to the FBI about his contacts with Russia's ambassador to the U.S.
Trump repeated the claim that his "campaign was spied on," an accusation against the counterintelligence probe that was the precursor to Mueller's investigation. While Justice Department Inspector General Michael Horowitz has determined there was wrongdoing by the FBI and the way it applied for secret surveillance warrants, he concluded the probe was legitimate and refuted any claims of spying.
"What they did to [Stone] is very unfair, in my opinion, and what they did to General Flynn is very unfair, in my opinion, and what they did to so many others is very unfair," the president said. "And now, we found out there were a bunch of dirty cops."