Trump Could Start World War III Because He Treats Presidency Like The Apprentice, Says GOP Senator Bob Corker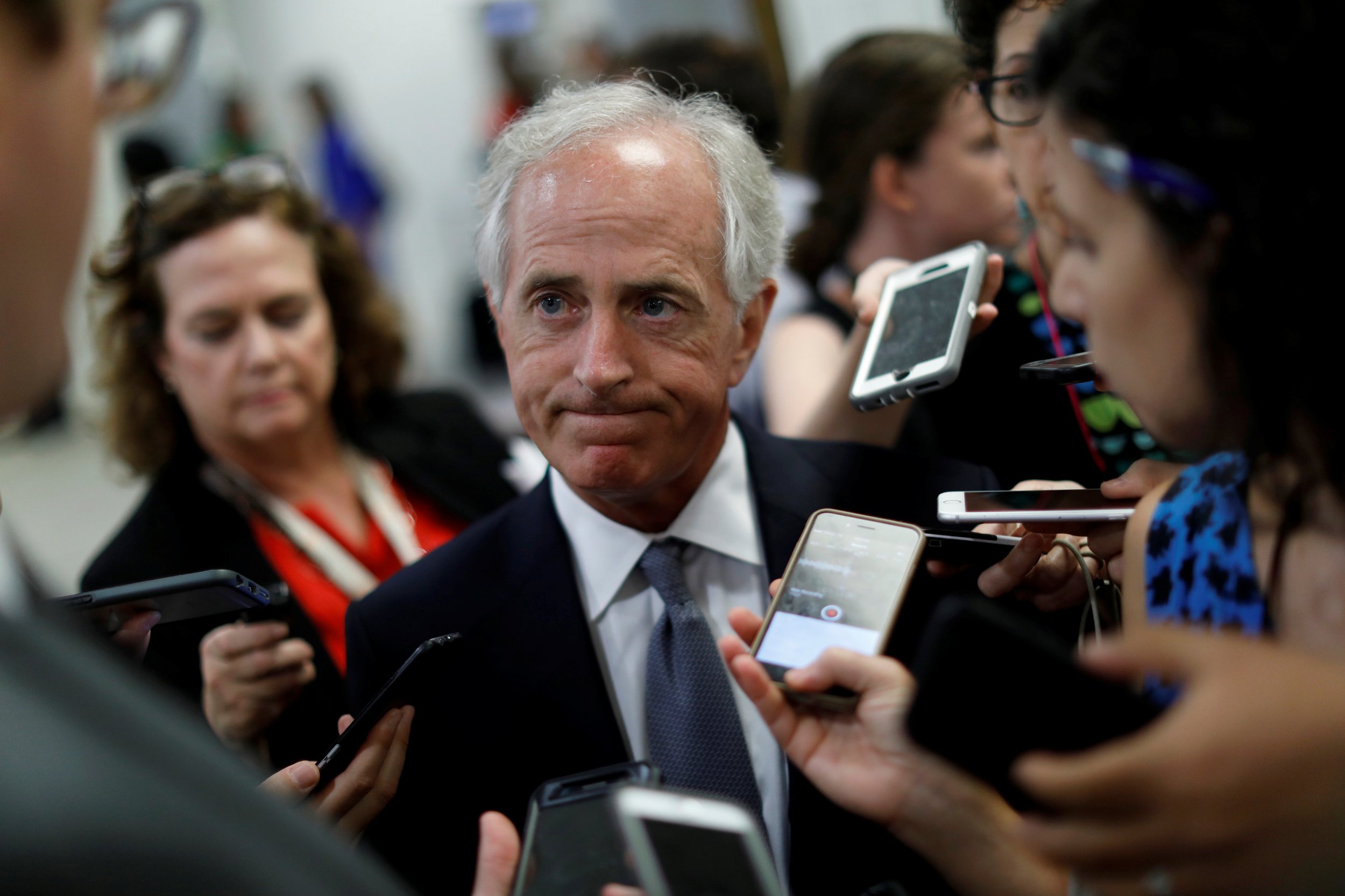 President Donald Trump could put the U.S. "on the path to World War III" because he treats the presidency "like he's doing The Apprentice or something" said a senior Republican Sunday.
Senator Bob Corker of Tennessee capped a week of insults he traded with Trump by saying he knows "for a fact that every single day at the White House, it's a situation of trying to contain" the president.
Trump's behaviour "concerns me," said Sen. Corker, Chair of the Senate Foreign Relations Committee during an interview with The New York Times . "He would have to concern anyone who cares about our nation."
Last Wednesday Corker told reporters that senior White House staff and key Trump administration Cabinet members—such as Secretary of State Rex Tillerson, Secretary of Defense James Mattis and Chief of Staff John Kelly—"are those people that help separate our country from chaos."
Corker's comments followed a press conference where Tillerson dismissed an NBC News report that he called Trump a "moron". Tillerson also denied that he nearly resigned over the summer in frustration with the president's behaviour, despite multiple reports later claiming to confirm Tillerson's insult and his plan to leave the Trump administration.
Read more: Tillerson, Mattis, and Kelly Are Only Thing Saving U.S. "From Chaos," Says Republican Senator Bob Corker
Trump has repeatedly undercut Tillerson's foreign policy positions, tweeting October 1 that the secretary of state "is wasting his time trying to negotiate with" North Korea. The day before Trump's tweet Tillerson told America's allies in Beijing the U.S. sought to ease rising tensions with North Korea over its nuclear weapons capabilities "through talks."
Corker said Sunday that Trump's behavior in office is like "a reality show" that could set America "on the path to World War III."
He added: "A lot of people think that there is some kind of 'good cop, bad cop' act underway, but that's just not true." Corker said he knew of "several instances" where Trump has "hurt us as it relates to negotiations that were underway by tweeting things out."
White House press secretary Sarah Huckabee Sanders offered a contrasting view. "Look, I think that the President is the one that's keeping the world from chaos," Sanders said during a press briefing last Friday. "He has an incredible team around him that's helping him lead that effort, and he's had tremendous accomplishments on the international stage by working with allies and confronting enemies."
Early Sunday Trump attacked Corker, tweeting that he "didn't have the guts to run" for reelection after Corker "'begged' me to endorse him for re-election in Tennessee."
"I said 'NO' and he dropped out (said he could not win without my endorsement)," Trump wrote.
Corker quickly fired back in a tweet: "It's a shame the White House has become an adult day care center. Someone obviously missed their shift this morning." In his interview with the the Times Corker said the president contacted him last Monday to encourage him to run again.
Corker was an early mainstream Republican supporter of Trump but has more and more sharply criticized the president's behaviour in recent months. He began counseling Trump on foreign policy during the 2016 election campaign after Trump's first major foreign policy speech last April.
Yet in August Corker broke with the president after Trump blamed "both sides" for violence during a white supremacist rally in Charlottesville, Virginia, that left a counter-protester dead and 19 others injured.
At the time, Corker said "the president has not yet been able to demonstrate the stability nor some of the competence that he needs to demonstrate in order to be successful."
The Senator has spoken more freely about his opinion of Trump after announcing September 26 that he won't seek re-election to the Senate in the 2018 midterms.
"I don't know why the president tweets out things that are not true," Corker said Sunday. "I don't think he appreciates that when the president of the United States speaks and says the things that he does, the impact that it has around the world."