Trump Brags About COVID-19 Response As Supporters Fail to Distance, Wear Masks
President Donald Trump bragged about the U.S.'s COVID-19 response at a Michigan rally on Thursday night as many of his supporters failed to wear masks in a closely packed crowd.
Speaking outside an airport hangar, Trump said his administration had handled the pandemic "just the right way" as a new book from veteran journalist Bob Woodward reported that the president deliberately downplayed the severity of the novel coronavirus in early February.
The president added that the U.S. had done "the best job" of any major country in curbing the spread of COVID-19 as the number of confirmed infections topped 6.3 million.
"They wanted me to come out and scream: 'People are dying, we're dying,'" Trump said. "No. We did it just the right way. We have to be calm, we don't want to be crazed lunatics."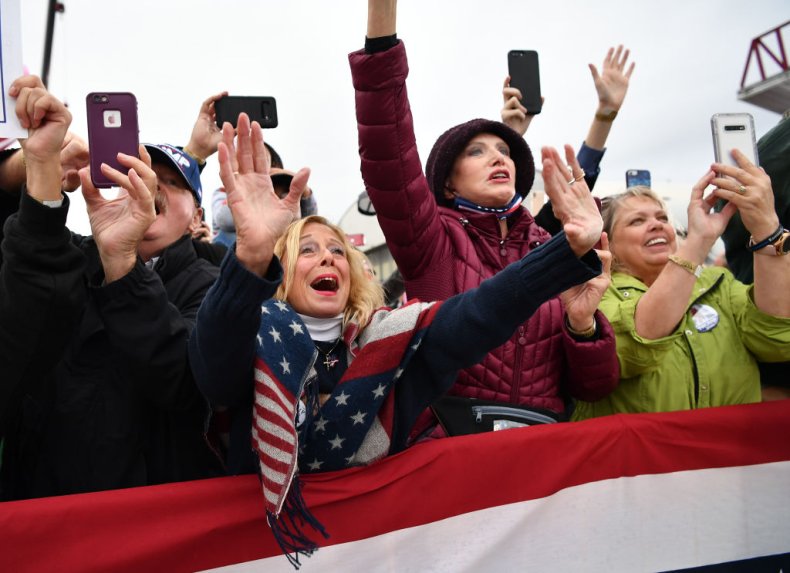 The commander-in-chief later added: "We've done a fantastic job. I think we've probably done the best job of any country, certainly of any major country anywhere in the world on the pandemic."
As Trump boasted about the U.S.'s handling of the pandemic, many of his supporters in the Freeland, Michigan, crowd were breaching the state's own face covering guidelines.
Footage broadcast by several major networks from the event show a large number of attendees weren't wearing face masks in a non-socially distanced crowd.
CNN's Chief White House Correspondent Jim Acosta posted four photos from the event in which only a handful of the thousands gathered can be seen wearing masks. Several pictures from the Getty Images wire service also show a large number of Trump's supporters without masks on, while a few are pictured wearing MAGA-branded masks.
Reacting to the pictures, the Democrat Dr. Dena Grayson tweeted: "This lunatic Donald Trump is trying kill more Americans at his superspreader rallies."
The 2020 GOP primary challenger Joe Walsh added: "Look, here's the deal: One candidate is campaigning responsibly like we're in the middle of a once in a lifetime pandemic. The other candidate is campaigning like he doesn't give a damn."
Michigan rules require all people in the state to wear masks whenever they are in any public indoor space or in an outdoor space where it is not possible to maintain a distance of 6 feet.
Businesses are also expected to refuse entry to anyone not wearing a face covering under a state executive order.
Newsweek has contacted the Trump campaign for comment. This article will be updated with any response.