Former President Donald Trump is "daring" Judge Tanya Chutkan to impose a gag order requested by the Department of Justice (DOJ), former federal prosecutor and legal analyst Joyce White Vance said on Friday.
DOJ special counsel Jack Smith asked Chutkan, who is overseeing Trump's trial surrounding the January 6, 2021, riot at the United States Capitol building, on Friday to impose a "narrow" gag order against the former president. The order would prevent Trump from making "inflammatory" and "intimidating" comments about those involved in the case, including witnesses and attorneys.
Trump responded to the request in a post to Truth Social, his social media platform, arguing against a gag order because he believes it would impede on his right to campaign in the 2024 Republican primary election.
"Biden Prosecutor, Deranged Jack Smith, has asked the Court to limit 45th President, and leading Republican Nominee (by more than 50 points, & beating Dems!) DONALD J. TRUMP'S, PUBLIC STATEMENTS. So, I'm campaigning for President against an incompetent person who has WEAPONIZED the DOJ & FBI to go after his Political Opponent, & I am not allowed to COMMENT? They Leak, Lie, & Sue, & they won't allow me to SPEAK? How else would I explain that Jack Smith is DERANGED, or Crooked Joe is INCOMPETENT?" he wrote Friday evening.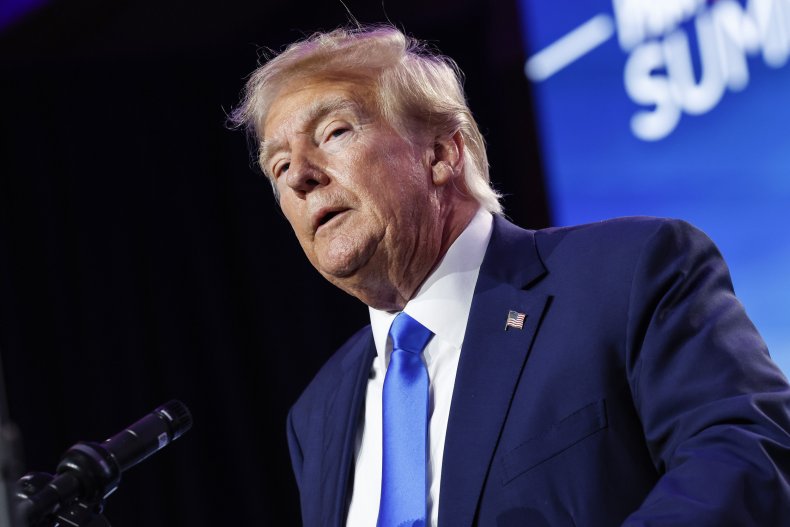 Vance, who served as U.S. attorney for the Northern District of Alabama and has previously been critical of Trump amid his legal cases, wrote Trump's comments may not be helping his case against a gag order in a post to social media platform X, formerly Twitter.
"Trump is now literally daring Judge Chutkan to enter a gag order. So that he can whine about it some more," she wrote.
Trump was indicted in August in the DOJ's investigation into his alleged efforts to overturn the 2020 presidential election, which he has repeatedly claimed was stolen via widespread voter fraud despite a lack of evidence to back up that claim.
He is accused of conspiracy to defraud the United States, conspiracy to obstruct an official proceeding, obstruction of and attempt to obstruct an official proceeding and conspiracy against rights and has denied all wrongdoing in the case, accusing federal prosecutors of targeting him for political purposes. The former president has plead not guilty in the case and maintains his innocence.
Newsweek reached out to Trump's campaign for comment via email.
Legal Experts, Former FBI Official React to Smith's Gag Order Request
Legal experts provided an array of reactions to Smith's gag order request.
Legal analyst and lawyer Jonathan Turley responded to the request on X, with a more critical tone.
"So after fighting to try Trump in the middle of the presidential election, Smith is seeking to curtail him from discussing one of the most important issues in the campaign. No one would argue with a bar on disparaging witnesses. However, some of the witnesses and parties are political figures," he wrote.
He continued: "While D.C. District Judge Tanya Chutkan has said that she will not make accommodations for the fact that Trump is a candidate for President, this could force the issue and result in an appeal. Trump is running on the weaponization of the Justice Department and the criminal justice system. Many Americans agree with his criticism. Smith could curtail much of that debate by pushing this trial before the election."
Laurence Tribe, a law professor at Harvard University and Trump critic, wrote that it is "about time" for a gag order in the case.
"The 1st Amendment doesn't protect witness intimidation, jury tampering, or threats to the presiding judge or the prosecution The narrowly tailored gag order that Special Counsel Smith has requested is well within the U.S. Constitution's limits. About time!" he wrote on X.
Andrew McCabe, the former deputy director of the FBI, said on CNN the limited gag order would put Trump "on notice" and could lead to "consequences for the former president.
"He is willfully knowingly lying about the judge, about witnesses, about the process and the court system in an effort to kind of put his thumb on the scale, to prejudice the jury pool, to intimidate witnesses," he said.