Trump Is 'Absolutely Deadly Serious' About Mexico Tariffs, Acting White House Chief of Staff Says
Acting White House Chief of Staff Mick Mulvaney warned on Sunday that President Donald Trump is "deadly serious" about his threat to impose new tariffs on imports from Mexico, saying he expected the levies to be implemented at the starting level of 5 percent as of June 10.
Appearing for an interview on Fox News Sunday , Mulvaney was pressed by host Chris Wallace to answer whether Trump's recent tariff threat was simply a "negotiating ploy" or a real plan. The White House official asserted that the president was actually planning to impose the import taxes.
"He's absolutely deadly serious," Mulvaney said. "In fact, I fully expect these tariffs to go onto the at least 5 percent level on June 10th. The president is deadly serious about fixing the situation at the southern border."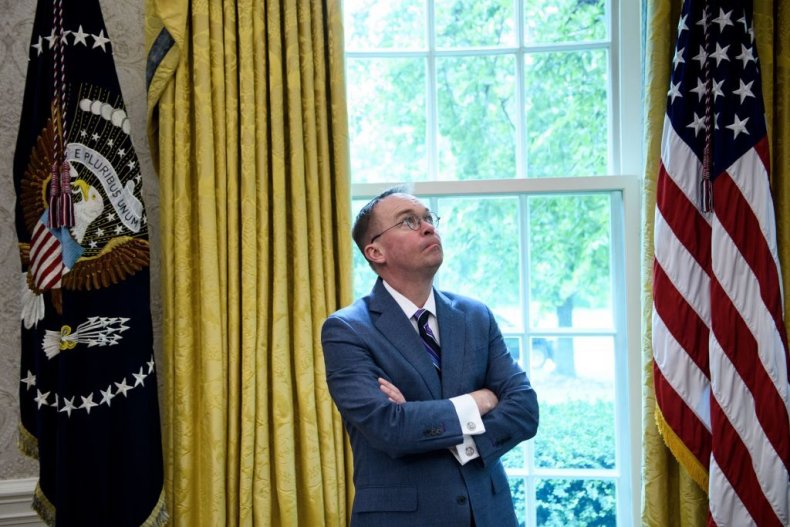 Mulvaney pointed out that the administration has been raising its concerns about undocumented migrants crossing from Mexico into the U.S. "for months."
"Six months ago we told everybody it was an emergency situation," he said. "Very few people believed us."
Trump last week announced that his administration would begin implementing tariffs targeting Mexican imports, starting at 5 percent on June 10 and steadily increasing by an additional 5 percent on the first of each subsequent month until they reach 25 percent if the flow of undocumented migrants to the U.S. is not stopped.
Although the president has threatened to impose tariffs targeting the close U.S. ally and second-largest trading partner before, he has previously been talked out of such a move by Republicans and top administration officials. But Trump now appears unwilling to listen to some of his top advisers and leading Republican critics of the decision, as he has grown increasingly frustrated with the situation on the southern border.
Economists, business leaders and Republicans have voiced their criticism of the president's decision, pointing out that trade policy and immigration are separate issues. They have warned that the new tariffs will almost certainly bring about negative economic consequences, as they are essentially taxes on American businesses and consumers.
"This is a misuse of presidential tariff authority and counter to congressional intent," Senate Finance Chairman Chuck Grassley, a Republican from Iowa, has said.
Grassley and other GOP lawmakers have also warned that the tariffs would threaten the success of Trump's United States-Mexico-Canada Agreement (USMCA), which has yet to be approved by Congress. The president has already touted the free trade deal as a signature achievement of his administration, making his decision to impose tariffs on Mexico appear all the more bizarre to supporters and critics.
But for now, the administration seems to be primarily concerned about what it sees as a crisis at the southern border.
"We need Mexico to step up and do more," Trump's acting Homeland Security Secretary Kevin McAleenan said in an interview with CNN's State of the Union on Sunday. "We need them at the table looking at new strategies that we can aggressively move out on."