As Trump Declares Border 'Crisis,' Homeland Security Says Crossing Attempts Up by 200 Percent. Here's Why
Updated | Just as President Donald Trump announced he would be sending National Guard troops to the southern border, the Department of Homeland Security released new numbers showing that the number of people attempting to cross into the U.S. illegally from Mexico had tripled in March, compared with last year.
"During the month of March [U.S. Customs and Border Protection] saw a 37 percent increase overall when compared to February, but a 203 percent increase compared to March 2017," Homeland Security said on its website.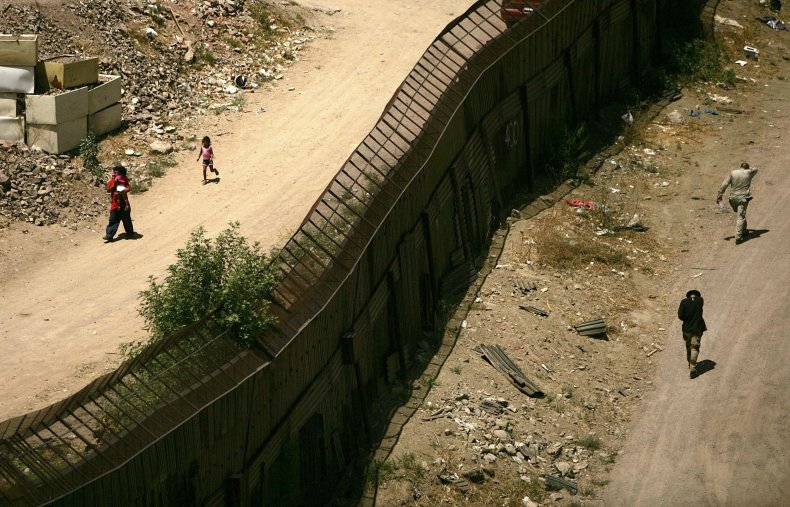 According to Homeland Security's data, a total of 50,308 people attempting to cross the U.S.-Mexico border in March were either apprehended or deemed "inadmissible" by authorities, compared with 16,588 people stopped during the same month last year and 36,695 stopped in February 2018.
The department said it also saw an increase of 49 percent in the number of "family units" apprehended and deemed "inadmissible," compared with last month, as well as a 41 percent increase in the number of unaccompanied children stopped at the border.
The numbers, which were released ahead of schedule, apparently were used to support Trump's decision to send National Guard troops to the southern border. The memorandum the president signed for that action claimed the "situation at the border has now reached a point of crisis."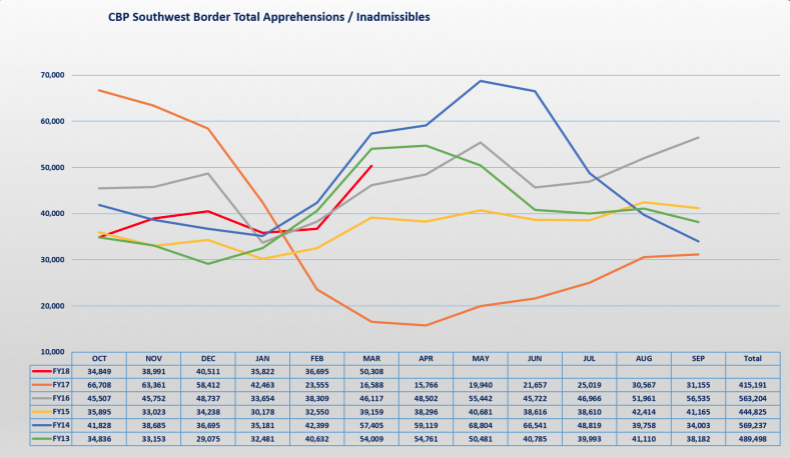 "The lawlessness that continues at our southern border is fundamentally incompatible with the safety, security and sovereignty of the American people," the memorandum said. "My administration has no choice but to act."
Trump's decision to send the National Guard the border came shortly after he vowed to take action in response to a "caravan" of people, mostly from Central America," making their way to the U.S.-Mexico border seeking asylum.
Behind the Numbers
Despite the new data from Homeland Security, the president took to Twitter on Thursday morning to note that border crossings had fallen to a 46-year low in 2017.
"Because of the Trump administration's actions, border crossings are at a still UNACCEPTABLE 46-year low," the president wrote on Twitter. He said the caravan headed toward the U.S. had "largely broken up thanks to the strong immigration laws of Mexico and their willingness to use them."
While March's numbers were three times higher than those for the same month last year, it is worth noting that March 2017 bucked the usual trend of crossings increasing during the spring as the weather starts to improve.
Rates of people apprehended or turned away at the border in March 2017 were at their lowest in two decades and fell to levels at least two times lower than the four prior years, with 46,117 attempted crossings in March 2016, 39,159 in 2015, 57,405 in 2014 and 54,009 in 2013.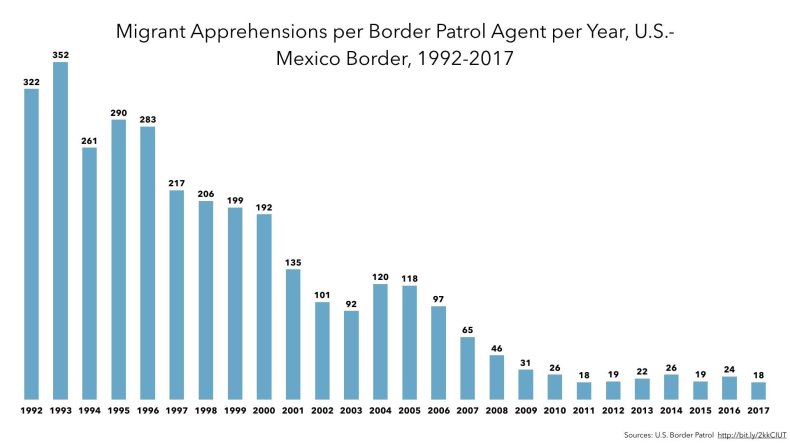 In the spring and summer months of 2013 and 2014, a surge of migrants entering the U.S., including tens of thousands of unaccompanied children predominantly from Central America, triggered a crisis that overwhelmed the country's immigration system.
Related: Mexico border wall: Oregon governor tells Trump she'll refuse Order to send guard troops south
"Typically, the numbers go up every year around this time, with the exception of 2017," Vicki Gaubeca, acting director of the Southern Border Communities Coalition (SBCC), told Newsweek.
"This time of year, there is always an increase of apprehensions, and even with this bump-up of numbers, there are still fewer than two individuals a month apprehended per border patrol agent," Gaubeca said. She added that she believed the Trump administration was "cherry-picking the data that supports or justifies the proclamation that we need National Guard troops at the border."
In a Wednesday press briefing, Homeland Security Secretary Kirstjen Nielsen seemed to attribute the jump in border crossings from March 2017 to 2018 to "illicit smuggling groups" and immigrants becoming more confident that the U.S. did not have the means to "remove those who come here illegally."
"When the president took office, the traffickers, smugglers, [Mexican transnational criminal organizations] and the illegal aliens that serve as their currency paused to see what our border enforcement efforts would look like and if we could follow through on the deportation and removal," Nielsen said.
Now that the numbers have been slowly rising since last April to be on par with those during the Obama administration, Nielsen said that "while we have been apprehending aliens at the border with historic efficiency...illicit smuggling groups saw that our ability to actually remove those who come here illegally did not keep pace. They saw that there were loopholes they could exploit."
Gaubeca agreed that Trump's immigration rhetoric did initially deter people from trying to seek asylum in the U.S. in the early months of 2017. But she said that "ultimately if you are running away from violence, trying to save your life or trying to reunite with your loved ones in the U.S., after a while you'll do anything."
She added, "The root causes of migration are still there, and perhaps that's where this administration should be focusing their attention."
The SBCC's Gaubeca accused the Trump administration of mischaracterizing asylum seekers by lumping those trying to seek asylum in the U.S. legally with those attempting to cross the border illegally.
"If you look at the statistics, maybe close to 40 percent of those included are women and children seeking asylum at the border, which is part of our human rights obligations along with domestic law," Gaubeca said. "They're not breaking the law, yet [Trump] wants to characterize it that way."
Immigration advocates have hit out at the Trump administration's decision to send National Guard troops to the border, with the American Civil Liberties Union (ACLU) calling the decision "irresponsible" and "unnecessary."
"Sending our military to the border would be irresponsible and contrary to the armed forces' constitutional role," Astrid Dominguez, director of the ACLU Border Rights Center, said in a statement. "It is also unnecessary because there is no border security crisis, despite television alarmism about migrants fleeing repression."
"Border crossings are at a historic low, and the Department of Homeland Security has stated that the border has never been harder to cross undetected," Dominguez added.
Human rights organization Washington Office on Latin America (WOLA) branded the move a "terrible policy," stressing that "migration of unaccompanied children and families fleeing violence in Central America" is what "usually happens in the spring."
"Simply put, there is no migration crisis [at the U.S.-Mexico border]," WOLA said on its website.
"If Guardsmen are there watching for illegal border-crossers, will they have the power to make arrests? Or will their job be to alert other authorities, like Border Patrol? This is a bizarre bit of reasoning: the military is needed to support the Border Patrol, when there is already no shortage of Border Patrol agents, and there are no threats that demand a massive increase of agents at the border," the organization said.
This article has been updated with comments from the Southern Border Communities Coalition​ and the American Civil Liberties Union.