Trump Declines to Pardon 'Tiger King' Star Joe Exotic
President Donald Trump has declined to grant a pardon to "Tiger King" star Joseph Maldonado-Passage, more commonly known as Joe Exotic.
Maldonado-Passage, 57, shot to fame as the colorful star of Tiger King: Murder, Mayhem and Madness released in March, drawing the attention of the president's son, Donald Trump Jr., among many others.
The former Oklahoma zookeeper has been serving a 22-year federal prison sentence in Fort Worth after being convicted in an unsuccessful murder-for-hire plot targeting longtime rival, animal rights activist Carole Baskin, who also was featured prominently in the popular docu-series, and for violating federal wildlife laws.
Since Tiger King premiered, his supporters have mounted an aggressive campaign for Trump to grant his early release from prison.
Maldonado-Passage's attorneys submitted a 257-page formal application with the U.S. Department of Justice in September.
"He humbly requests a pardon to correct the injustices he has experienced and to have the opportunity to return to providing meaningful contributions to his community," his legal team wrote in his plea.
Maldonado-Passage had a limousine stationed by the prison ready to pick him up if the pardon was granted, according to Eric Love, a member of Maldonado-Passage's legal team.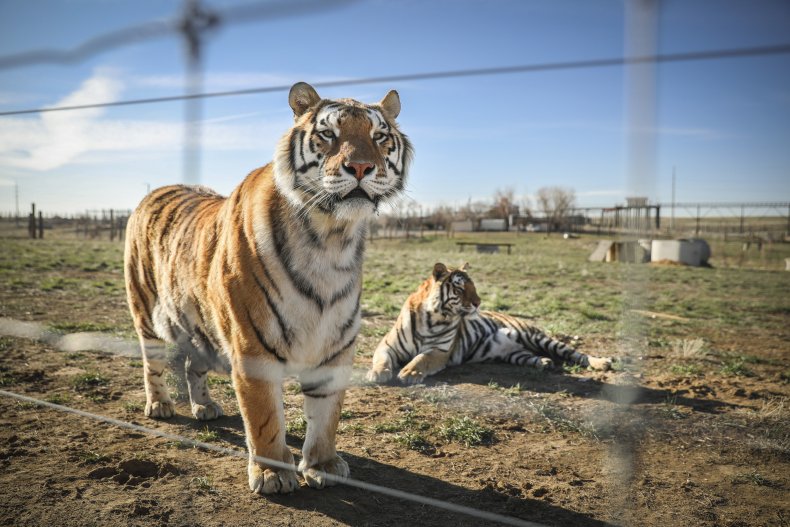 Trump had not previously indicated how he planned to respond, but in April, the president told reporters he would "take a look" at the case.
The document included a handwritten note from Maldonado-Passage to Trump, appealing to Trump's own brushes with federal investigators.
"I see what they do to you, and I can't believe it," Maldonado-Passage wrote, adding that he had voted for Trump in 2016.
His supporters have continued to blast frequent requests for a pardon to Trump through Twitter, and a billboard advocating for Trump to "Pardon Joe Exotic" was erected in Florida before Trump traveled to Mar-a-Lago for the holidays. The White House has said Trump has been holding regular meetings and phone calls while on vacation, without providing specifics. Trump also has held several golf outings.
Maldonado-Passage's legal team argued in his pardon petition that he was "just some gay, gun-toting redneck in Oklahoma" and didn't intend to harm Baskin, who went on to appear on ABC's Dancing with the Stars competition while Maldonado-Passage was behind bars.
Trump, who hasn't conceded the November 3 presidential election to Democratic President-elect Joe Biden and continues to mount baseless legal challenges to the election outcome, has granted dozens of requests for pardons or commutations in recent weeks, including close associates connected to investigations that led to Trump's impeachment by the Democrat-led U.S. House a year ago. The U.S. Senate, which is controlled by Republicans, voted to acquit Trump in February.