Trump Defamation Lawsuit 'Doesn't Have Much Chance': Legal Expert
Former President Donald Trump filed a lawsuit against CNN on Monday, claiming the network carried out a "campaign" of "libel and slander" against him, and is asking for $475 million in punitive damages.
The lawsuit, filed in Florida court, argues that the broadcast network repeatedly tainted Trump with labels such as "'racist,' 'Russian lackey,' insurrectionist,' and ultimately 'Hitler,'" according to court documents.
"One of the most pervasive associations between the plaintiff and Hitler that CNN has employed is its use of the term the 'Big Lie' in relation to the plaintiff's stated concerns about the integrity of the election process for the 2020 presidential election," read the court filing. "In its campaign of dissuasion, CNN has branded the plaintiff as one who subscribes to the notion of the 'Big Lie'... a direct reference to a tactic employed by Adolf Hitler and appearing in Hitler's Mein Kampf."
The filing added, "CNN's campaign of dissuasion in the form of libel and slander against the Plaintiff has only escalated in recent months as CNN fears the Plaintiff will run for president in 2024."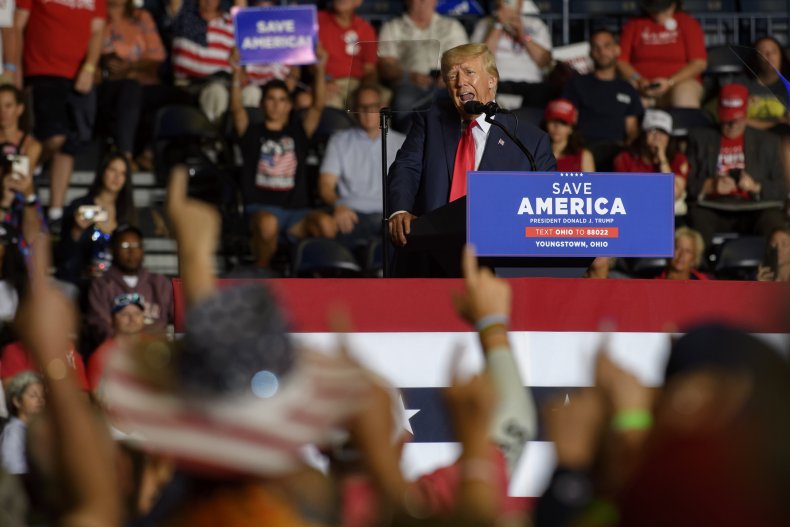 CNN has declined to comment on the case, according to Reuters.
Jessica Levinson, a law professor at Loyola Law School and legal contributor for NBC News, posted on Twitter that the defamation case "doesn't have much chance of getting past a motion to dismiss" in Florida court.
"Reading through the complaint, I'm not sure this does much more for Trump than remind us of why some analysts and commentators compare him to authoritarian leaders," Levinson wrote in a tweet thread based on the court filing.
Levinson pointed out that in order to succeed on a claim of defamation in Florida, Trump would have to prove that CNN published false statements with actual malice—knowledge or reckless disregard of the falsity of the statement—and prove that the statements caused harm to the former president's reputation.
In Monday's court filing, Trump's lawyers say that "CNN's disparate treatment of public figures who support its narrative versus those who do not, such as the Plaintiff, is a clear indicator of CNN's malice—and evidence that the Defendant is not reporting the news, but rather propagating its political views."
Levinson noted that while she doesn't see a legal path forward in the defamation case, Trump's lawyers may already expect the same outcome.
"If he's willing to file a suit against CNN, which has the resources to defend itself, he's also of course willing to file a suit against a fledgling outlet that might not," Levinson added.
Carl Tobias, a law professor at University of Richmond, told Newsweek in an email on Monday that he agreed with Levinson, adding that proving actual malice "is a very difficult burden of proof, so Trump is unlikely to win."
"Trump has a history of threatening, and filing, defamation suits against media companies," Tobias added.
A New York state judge in 2021 dismissed a libel case filed by Trump's reelection campaign against The New York Times, stating the lawsuit at the time failed to prove an op-ed published by the newspaper acted in actual malice against the then-president.
T. Greg Doucette, a tech attorney based in North Carolina, echoed that the lawsuit lacked proof to a win defamation case, and referred to the court filing as a "fundraising document, not a serious lawsuit."
"To win a case for defamation, the false statements have to be of an objectively verifiable fact," Doucette told Newsweek. "'Big Lie' is not objectively verifiable, so [it] can never be the basis for a winnable defamation case."
News of Trump's new lawsuit was also met with praise for the former president on Twitter, including from Ryan Fournier, co-founder of the youth group Students for Trump.
"I hope he bankrupts the hell out of them," Fournier wrote, noting the lawsuit headline.
"Trump suing CNN for defamation and seeking $475 million in damages is the feel-good story of the week," added Monica Crowley, former assistant secretary of the Treasury during the Trump administration and former political analyst for Fox News.
Comedian Terrence Williams also posted about the lawsuit, writing "Every Trump supporter should sue CNN! We all have a case."
Newsweek reached out to Trump's team for comment.
Update 10/03/22, 8:28 p.m. ET: This article was updated with additional information and background.