Donald Trump Offers To Help His Biggest Enemy
Donald Trump has criticized Fox News for "really pushing" the Democrat agenda while offering help to CNN, a network the former president has for years attacked for allegedly broadcasting "fake news."
Trump hit out at Fox News in a Truth Social post on Sunday in the latest sign the former president's opinion of the news channel—which he frequently watched and praised during his time in the White House—has soured slightly.
In the same social media post, Trump also suggested it would be an "absolute gold mine" if CNN became conservative amid reports the channel is aiming to become more politically neutral and less critical of the former president under new leader Chris Licht.
"Wow! Fox News is really pushing the Democrats and the Democrat agenda. Gets worse every single day. So many Dems interviewed with only softball questions, then Republican counterparts get creamed," Trump wrote.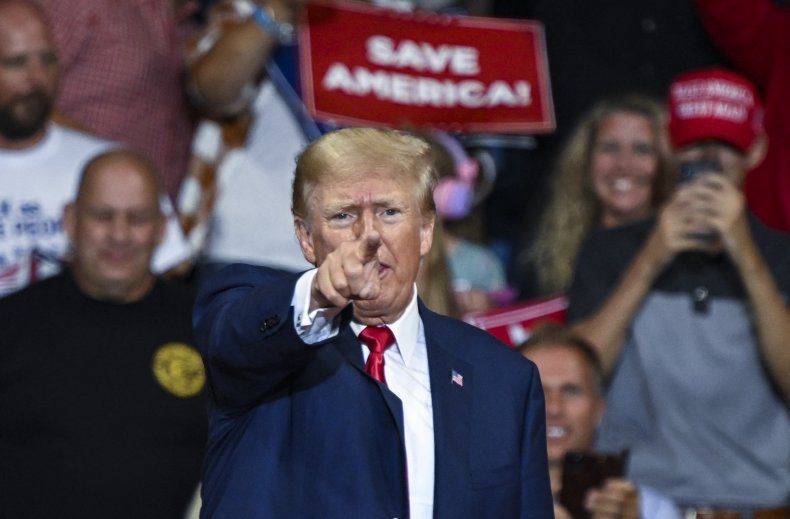 "If 'low ratings' CNN ever went Conservative, they would be an absolute gold mine, and I would help them to do so."
Trump's offer arrives after years of the former president openly mocking the network amid accusations of "fake news," sometimes even refusing to answer questions from its reporters at press briefings.
In July 2017, while president, Trump tweeted a GIF of an edited clip of him beating WWE owner Vince McMahon as a part of a scripted attack, with McMahon's head replaced with the CNN logo. Trump shared the GIF on Twitter with the caption "#FraudNewsCNN."
Trump's suggestion that CNN become more conservative comes after the network's newly installed CEO vowed a change of direction following years of accusations of negative coverage of the former president.
CNN White House correspondent John Harwood and Reliable Sources host Brian Stelter have both left the network since Licht took over.
A number of current and former CNN employees told The Washington Post they fear Licht may be carrying out a "purge" of individuals who have been critical of Trump in the past.
There are also signs CNN is becoming more conservative in an attempt to broaden its appeal across the political spectrum. On Sunday, the network's website published an article highlighting criticism of the Amazon's new Lord of the Rings series using non-white actors with the headline "When 'wokeness' comes to Middle-earth."
Trump's Truth Social post on Sunday is not the first example of the former president openly attacking Fox News, a channel which has given him consistently positive coverage.
In July, Trump attacked Fox & Friends after host Steve Doocy played down the results of a straw poll taken at the Turning Point USA Student Action Summit that showed Trump had 79 percent of support when respondents were asked who they would vote for in the 2024 election.
"@foxandfriends just really botched my poll numbers, no doubt on purpose," Trump wrote in a post on Truth Social on July 25. "That show has been terrible—gone to the 'dark side.' They quickly quote the big Turning Point Poll victory of almost 60 points over the number two Republican, and then hammer me with outliers."
On July 29, The New York Times reported that Trump had not been interviewed on Fox News for more than 100 days, although this changed in August in the wake of the FBI raid at the former president's Mar-a-Lago resort.
CNN and Fox have been contacted for comment.