President Donald Trump took to Twitter on Sunday to defend his use of the term "mission accomplished" to describe Friday night's missile strike in Syria.
"The Syrian raid was so perfectly carried out, with such precision, that the only way the Fake News Media could demean was by my use of the term 'Mission Accomplished,'" the U.S. leader tweeted Sunday morning.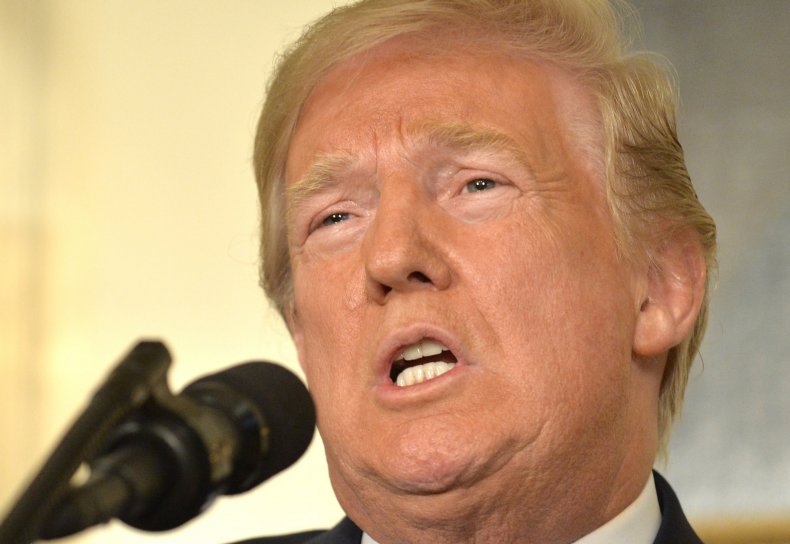 "I knew they would seize on this but felt it is such a great Military term, it should be brought back," Trump said. "Use often!"
The "mission accomplished" comment echoed former President George W. Bush's use of the same phrase, which he made infamous after standing in front of a banner with the words as he prematurely announced the end of the U.S.'s operations in Iraq two months after the 2003 invasion.
The words haunted Bush after the U.S. military stayed Iraq and is still there.
Trump declared the strike, carried out in coordination with the United Kingdom and France, was in response to an alleged chemical weapons attack on civilians in Douma, a city near Damascus.
"Thank you to France and the United Kingdom for their wisdom and the power of their fine Military," he added. "Could not have had a better result. Mission Accomplished!"
In an interview with ABC, White House Press Secretary Sarah Huckabee Sanders jumped to the president's defense, saying coalition forces "100% met their objectives" in Syria.
"They also sent a strong message to Syria, to Russia, to Iran, that when this president has a red line, he will enforce it," Sanders said.
On CNN's "State of the Union" on Sunday, Maine Independent Senator Angus King questioned the president's comments, however, saying: "it's impossible to say at this point" whether the U.S.-led mission had been "accomplished."
"I think it's very difficult to say 'mission accomplished' if the mission is to deter the use of chemical weapons," King said. "We hope that will be the case, but we did a strike a year ago for that same purpose and it was deemed a success, but the chemical weapons have continued to be used."
Democratic lawmakers have also hit out at Trump's decision to carry out the strike without going to Congress for approval.
Read more: Democrats slam Trump for refusing to consult Congress before Syria strikes
"The President must come to Congress and secure an Authorization for Use of Military Force by proposing a comprehensive strategy with clear objectives that keep our military safe and avoid collateral damage to innocent civilians," House Minority Leader Nancy Pelosi, D-California, said in a statement issued Friday night.
Pelosi also said that while the "latest chemical weapons attack against the Syrian people was a brutally inhumane war crime that demands a strong, smart and calculated response... one night of airstrikes is not a substitute for a clear, comprehensive Syria strategy."
Senate Minority Leader Chuck Schumer said that while he believed the military strikes were "appropriate," the "administration has to be careful about not getting us into a greater and more involved war with Syria."
The Pentagon, however, has said Trump does have the authority under the Constitution to defend U.S. interests and the president has said the U.S. is "prepared to sustain this response until the Syrian regime stops its use of prohibited chemical agents."
U.S. Ambassador to the United Nations, Nikki Haley also echoed his warning, saying the U.S. is "locked and loaded" to launch another strike on Syria again if it uses chemical weapons in the future.