Trump Defends Not Briefing Democrats on Baghdadi Raid, Claims Adam Schiff is 'Biggest Leaker in Washington'
President Donald Trump defended his decision not to brief congressional leaders on the raid against Islamic State leader Abu Bakr al-Baghdadi, claiming that Democrats like Rep. Adam Schiff couldn't be trusted with such sensitive information.
Trump discussed the issue with reporters before leaving Joint Base Andrews in Maryland on Monday morning. The president said he didn't warn House Speaker Nancy Pelosi about the military operation because he thought Schiff would leak details of the plan.
"I think Adam Schiff is the biggest leaker in Washington. You know that. I know that. We all know that," Trump said. "I've watched Adam Schiff leak. He's a corrupt politician. He's a leaker like nobody has ever seen before."
Trump did not elaborate further or provide any examples of Schiff divulging top-secret or sensitive information. Schiff, the chairman of the House Intelligence Committee, has been leading the ongoing impeachment inquiry against the president.
Trump announced on Sunday that al-Baghdadi died during a U.S. military operation in Syria. The ISIS leader was cornered and detonated a suicide vest that killed him and three of his children.
"U.S. special operations forces executed a dangerous and daring nighttime raid in northwest Syria and accomplished their mission in grand style," Trump said during televised announcement from the White House on Sunday. He added that the ISIS leader was "running into a dead-end tunnel, whimpering and crying and screaming all the way."
Trump kept the plans of the operation hidden from Democrats but informed top Republicans in Congress. He said on Sunday that he "wanted to make sure this kept secret, I didn't want to have men lost, and women, I didn't want people lost."
Democratic Sen. Chris Coons criticized Trump for leaving Pelosi and other top lawmakers in the dark during the raid.
"There is a long tradition of the president notifying leaders in Congress of both parties when there's a sensitive operation underway," Coons told CNN. "But to disrespect the speaker of the House, who is in the direct line of succession to the president, and to not inform bipartisan leaders in Congress, to only inform a few Republicans, I think was just one more important norm of cooperation shattered by this president."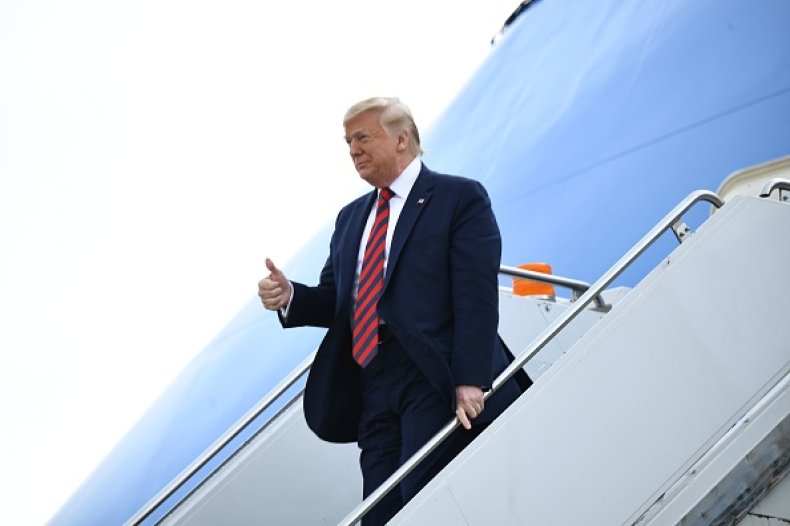 While talking to reporters on Monday, Trump also slammed House Democrats over the ongoing impeachment inquiry. He claimed that the July 25 phone call with Ukrainian President Volodymyr Zelensky, which triggered the probe, was "perfect."
"They don't ever talk about the conversation," Trump claimed about the Democrats' investigation. "It was nothing. They tried to take that conversation and make it into a big scandal. The problem was we had it transcribed. It was an exact transcription of the conversation," he added.
In actuality, the White House released a rough transcript of the phone call, but it was not a verbatim account and left out several parts of the dialogue between the two world leaders.
While Trump has dismissed the probe as a "Democratic witch hunt," public support for removing him from office has increased. A Quinnipiac University poll released on October 23 showed that 55 percent of registered voters approved of the inquiry, up 4 percentage points from the week before. In fact, surveys show that Americans are getting on board with impeaching Trump much faster than they did with President Richard Nixon.