President Donald Trump doubled down on his defense of Saudi Arabia in the aftermath of the brutal murder of journalist Jamal Khashoggi last year, arguing that Iran and other countries kill people too.
Trump made the remarks in a wide-ranging interview aired on Sunday with NBC News' Meet the Press. Host Chuck Todd brought up the murder of Khashoggi — who wrote for the Washington Post and was a U.S. resident when he was murdered while visiting the Saudi consulate in Istanbul, Turkey — asking the president if he would allow the FBI to investigate the killing.
The president dismissed the idea, saying there had already been "so many" investigations. Trump then tried to turn the attention away from Saudi Arabia, a political ally in the region, and attack Iran.
"Iran's killed many, many people a day. Other countries in the Middle East; this is a hostile place. This is a vicious, hostile place. If you're going to look at Saudi Arabia, look at Iran, look at other countries," Trump said. "I won't mention names, and take a look at what's happening. And then you go outside the Middle East, and you take a look at what's happening with countries. Okay?"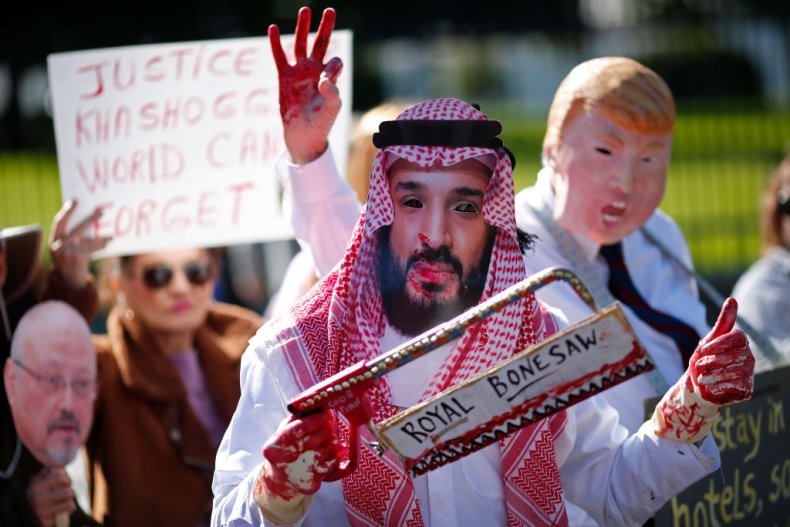 Continuing his defense of the kingdom, the president reiterated that Riyadh spends a significant amount of money on U.S. weapons and products. "And I only say they spend $400 to $450 billion over a period of time, all money, all jobs, buying equipment –
Todd then cut in, asking if Washington should simply overlook such malign behavior so long as the Saudi government continues to spend money in America.
Trump responded saying he's "not like a fool that says, 'We don't want to do business with them.'"
He then argued that the Saudis would do business with Russia or China if the U.S. took a hard stance against actions such as the Khashoggi murder.
"We make the best equipment in the world, but they will buy great equipment from Russia and from China," Trump asserted.
The president has previously shared similar sentiments. Late last year, after intelligence investigations strongly suggested that Saudi Arabia's Crown Prince Mohammed Bin Salman was likely behind the murder of Khashoggi, Trump insisted the kingdom was a "great ally." He also criticized Iran, saying the U.S. relied on the Saudis to counter the Persian Gulf nation, buy American weapons and keep oil prices low.
Khashoggi was murdered on October 2, 2018, some time after he entered the Saudi consulate in Istanbul, Turkey. A kill squad of Saudi agents carried out the operation, cutting the journalists body into pieces with a bone saw. Saudi leaders initially denied knowing the whereabouts of Khashoggi, but after intense international backlash, finally admitted that he had been killed inside the diplomatic facility.
Although Trump has continued to defend the Saudis, even some of his closest Republican supporters in Congress have taken a hardline stance against the president's position. A bipartisan group of lawmakers is currently working to block a multi-billion dollar arms sale to the kingdom, pointing to the murder of Khashoggi.
"There's no amount of oil coming out of Saudi Arabia and there's no threat from Iran that will get me to back off," GOP Senator Lindsey Graham of South Carolina, who is typically seen as a close ally to the president, said during a hearing of the Senate Foreign Relations Committee last week.
Back in December, after being briefed by CIA Director Gina Haspel on the murder of Khashoggi, Graham attacked the Saudi crown prince directly. The senator called the young leader a "wrecking ball" and "crazy." He said: "There's not a smoking gun, there's a smoking saw."
While Trump has repeatedly touted Saudi Arabia's significant purchases of American weapons, Congress has objected to such sales. Last week, the Senate passed a number of joint resolutions seeking to block the transfer of arms to Saudi Arabia and others. However, the president is expected to veto this resolution and though the resolutions received some bipartisan support, it does not appear that there would be enough votes to override that veto.