Donald Trump to Discuss 'Defense and Perhaps Offense' for Israel Amid New Violence
President Donald Trump hinted at the possibility of United States military action in support of his administration's closest foreign ally during a press conference alongside Israeli Prime Minister Benjamin Netanyahu.
In a landmark move, Trump signed an executive order Monday officially recognizing the occupied Golan Heights as part of Israel, dismissing the views of the United Nations and previous U.S. administrations, which had regarded the territory a part of Syria. Trump's decision came as Israel accused regional foe Iran of supporting hostile groups in Syria and after rockets fired by the Palestinian Gaza Strip struck an Israeli city north of Tel Aviv, causing several injuries.
As Israeli war jets began striking positions said to be held by the Islamist Hamas militant group, Trump said he and Netanyahu would discuss "defense and perhaps offense" on behalf of Israel.
"Under my administration, the unbreakable alliance between the United States and Israel has never been stronger," Trump said.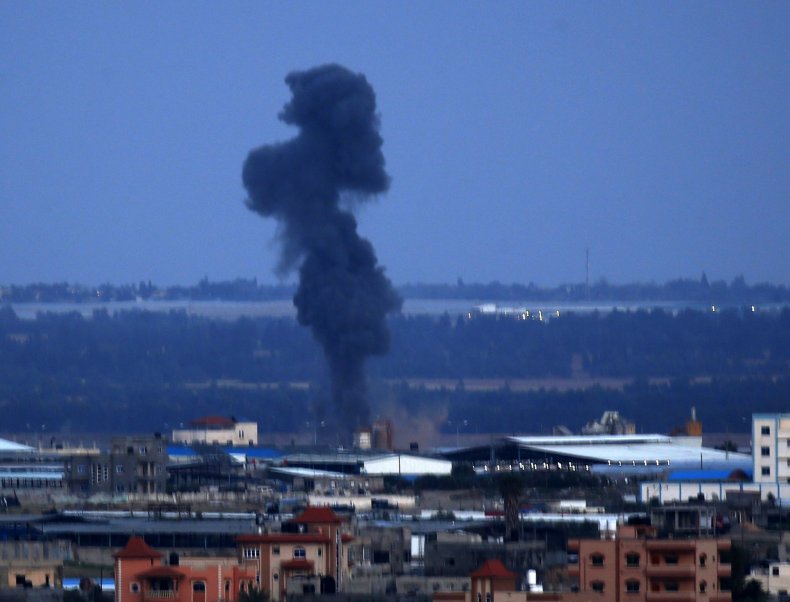 Just around the time Trump and Netanyahu's press conference began, Israeli armed forces announced on Twitter that they "have just started striking Hamas targets throughout the Gaza Strip" in retaliation for rocket fire that destroyed at least one house, wounding up to seven people in the village of Mishmeret, just north of Tel Aviv. The strike came a little more than a week after a separate rocket strike on Tel Aviv injured no one and was met with Israeli airstrikes that reportedly injured four people.
Agence France-Presse cited a Hamas official denying the group's role in either attack, claiming Monday that "no one from the resistance movements, including Hamas, has an interest in firing rockets from the Gaza Strip toward the enemy." In response to the previous attack, the Gaza Strip's minister of the interior denied responsibility for the attacks "outside the national consensus" and vowed to "take action against the violators."
The rocket attacks, the latest of which reportedly traveled some 75 miles into Israel, were the farthest-reaching of their kind since 2014, the same year thousands of people, mostly Palestinians, died as Israel responded to such attacks with a massive military operation against the Gaza Strip. Nearly 200 more Palestinians have been killed by Israeli security forces since ongoing protests broke out one year ago on the border between Gaza and Israel.
While the U.N. has condemned Israel's role in the deaths of demonstrators, Israel and the U.S. have dismissed the accusations, alleging that Hamas was organizing violent riots intended to destabilize and infilitrate the border region. Both Trump and Netanyahu have linked Hamas to Iran, which has challenged the influence of Arab Sunni Muslim powers, such as Saudi Arabia, in the region.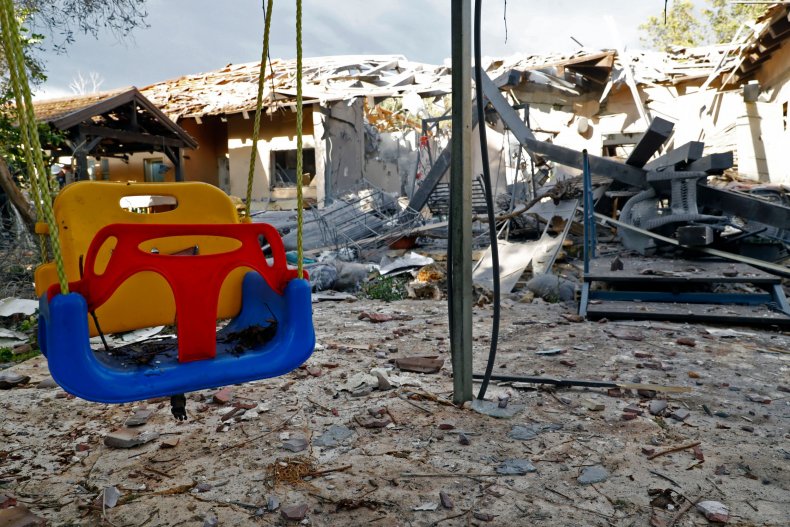 Netanyahu claims to have secured widespread Arab support against Iran in what would be a reversal of traditional Arab-Israeli tensions fueled by displacement of Palestinians that accompanied the establishment of Israel in 1948. In recent years, however, Iran and allied revolutionary Shiite Muslim militias in Lebanon, Iraq and Syria have increasingly been seen as the foremost threat by Saudi Arabia and its allies, which also accused Tehran of sponsoring the Zaidi Shiite Muslim Ansar Allah, or Houthi, rebellion in Yemen, and of supporting unrest among Bahrain's majority-Shiite Muslim population.
But the informal alliance between the U.S., Israel and those Arab states has been shaken by Trump's unwavering backing for Israel, even against international consensus. Riyadh and other close allies of Washington harshly condemned Trump's decision to recognize Jerusalem as the capital of Israel in spite of U.N. resolutions and competing Palestinian claims.
The Arab world was similarly largely critical of Trump's shift on the Golan Heights, which Israel siezed during a 1967 war against an alliance of Arab countries (including Syria). Israel effectively annexed the Golan in 1981. Syria, which has been supported by Russia and Iran against a 2011 rebel and jihadi uprising once backed by the U.S. and regional allies such as Israel, Qatar, Saudi Arabia and Turkey, said that Trump's decision exposed "the blind bias of the United States" toward Israel but "did not change "the reality that the Golan was and will remain Syrian, Arab."