Democratic Mayors Rebuke Trump Over 'Unconstitutional' Defunding Threat
Democratic city leaders have condemned plans by President Donald Trump which could see federal funds held back in cities where he believes "anarchists" have caused unrest.
On Wednesday, Trump issued a memo in which he ordered the White House Office of Management and Budget (OMB) to issue guidance for federal agencies on how to restrict funds to areas described as "anarchist jurisdictions."
The memo, first reported by The New York Post, directs Attorney General William Barr to list within 30 days those jurisdictions which have "permitted violence and the destruction of property."
With law and order amid nationwide unrest following the killing of George Floyd a key plank of Trump's re-election campaign, the president singled out New York City, Washington, D.C., Seattle and Portland as initial targets.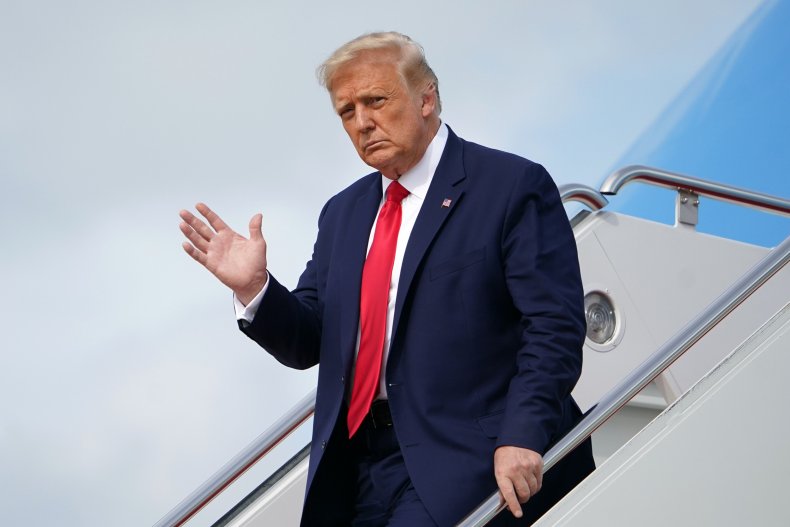 "My Administration will not allow Federal tax dollars to fund cities that allow themselves to deteriorate into lawless zones," says the five-page memo, which twice refers to New York Mayor Bill de Blasio by name, The Post reported.
On Wednesday night, Trump tweeted his intentions, tagging OMB director, Russ Vought.
"My Administration will do everything in its power to prevent weak mayors and lawless cities from taking Federal dollars while they let anarchists harm people, burn buildings, and ruin lives and businesses. We're putting them on notice today," Trump tweeted.
His memo said that a city could be put under review if it "unreasonably" rejects an offer of federal law enforcement help."
Trump's move sparked a bullish response from leaders of the cities mentioned, with de Blasio saying: "While @realDonaldTrump spent this year hiding from COVID-19, New York City led the fight back.
"Now we're trying to recover and he's making unconstitutional, political threats against us. Mr. President, we'll see you in court. We've beaten you there before and we'll do it again."
Jenny Durkan, mayor of Seattle, retweeted Trump's message, adding: "This is the latest attempt to distract from the fact that COVID-19 has infected over 6 million Americans, killed 185,000 people, and destroyed the American economy.
"The only anarchy zone in America, where the rule of law is disregarded, is at the White House."
Ted Wheeler, mayor of Oregon's biggest city Portland, the scene of nightly protests for almost three months, reacted angrily to the memo in a series of tweets.
"Once again, only progressive communities with democratic Mayors, which he labels 'anarchist jurisdictions'—including Portland—are targeted. This is a new low, even for this president," Wheeler said.
In another tweet, Wheeler said Trump "continues to believe that disenfranchising people living in this country to advance his petty grudges is an effective political strategy. The rest of us know it is dangerous, destructive, and divisive."
Senate Minority Leader Chuck Schumer tweeted: "We will not allow President Trump's malicious infantile ways to hurt New York City. Instead of these foolish stunts he ought to be focused on getting our country out of the COVID crisis."
Newsweek has contacted the White House and the OMB for comment.