Is Trump Defunding Social Security and Medicare? Concerns Mount After President's Executive Order
President Donald Trump's Saturday decision to sign an executive order to defer payroll taxes has fueled concerns that he is attempting to defund Social Security and Medicare, with the latest order drawing criticism from conservatives and liberals alike.
"First one is on providing a payroll tax holiday to Americans earning less than $100,000 per year," the president said during a Saturday press briefing. "In a few moments, I will sign a directive, instructing the Treasury Department to allow employers to defer payment of the employee portion of certain payroll taxes..."
Trump said that he would make the temporary tax deferral permanent if he was re-elected in November. "So I'm going to make them all permanent," he said.
Notably, this is not a tax cut. Under the wording of the executive order, the payments would simply be deferred until next year unless further actions were taken.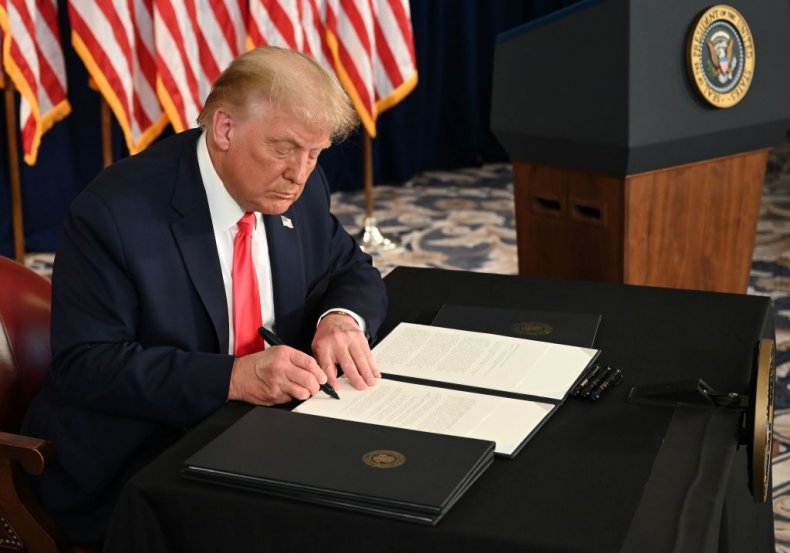 Whether Trump's executive orders, which also provided an extension of extra federal unemployment benefits at a reduced rate of $400 per month, will withstand legal scrutiny is a matter of debate. His decision came as Republicans and Democrats in Congress remained at an impasse over a new round of coronavirus economic stimulus legislation. Under the Constitution, Congress, not the Executive Branch, is granted power over spending federal funds.
"The pen-and-phone theory of executive lawmaking is unconstitutional slop," Senator Ben Sasse, a Nebraska Republican, said in a statement following Trump's decision.
"President Trump does not have the power to unilaterally rewrite the payroll tax law. Under the Constitution, that power belongs to the American people acting through their members of Congress," Sasse said.
Democratic and Republican lawmakers had largely dismissed the idea of a payroll tax holiday in stimulus talks with the White House. Workers currently pay a 6.2 percent payroll tax out of every paycheck, which would be deferred under the executive order through the end of 2020. Employers pay an additional 6.2 percent, which they would continue to pay. These taxes are used to fund Social Security and Medicare, which provide monthly income and health care for Americans when they retire.
Patrick Chovanec, an economic advisor at Silvercrest Asset Management and an adjunct professor at Columbia University, explained the concerns about the executive order on Twitter.
"Here's the problem: payroll taxes go exclusively to fund Medicare and Social Security, and however much they dislike those payroll taxes, Republicans have always opposed replacing them with general tax revenues," Chovanec wrote. "So even with Congress signing on, a "payroll tax holiday" would create a hole in funding Medicare and Social Security that Republicans would (normally) be reluctant to fill."
Democrats quickly raised concerns that the president's order would defund programs millions of Americans rely on to survive.
"Today, Trump announced that if he is re-elected he will permanently defund Social Security. That may make sense to the billionaires at his country club, but it makes zero sense to me," Senator Bernie Sanders, an independent from Vermont, tweeted shortly after Trump's announcement. "No, Mr. President. We will not let you destroy Social Security. We will defeat you – badly."
Representative Rashida Tlaib, a progressive Democrat from Michigan, shared a similar assessment.
"Just so we're all clear on this, payroll taxes fund social security and to some extent Medicare. These systems, which have helped generations retire and live, are already underfunded. Cutting the payroll tax without replacing the funding is the same as getting rid of them," Tlaib tweeted on Sunday.
In a joint statement, Speaker of the House Nancy Pelosi, a California Democrat, and Senate Minority Leader Chuck Schumer, a New York Democrat, warned that Trump's executive order would "endanger seniors' Social Security and Medicare." Former Democratic presidential candidate Hillary Clinton echoed those concerns in a Sunday interview with MSNBC's AM Joy.
Trump "signaled that he's going after Social Security and Medicare. Basically, he was talking about ending the financial contributions we all make into Social Security and Medicare through the payroll tax," Clinton said.
Trump has promised repeatedly not to touch Social Security, but annual budget proposals from his administration have put forward suggested cuts to some Social Security programs. The president has also claimed, without evidence, that Democrats plan to cut Social Security, although there are no notable efforts underway to do so. To the contrary, many Democrats currently support expanding Social Security and Medicare.
Addressing the concerns on CNN's State of the Union on Sunday, Trump's economic adviser Larry Kudlow said the president was not trying to defund the programs. "He will protect Social Security and Medicare, as he has pledged to do many, many times," Kudlow insisted.
"When he referred to permanent, I think what he was saying is that the deferral of the payroll tax to the end of the year will be made permanent. It will be forgiven. The tax is not going away. We're still going to have the Social Security tax," he said.
Newsweek reached out to the White House for comment, but did not receive a response by the time of publication.