Trump Demands China 'Pay Reparations' for COVID, Says $10 Trillion Not Enough
Former President Donald Trump demanded that China "pay reparations" for the COVID-19 pandemic, arguing that not even $10 trillion would be enough to cover the damage.
Trump made the remarks during a Wisconsin rally organized by conspiracy theorist MyPillow CEO Mike Lindell, a staunch supporter of the former president. His remarks came as China continues to face increasing international scrutiny over its handling of the COVID-19 pandemic, with U.S. intelligence services investigating whether the novel coronavirus leaked from a lab in Wuhan—where the outbreak first emerged at the end of 2019.
"China and the China virus—they have to pay reparations. We've been hurt so badly in terms of death, human life," Trump said in a video message live-streamed during Lindell's MAGA Frank Free Speech rally at the River's Edge Apple River concert venue in New Richmond.
"And in terms of monetarily, to a level that they have to pay us," the former president continued. "And frankly, if they paid us $10 trillion that wouldn't cover it. But they really have to pay the world because this started in the world—the entire world has been, not only disrupted, but it's almost been destroyed."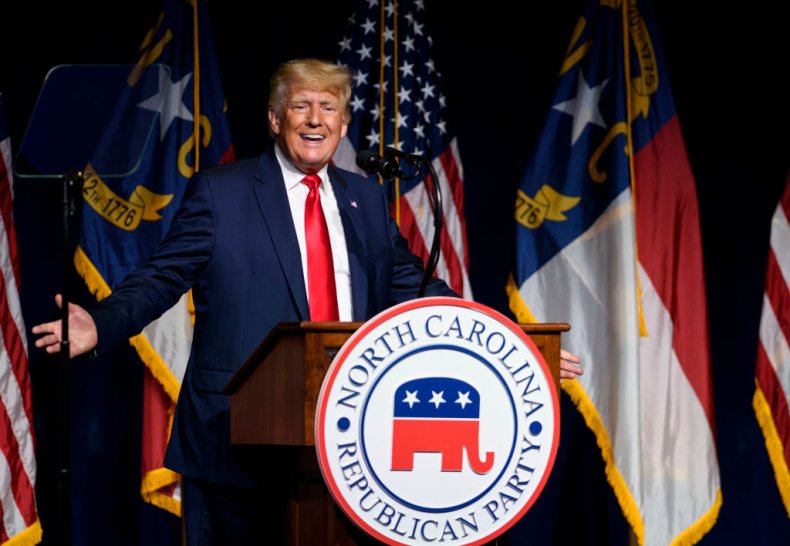 Newsweek reached out to the Chinese embassy in Washington, D.C. for comment on Trump's remarks but did not immediately receive a response.
Late last month, President Joe Biden ordered intelligence services to carry out a deep investigation into the origins of COVID-19—including into whether the coronavirus possibly leaked from the Wuhan Institute of Virology.
"As of today, the U.S. Intelligence Community has 'coalesced around two likely scenarios' but has not reached a definitive conclusion on this question," the president explained.
"I have now asked the intelligence community to redouble their efforts to collect and analyze information that could bring us closer to a definitive conclusion, and to report back to me in 90 days," Biden said. "As part of that report, I have asked for areas of further inquiry that may be required, including specific questions for China."
China has pushed back against criticism from the U.S. since the early days of the pandemic. Some Chinese officials have even promoted conspiracy theories—claiming that the virus may have originated in the U.S. and not in Wuhan. The Chinese government responded with frustration after Biden announced the investigation at the end of May.
"Political forces have been fixated on political manipulation and blame game" since the outbreak began, the Chinese embassy in Washington, D.C. said in a statement last month. Politicizing origin tracing will "seriously hamper international cooperation on the pandemic," it added.
Chinese foreign ministry spokesperson Wang Wenbin also accused Biden and the U.S. of "stoking confrontation and sowing division" by pushing forward with the origins probe.