Trump Says Senate Would Be 60 Dems vs. 40 Republicans if Not for Him, Rips McConnell
Former President Donald Trump ripped Senate Minority Leader Mitch McConnell, a Kentucky Republican, blaming him for the GOP losing the Senate while the former commander in chief argued that it would have been worse if it wasn't for his own efforts.
Trump made the remarks during a live video message to MyPillow CEO Mike Lindell's MAGA Frank Free Speech rally at the River's Edge Apple River concert venue in New Richmond, Wisconsin, on Saturday. The former president and Lindell continued to promote baseless conspiracy theories about the 2020 election at the event—which attracted thousands of attendees—saying that it was "rigged" by President Joe Biden and the Democrats.
"If it wasn't for me, right now the Senate would be 60-40 against," Trump said during the event, claiming that Democrats would have 10 more seats than they currently have in the evenly split legislative chamber of Congress. "Because I made teleconference calls—they call them town hall calls—speaking to tens of thousands of people, for congressional candidates and senators," the former president said.
"And we would be at 60-40 against instead of 50-50," Trump added, before attacking the GOP Senate minority leader. "And unfortunately Mitch McConnell, with what he was doing, hurt us very, very badly in Georgia. We lost those two seats. We should have never lost those two seats."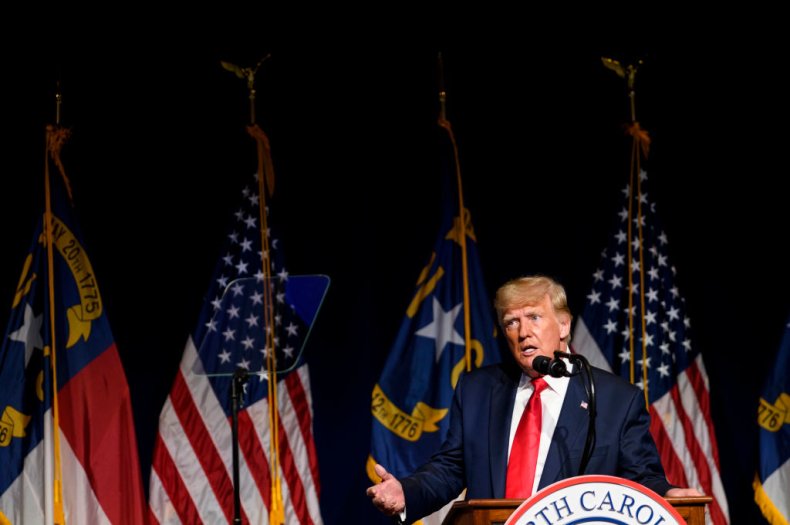 The former president has repeatedly criticized and attacked McConnell, after the Kentucky Republican condemned his actions leading up to the January 6 insurrection targeting the U.S. Capitol. Although McConnell did not join seven GOP senators in voting to convict Trump for inciting the violence, he refused to defend Trump and blamed him directly for the assault.
"There's no question that President Trump is practically and morally responsible for provoking the events of the day," McConnell said in a February Senate floor speech. "The people who stormed this building believed they were acting on the wishes and instructions of their president."
Newsweek reached out to McConnell's office for comment on Trump's remarks but did not immediately receive a response.
During his Saturday remarks, Trump again insisted that the 2020 election was "totally rigged," while Lindell and other conservative speakers at the event put forward similar false claims. Dozens of election challenge lawsuits filed by Trump and his allies have been dismissed in state and federal courts. Even judges appointed by Trump and other Republicans have rejected the allegations. Furthermore, election audits and recounts in key battleground states—including in places where the election was overseen by Republicans—have reaffirmed Biden's win.
Former Attorney General William Barr, who was widely viewed as one of Trump's most loyal Cabinet members, said in December that there was "no evidence" to support the claims of widespread voter fraud. The Cybersecurity and Infrastructure Security Agency at the Department of Homeland Security also asserted late last year that there was "no evidence that any voting system deleted or lost votes, changed votes, or was in any way compromised."
McConnell has previously dismissed criticism from Trump. In early March, he responded with sarcasm after Trump argued that the Kentucky lawmaker gained 20 points in Kentucky due to his endorsement. "Yeah, well, I want to thank him for the 15-point margin I had in 2014 as well," McConnell responded to a reporter when asked about Trump's claim.