Trump Denies McCain 'Hero' Statement from White House, but Former Arizona Senator May Have Last Laugh
President Donald Trump has reportedly vetoed a White House statement that would have extolled the late Arizona Senator John McCain as a hero.
White House aides had prepared a statement that lauded McCain for his time in the military and politics, and they were ready to release it—until Trump stepped in. The president told his staff that he wanted to post a tweet instead. His tweet, which was uploaded on Sunday, did not mention any of McCain's achievements.
"My deepest sympathies and respect go out to the family of Senator John McCain," Trump tweeted. "Our hearts and prayers are with you."
According to The Washington Post, press secretary Sarah Huckabee Sanders, chief of staff John Kelly and other White House aides wanted to release an official White House statement. Mark Corallo, a former spokesman for Trump's legal team, called Trump's decision "atrocious."
"At a time like this, you would expect more of an American president when you're talking about the passing of a true American hero," Corallo said, reported The Post.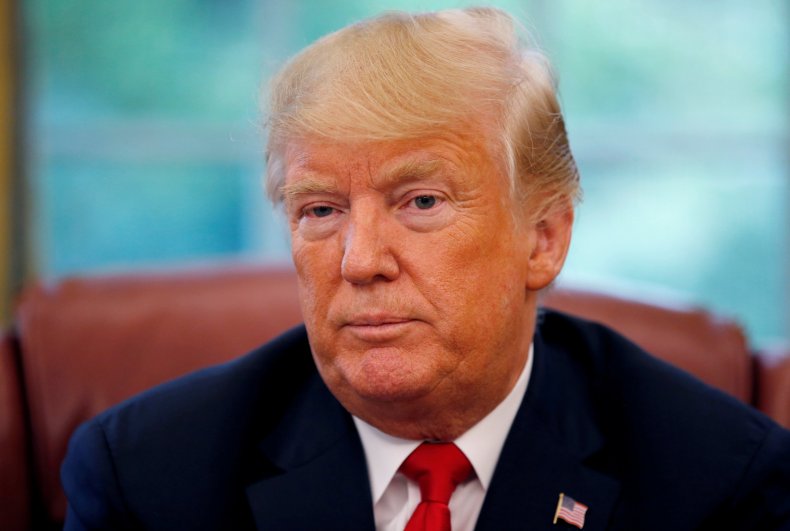 McCain died on Saturday after his family announced he would not continue with treatment against aggressive brain cancer. He died on Saturday, surrounded by his family.
It seems McCain, who had a bitter relationship with Trump, had one last shot to fire at the U.S. President. According to CNN, McCain specifically requested that Donald Trump not be invited to his funeral. McCain will lie in state in both the Arizona Capitol and the U.S. Capitol rotunda before the funeral service in Washington National Cathedral and burial in Annapolis, Maryland.
Trump and McCain exchanged fighting words in the past, perhaps most viciously when Trump said McCain was a "war hero only because he got caught," and that he preferred "people who didn't get captured." McCain was a Vietnam prisoner of war for almost six years, enduring regular beatings and torture. He was offered an early release but refused it unless every other soldier was freed.
Arizona Governor Doug Ducey will be tasked with finding McCain's replacement for his vacant Senate seat. Whomever Ducey selects will remain in the seat until a special election is held in November 2020. The winner of that election will hold the seat until 2022.
Ducey has not said said whom he might select to fill the seat, out of respect for McCain.
In a statement following McCain's death, Ducey said: "We're most proud to call him a fellow Arizonan.
"Like so many of us, he was not born here, but his spirit, service and fierce independence shaped the state with which he became synonymous."