Trump's Dire Week of Polls Shows Him Headed for Landslide Loss
President Donald Trump could be defeated by a landslide at the 2020 presidential election, according to a raft of national and state-level polls released this week.
Several surveys covering key battleground races and the national mood have put the president way behind his Democratic challenger, with some showing Joe Biden holding a double-digit lead over the incumbent.
Election forecasts also heavily favor the former vice president, putting his odds of winning the electoral college at around 90 percent.
A poll published by The New York Times and Siena College found Biden held a 14-point lead over Trump nationwide, with half of the 1,337 surveyed voters saying they would back the Democrat if an election were held the same day.
The survey released on Wednesday also showed that Biden held significant leads among Black, Hispanic and women voters.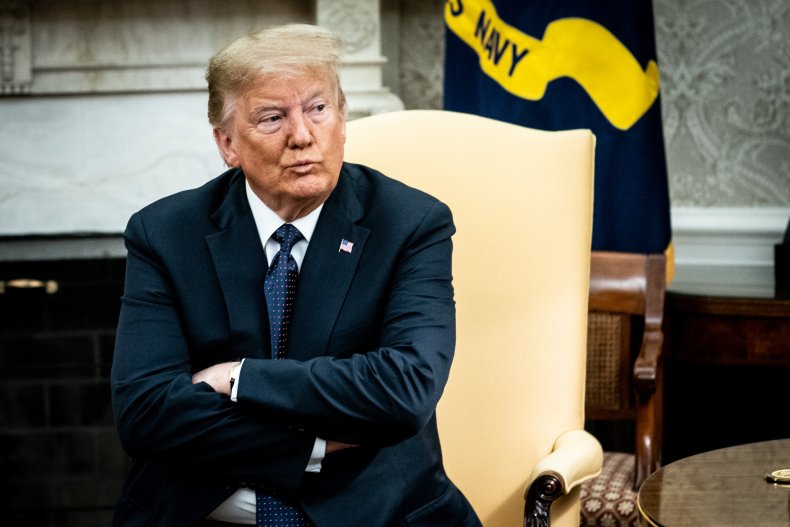 Another national survey conducted by Ipsos pollsters between June 22 and June 23 found that only 37 percent of registered voters would opt for Trump in November, putting the president 10 points behind his challenger.
The result was actually an improvement on the week before, when the same survey put Biden 13 points ahead of Trump, with 48 percent support among all U.S. voters.
CNBC published a fresh survey on Thursday that showed Biden leading Trump by 9 points despite the president polling better on the economy in a period marked by economic downturn and spiking unemployment.
Forty-seven percent of registered voters surveyed for the poll told CNBC they would be voting for Biden, while 38 percent said they favored the president. Trump's standing among independents also declined by 11 percentage points, although these voters did not all swing over to Biden.
At the time of writing, FiveThirtyEight's weighted average of national polls puts Biden a little more than 9 percentage points ahead of Trump—an increase of roughly three points on the start of the month.
State-level polls of battleground states won by Trump in 2016 have painted a similarly dire picture for the president's re-election campaign.
A New York Times/Siena College survey of more than 3,800 registered voters found Biden was ahead of Trump across six key swing states—Michigan, Wisconsin, Pennsylvania, Florida, North Carolina and Arizona.
The polls conducted between June 8 and June 18 revealed that Biden had double-digit leads over the president in Michigan, Wisconsin and Pennsylvania—states Trump won by less than a percentage point in the 2016 election.
In the remaining three states, the former VP led Trump by no fewer than 6 percentage points, putting him outside their margins of error.
Three state polls published by Fox News yesterday also showed Biden leading the president in Texas, Georgia and Florida.
The former vice president's leads in Texas and Georgia were marginal, coming in at one percentage point and two percentage points respectively. However, even those leads are of note as Trump beat Hillary Clinton by significant margins in both states.
Fox News' latest poll from Florida showed Biden had a clear lead over the incumbent, with 49 percent of state voters backing the veteran Democrat and 40 percent favoring Trump. The president carried Florida by 0.8 percentage points in 2016.
According to an election forecast model published by The Economist, the president has an 11 percent chance of winning the electoral college in November, and a less than one-in-twenty chance of securing the popular vote.