Donald Trump's Disapproval Rating Falls Six Points Over Three Months
President Donald Trump's net disapproval rating has slumped by six points since the end of July, but has remained steady over the past month as the coronavirus has continued to spread across the U.S.
According to the FiveThirtyEight presidential popularity tracker, 52.9 percent of Americans disapproved of Trump's record in office on average as of Wednesday, while 43.7 percent approved.
But back in the end of July, the president's disapproval rating was almost three points higher as 55.8 percent of U.S. adults told pollsters they were unhappy with the commander-in-chief.
A fraction more than 40 percent said they approved of Trump's record, putting his net disapproval rating at 15.7 percentage points.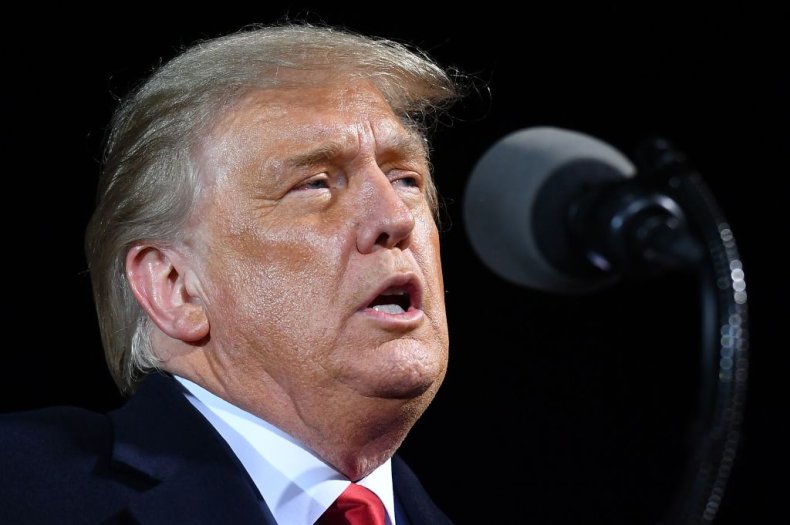 At the time of writing, the president's net disapproval rating stands at 9.2 percentage points—a 6-point improvement over the past three months, according to FiveThirtyEight's weighted average.
The gap between Trump's approval and disapproval ratings varies sharply in recent polls. Survey results published by Rasmussen Reports on Wednesday revealed that 46 percent of likely voters were happy with the commander-in-chief while 53 percent approved of his record.
Another poll published by YouGov and The Economist yesterday found Trump had a 12-point net disapproval rating among registered voters, with 43 percent backing his record and 55 percent telling pollsters they were displeased.
Morning Consult's latest national tracking poll found the president had a similar net disapproval rating of 13 points. Forty-two percent of registered voters said they approved of his record, and 55 percent said they disapproved.
Trump's minor bump in approval polling does not appear to have had a knock-on effect in national head-to-head polls pitting him against the Democratic presidential nominee Joe Biden.
According to FiveThirtyEight's tracker of presidential election polls, Biden maintained a 7-point lead over Trump nationally throughout much of September, down 1-point on his 8 percentage point lead over the president in early August.
The Economist's 2020 election forecast model also predicts that the Democratic challenger is "very likely" to beat Trump in the electoral college on November 3—placing his odds at 88 percent or around seven in eight.
A Rasmussen Reports survey released on Wednesday also found that Biden was leading Trump by 8 percentage points as a little more than half of voters (51 percent) said they would back the former vice president in a month's time.