Trump Dismisses Federal Workers Affected by Shutdown as 'Democrats' as Negotiations Continue
President Donald Trump unleashed a barrage of tweets Saturday morning on border security ahead of a White House meeting to continue negotiations on ending the partial government shutdown, repeating a claim, without evidence, that most of the 800,000 workers having to forgo paychecks are Democrats.
"I don't care that most of the workers not getting paid are Democrats, I want to stop the Shutdown as soon as we are in agreement on Strong Border Security!" he said. "I am in the White House ready to go, where are the Dems?"
Trump made the same claim, without evidence, in a tweet last month, saying "most of the people not getting paid are Democrats."
Congressional leadership staff from both parties arrived at the White House Saturday morning to meet with Vice President Mike Pence, Department of Homeland Security Secretary Kirstjen Nielsen, Trump's son-in-law and senior adviser Jared Kushner and Acting Chief of Staff and Office of Management and Budget director Mick Mulvaney.
"Just arrived at [the White House] for meetings w/ top level staff of House & Senate leadership today," Pence tweeted. "Our aim will be to find a solution- not simply to end the gov't shutdown- to provide funding to end the crisis at our southern border, achieve real border security & to build the wall!"
Congress has adjourned until Tuesday, signaling the shutdown will continue well into next week. Congressional leaders met with Trump, Pence, Nielsen and others on Friday in an effort to strike a deal on a spending bill that would reopen the government.
Speaking with reporters afterward, the president confirmed Senate Minority Leader Chuck Schumer's claim that Trump told he and his Democratic colleagues the shutdown could last "months or even years." It caused Schumer and Speaker of the House Nancy Pelosi to describe the meeting as "contentious" where only "some progress" was made, while Trump said it was "very, very productive."
"We cannot resolve this until we open up government, and we made that very clear to the President," Pelosi said.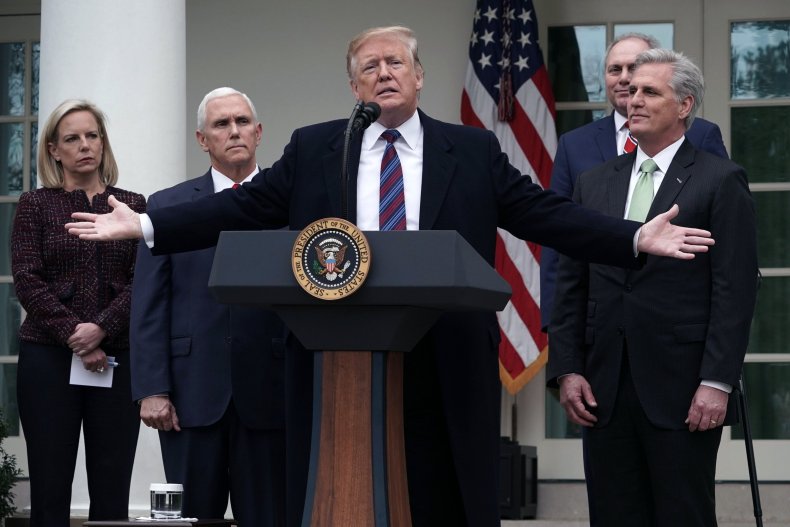 Despite pitting blame on Democrats, the president reiterated that he remained "proud of doing what I'm doing. I don't call it a shutdown," he added.
"I call it doing what you have to do for the safety and benefit of the country," Trump said.
He also suggested he would declare a national emergency in order to obtain the more than $5 billion he's demanded.
"I haven't done it, but I may do it," he said. "I am allowed to do that. It's called a national emergency."
Last month, he told Pelosi and Schumer he'd be "proud" to shut down the government over funding for his desired border wall.
The House passed a temporary spending package their first day of the new session on Thursday, which would fund the closed portions of the government, except for DHS, through September 30. It would fund DHS through February 8 and give both sides more time to discuss appropriating additional money for the wall. The package also included $1.3 billion for border security, money that could be used for improving current fencing or purchasing new technology used by border patrol agents, but did not include money for the wall. During the previous session of Congress last month, the GOP-controlled Senate passed the same bill, with the lone difference being all funding would have ran out February 8.
The House last month passed a temporary spending bill that would provide more than $5.6 billion for the wall, per Trump's demands, after the Senate passed the clean spending bills. The House's version was not taken up in the Senate because there was not enough support to surpass the 60-vote threshold of a filibuster.
Trump repeated the false claim to reporters Friday that Mexico was paying for the wall through the newly-negotiated trade agreement, which is now called the United States-Mexico-Canada Agreement.
"The Democrats could solve the Shutdown problem in a very short period of time," Trump said in his series of tweets Saturday. "All they have to do is approve REAL Border Security (including a Wall), something which everyone, other than drug dealers, human traffickers and criminals, want very badly!"