Trump Calls Russia Dossier a "Crooked Hillary Pile of Garbage," Tweets at Wrong 'Fox & Friends' Account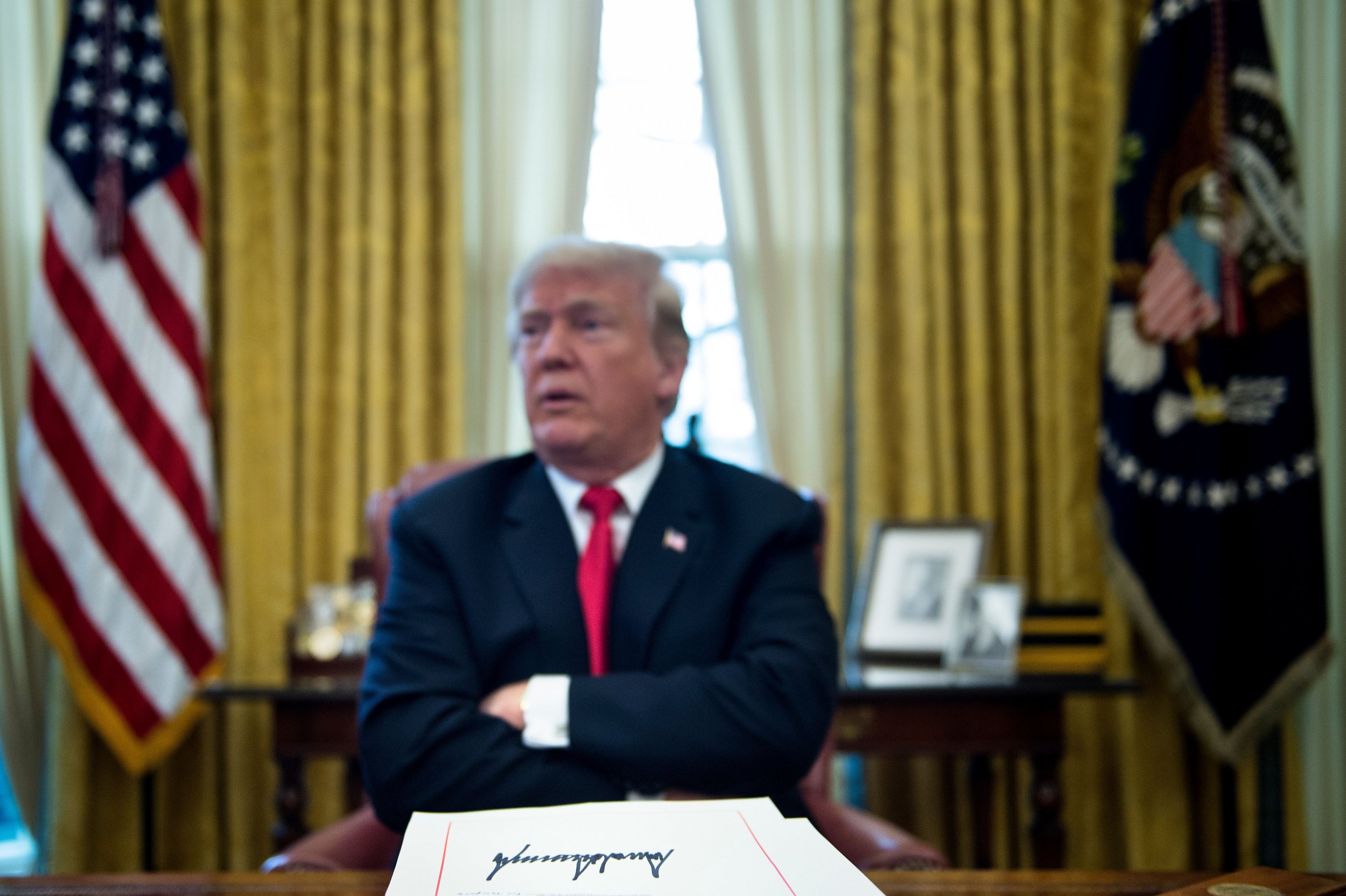 It's the same old complaints with an all-new mistake.
President Donald Trump on Tuesday once again blasted the FBI and the dossier about his alleged Russia connections on Twitter, but this time he accidentally gave a shoutout to the wrong account for his favorite news program, "Fox & Friends."
In his tweet, Trump called the dossier a "pile of garbage" that came from his rival Hillary Clinton, the former Democratic presidential candidate.
"WOW, @foxandfrlends 'Dossier is bogus. Clinton Campaign, DNC funded Dossier. FBI CANNOT (after all of this time) VERIFY CLAIMS IN DOSSIER OF RUSSIA/TRUMP COLLUSION. FBI TAINTED.' And they used this Crooked Hillary pile of garbage as the basis for going after the Trump Campaign!," Trump tweeted.
Related: What's true in the Trump-Russia dossier?
Trump habitually tweets about "Fox & Friends" as the morning show airs and often includes the program's handle in his tweets. But this time, Trump accidentally tweeted at an unrelated account that simply promotes the Fox News show. The @foxandfrlends had fewer than 700 followers when Trump tweeted at it.
Trump's tweet comes after he spent the holiday weekend lobbing similar accusations about corruption at the FBI and the Clinton team. Trump alleged without evidence that there was some kind of collusion between the FBI and Clinton during the 2016 campaign.
"How can FBI Deputy Director Andrew McCabe, the man in charge, along with leakin' James Comey, of the Phony Hillary Clinton investigation (including her 33,000 illegally deleted emails) be given $700,000 for wife's campaign by Clinton Puppets during investigation?" Trump wrote in one of several anti-FBI tweets Saturday.
Trump also alluded on Twitter to former FBI general counsel James Baker, who was reassigned last week by FBI Director Christopher Wray.
After the news of Baker's reassignment, Politico reported that Baker had communicated with a Mother Jones reporter just prior to last year's election. Since Mother Jones was the first to report on the existence of the dossier, which alleged years of collusion between Trump and the Kremlin, House Republicans started investigating whether Baker was a source for Mother Jones.
Mother Jones editor and reporter David Corn pushed back on talking about leakers, but flatly told Politico Baker was not his source.
A former Trump campaign manager later stated Tuesday that the president's tweets were important to make sure there was no bias within the country's top law enforcement agencies.
"The president's tweets are an insurance policy for the American people to make sure that its leading law enforcement organization remains unbiased," former manager Michael Caputo said Tuesday on CNN.
Caputo also admitted Trump's message could be upsetting to some, but that it was necessary.
"I know that's disappointing for some people, but the president is highlighting this bias to the American people for good reason," he said. "If there's going to be an investigation it must be unbiased."
Clinton did help fund research for the dossier. Her campaign hired a law firm which in turn hired Fusion GPS to find opposition research on Trump. Fusion GPS was already conducting such work for the right-leaning Washington Free Beacon.
The 35-page dossier, compiled by former British intelligence officer Christopher Steele, asserted Russia and the Trump campaign had been working together for years to sow divisions in the American electorate. It also claimed Russia had potentially damning information on Trump that could be used to blackmail the billionaire, including a tape of Russian prostitutes hired by Trump urinating on a bed that former President Barack Obama once slept in. Trump has repeatedly denied that the dossier has any validity, but some of its claims about Russian election interference have been backed up by subsequent investigations.