Trump Doubles Down On Puerto Rico Death Toll Claims Despite Backlash
President Donald Trump doubled down on his statements questioning the nearly 3,000-person death toll in Puerto Rico after Hurricane Maria struck, asserting there was "no way" the number that could be that high on Friday.
Writing on Twitter, Trump explained how he had been told shortly after the storm struck that 16 people had died from Hurricane Maria before the death toll was updated to 64 people months later.
"Then, like magic, '3,000 PEOPLE KILLED," Trump said.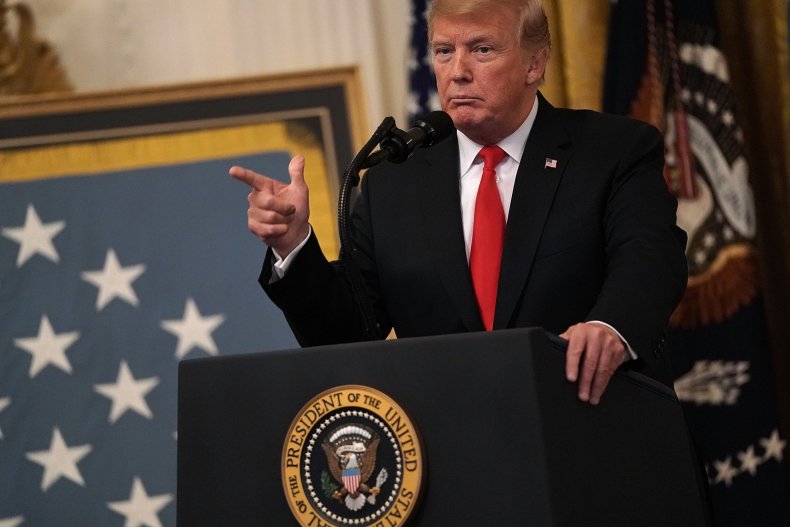 "They hired GWU Research to tell them how many people had died in Puerto Rico (how would they not know this?)," he continued.
"This method was never done with previous hurricanes because other jurisdictions know how many people were killed. FIFTY TIMES LAST ORIGINAL NUMBER - NO WAY!" he said.
The president made the comments despite having already received widespread backlash from across party lines over his claims on Thursday that "3,000 people did not die in the two hurricanes that hit Puerto Rico."
The U.S. leader had claimed without any evidence that Democrats were behind the updated number in a bid to make him look "as bad as possible."
Researchers at George Washington University (GWU) issued a statement defending their work, which placed the death toll at nearly 3,000.
"We stand by the science underlying our study which found there were an estimated 2,975 excess deaths in Puerto Rico after Hurricane Maria," GWU's Milken Institute School of Public Health said in a statement obtained by NBC this week.
"We are confident that the number—2,975—is the most accurate and unbiased estimate of excess mortality to date," it said.
Read more: Donald Trump Claims Democrats Rigged Puerto Rico Hurricane Maria Death Toll to Make Him Look 'Bad,' Offers No Evidence
Researchers came to that figure by comparing estimates of typical non-disaster death rates over six months to the mortality rate seen in Puerto Rico six months after the storm.
Last month, Puerto Rico Governor Ricardo Rosselló updated the government's official death toll for Hurricane Maria to match GWU's findings.
On Friday, the governor told Trump "there is no reason to underscore the tragedy we have suffered in the aftermath of Hurricane Maria."
Instead, he urged the president to "consider sending a message of support to show you stand with all of the US Citizens in Puerto Rico that lost loved ones. It would certainly be an act of respect and empathy."