Trump Drafted Two Handwritten Notes in Effort to Overturn Election Results
New court documents have revealed that former President Donald Trump had a direct role in the legal strategy used by his team in their efforts to overturn the results of the 2020 presidential election.
A Thursday brief filed by John Eastman's attorneys in a lawsuit against the House committee investigating the January 6 Capitol attack argued that Eastman—a Trump attorney who implored Vice President Mike Pence to block the congressional certification of states' electoral votes—has attorney-client privilege covering more than 100 documents because he worked on Trump's legal team.
While most of the documents were email communications or digital attachments, "two include hand-written notes from former President Trump about information
that he thought might be useful for the anticipated litigation," according to the brief. Eastman said he also spoke with Trump on the phone during the legal challenges.
The late-night court filing is the latest development in Eastman's efforts to block the House panel's access to a trove of communications pertaining to its investigation. The filing comes just weeks after Eastman withdrew privilege claims over a third of the documents amid pressure from U.S. District Court Judge David Carter.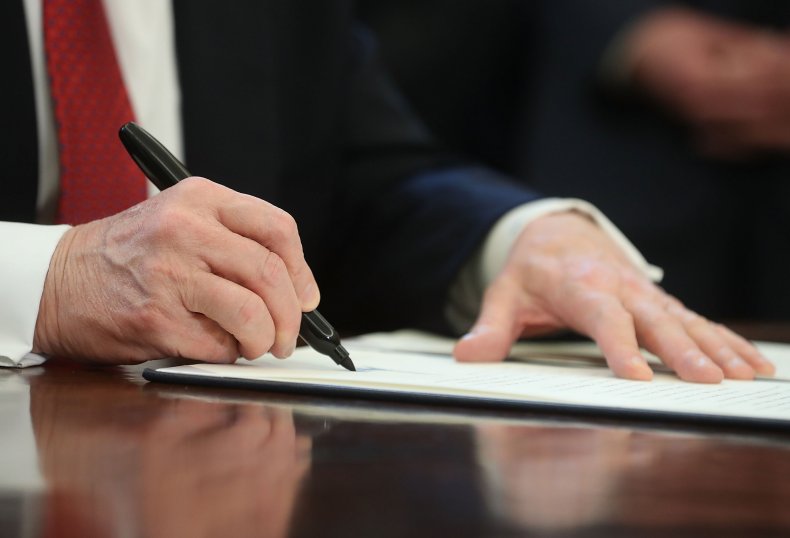 In March, Carter ruled that it was "more likely than not that President Trump corruptly attempted to obstruct the Joint Session of Congress on January 6, 2021."
"If Dr. Eastman and President Trump's plan had worked, it would have permanently ended the peaceful transition of power, undermining American democracy and the Constitution," Carter wrote at the time. "If the country does not commit to investigating and pursuing accountability for those responsible, the Court fears January 6 will repeat itself."
On Friday, Eastman's attorneys also urged Carter to protect his communications with dozens of state legislators who had sought his "legal advice regarding the constitutional authority of state legislatures to deal with election illegality and fraud," although the brief did not name the individuals.
The emails in question are among tens of thousands of pages coming from Eastman's account at Chapman University, where he was working at the time. The university was subpoenaed by House investigators earlier this year for all the emails Eastman sent between the 2020 election and January 20, 2021.
Eastman has argued that Carter's earlier ruling was flawed and that he genuinely believed that the 2020 election results were illegitimate.
"For if, as seemed clear to Dr. Eastman and his client at that time, there was illegality and fraud in the election of sufficient magnitude to have altered the outcome of the election, then far from 'undermining' Democracy, Dr. Eastman's accusations and advice must be seen for what they were—a legitimate attempt to prevent a stolen election," the brief said.
"One might even say that the assertion of a 'big lie' is itself the actual big lie," it added.
Eastman's attorneys said that even if he was wrong about the election's legitimacy, he should be constitutionally protected from a finding of criminality because he believed those claims to be factual at the time he made them.