Trump Draws Ire for Dance at NRA Convention After Texas School Shooting
Former President Donald Trump received a significant amount of backlash for dancing onstage at a National Rifle Association (NRA) conference on Friday in the aftermath of the Uvalde, Texas, school shooting.
Trump spoke at the event, which was held in Houston, just three days after 18-year-old gunman Salvador Ramos killed 19 children and two teachers at Robb Elementary School. During his speech, the former president read out the names of all 21 victims, while mispronouncing some. Trump ended his talk, as he has done at numerous rallies in the past, by dancing.
This final act drew significant ire from online pundits and the public, who viewed it as extremely disrespectful to the deceased victims. There had also been calls for politicians to cancel planned appearances at the conference in the wake of the shooting, with the state's Republican Governor Greg Abbott ultimately doing so.
California Governor Gavin Newsom, a Democrat and frequent critic of Republican policies in Texas, was among the most prominent figures to lambast Trump's dance. The clip featured in the tweet that he shared Saturday has since been viewed over 2.7 million times.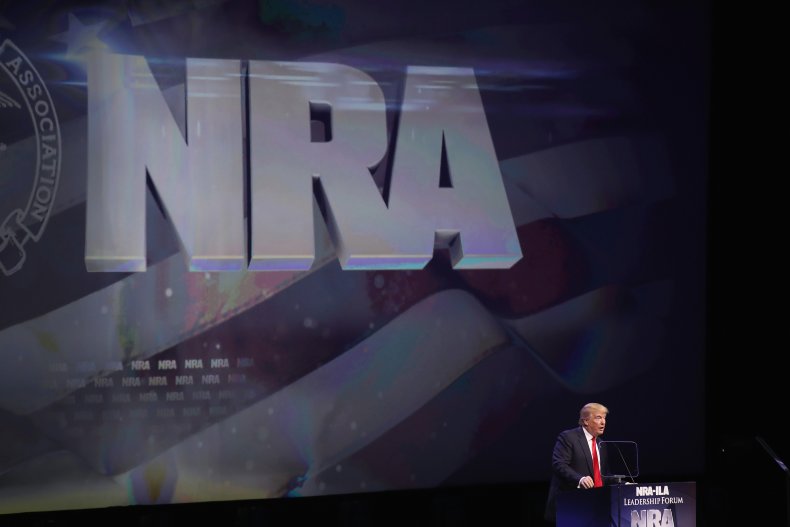 "The kids died. Trump danced," Democratic Representative Eric Swalwell of California also said in a tweet.
Adam Parkhomenko, a Democratic political strategist, had even harsher words for the former president, accusing him of dancing while "[the victim's] little bodies aren't even in the ground."
"Trump danced at the NRA convention. Their little bodies aren't even in the ground. And he's f**king dancing," he tweeted Friday.
Newsweek reached out to representatives of Trump for comment.
During his speech, Trump echoed prominent GOP sentiments claiming that the answer to school shootings should involve fortifying security at schools and decreasing the number of doors. He also called for teachers to be armed with guns.
"What we need now is a top-to-bottom security overhaul at schools all across our country. Every building should have a single point of entry," he said. "There should be strong exterior fencing, metal detectors and the use of new technology to make sure that no unauthorized individual can ever enter the school with a weapon."
According to a 2019 report in the journal Violence and Gender, there is little definitive evidence that changes enacted to "harden" schools have had any positive effect on school safety, based on data collected from schools between 2008 and 2018.
"Hundreds of millions of dollars have been spent to harden schools," authors James Price and Jagdish Khubchandani wrote. "None of the currently employed school firearm violence prevention methods have empirical evidence to show that they actually diminish firearm violence in schools."