Greg Abbott Skirts Question On Attending NRA Event After Uvalde Shooting
Texas Governor Greg Abbott appeared to avoid answering a question Wednesday about attending an upcoming National Rifle Association (NRA) event, following the school shooting in Uvalde, Texas.
During a press conference, Abbott was asked about his attendance at a political fundraiser shortly before the shooting and if he plans to call off his appearance at the NRA Institute for Legislative Action (NRA-ILA) Leadership Forum scheduled for Friday.
In response, Abbott said, "With regard to yesterday, I was actually in Taylor County, responding to a different disaster, the disaster of fires that had ripped through Taylor County and destroyed 20 homes, and that is when I learned about the shooting that was taking place pretty much at that time."
Abbott continued, "As far as future plans are concerned...I'm living moment to moment right now, my heart, my head and my body are in Uvalde right now and I'm here to help the people who are hurting."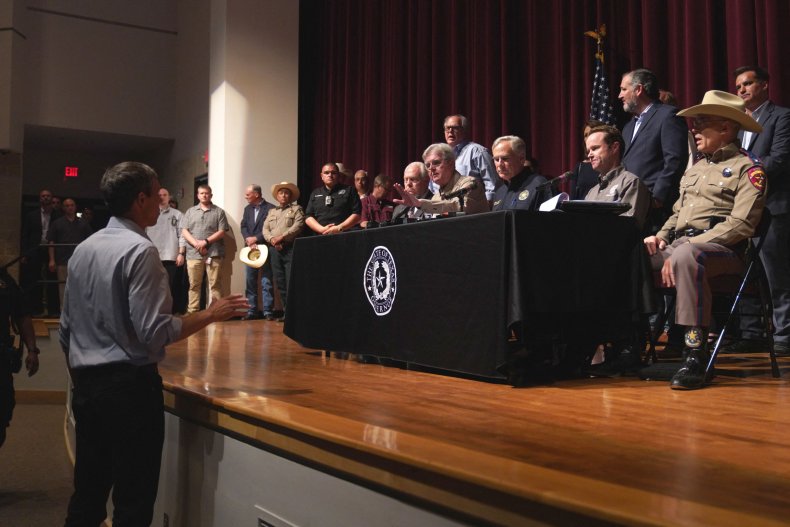 Earlier this month, the NRA announced that Abbott would be appearing at the NRA Leadership Forum, along with former President Donald Trump, Senators John Cornyn and Ted Cruz, as well as South Dakota Governor Kristi Noem, Representative Dan Crenshaw and North Carolina Lieutenant Governor Mark Robinson.
On Tuesday, 18-year-old Salvador Ramos traveled to the Robb Elementary School in Uvalde and allegedly fatally shot 21 people, including 19 children and two teachers.
Shortly after the school shooting, Texas Democratic gubernatorial candidate Beto O'Rourke called on Abbott to pull out of the NRA event.
"Governor Abbott, if you have any decency, you will immediately withdraw from this weekend's NRA convention and urge them to hold it anywhere but Texas," O'Rourke wrote on Twitter.
Newsweek reached out to Abbott's office for comment.
In addition to calling on Abbott to withdraw from the NRA event, O'Rourke was also seen interrupting Abbott during the press conference on Wednesday.
"You said this was not predictable; this was totally predictable, and you choose not to do anything," O'Rourke was heard saying toward Abbott and other Texas officials during the press conference.
O'Rourke was escorted out of the press conference shortly after.
While an exact motive for the school shooting is still unknown, Abbott revealed on Wednesday that Ramos made three posts on Facebook just a few minutes prior to the shooting. According to Abbott, roughly 15 minutes before traveling to Robb Elementary School, Ramos wrote "I'm going to shoot an elementary school." Abbott also said that Ramos shot his own grandmother before traveling to the school. She was reported to be in critical condition as of Tuesday night.