Salvador Ramos Posted Minutes Before Massacre About Shooting Up a School
Salvador Ramos, the suspected Uvalde, Texas school shooter, reportedly posted about shooting up an elementary school just a few minutes prior to Tuesday's shooting at Robb Elementary School.
During a press conference on Wednesday, Texas Governor Greg Abbott said that "as of this time, the only information that was known in advance was posted by the gunman on Facebook approximately 30 minutes before reaching the school."
"The first post was...he said 'I'm going to shoot my grandmother,' the second post was 'I shot my grandmother,' the third post, maybe less than 15 minutes before arriving at the school was 'I'm going to shoot an elementary school,'" Abbott said while speaking about 18-year-old Ramos.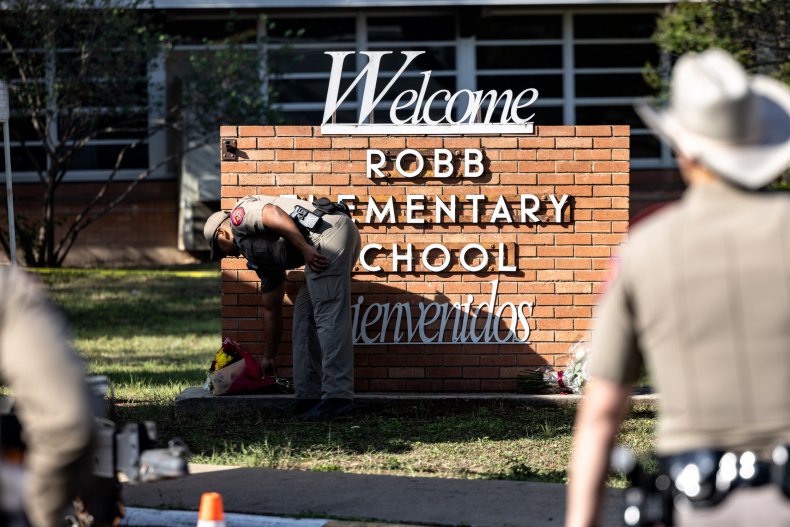 The remarks by Abbott come just a day after Ramos was suspected of traveling to the Robb Elementary School in Uvalde and fatally shooting 21 people, including 19 children and two educators.
On Wednesday, Abbott said that it is believed that Ramos shot his grandmother in the face before heading to the school. Ramos' grandmother called the police but Ramos had already fled and was traveling toward the school. Police officers then engaged with Ramos after he entered the school, but Ramos ran away into a classroom, Abbott said.
Texas state Senator John Whitmire told CNN on Wednesday that Ramos purchased two AR-15-style rifles legally just a few days before the school shooting incident. One of the rifles was found next to Ramos after he was shot and killed by law enforcement, according to Whitmire.
During the press conference on Wednesday, Abbott said that it is "unacceptable to have in this state, anybody who would kill little kids in our schools."
"Children are a blessing, God teaches us that," Abbott continued. "They're filled with laughter, innocence and joy. Their love is a gift that parents get to unwrap every single day. Parents in Uvalde had that gift taken away from them, stolen by a demented person....What they need now more than ever is our love, what they need is uplifting from all of our fellow Texans and all of our fellow Americans."
Abbott also went on to speak about mental health resources in the state, but he was interrupted by Texas Democratic gubernatorial candidate Beto O'Rourke, who was heard yelling toward Abbott that he was "doing nothing" about gun control in the state.
In response, Uvalde Mayor Don McLaughlin was heard calling O'Rourke a "sick son of a b****" and criticizing him for making the shooting a "political issue."
Correction 5/25/22, 3:56 p.m. ET: The story was corrected to change the person who responded to O'Rourke to McLaughlin instead of Lieutenant Governor Dan Patrick.